Jamie Grashion is a young producer from the UK, Simon Posford's assistant engineer and alumnus of Youth's Meridian Studios. Some delightful ingredients unfolding a talented and dedicated musician.
He has given listeners and sound explorers a brilliant bunch of Shpongle remixes, which are meticulously recomposed and reflowed. A conservation of their original vibe and a brand fresh touch at the same time.
Organic architectures, eclectic patterns, cosmic spectacles, psychonautical altitudes and a magic taste. It is actually a quite challenging task to define the all-embracing sound he creates.
It's a bliss to talk with Cosmic Trigger and explore a bit more about his journey, vision and reflections.
Interview by Shantiago on 21/02/23.
Hey Jamie, thanks a lot for spending some time with us today. How are you doing these days?
I'm doing very well thanks, I'm incredibly grateful to be living the life I have even though it's been a very challenging few years for everyone and artists/creatives have definitely been hit hard by the pandemic. Thankfully things are kind of normalising now, although obviously what we as a society define as "normal" is constantly shifting. Things are definitely looking up though, I started playing festivals again last year and have lots of new music I'm looking forward to releasing into the world this year.
First, we would like to know who Jamie is as human, as earthling. Also, who is Cosmic Trigger?
To be honest I'm not sure if I'm the best person to ask what I am like as a human/earthling, I'm sure my girlfriend, friends and family have a much better idea than I do! I live a quiet simple life, mainly producing, playing instruments, drawing and going for walks. Cosmic Trigger is an outlet for me, I have always enjoyed creating and being able to transport myself and others to worlds/spaces not just through music and art but through textural sounds that can convey some sort of ambience or setting. The name Cosmic Trigger came from a Robert Anton Wilson book of the same name, one of the things he is best known for is his involvement in the Discordian movement. Discordianism can either be described as a joke pretending to be a religion or a religion pretending to be a joke, I enjoy embracing the ambiguity of life which perhaps makes its way into my music.
You are based in Shpongolia, could you explain in some words the meaning of this vast concept which can be even inexpressible?
I think Shpongle and Shpongolia are unique to everyone who experiences them, for me Shpongle is about a state of mind that is free from the usual limitations and crippling thoughts we can feel in the day to day. For me it's not an escape but a reminder that we are more than we are used to seeing ourselves as and are inextricably connected to everyone and everything in an undeniably fundamental way. I was about 16 when I first heard Shpongle and it changed my life for the better, introducing me to the ideas of Terence McKenna and making me realise music could be a playful evolving journey. It stood head and shoulders above the other electronic music I could get my hands on at the time, the level of creativity was just off the charts!
The music you make is surrounded by an ample range of instruments, rhythms and styles. Could you tell us about your music journey since you were a child?
In terms of what I was listening to some of my earliest influences came from my Dad, he's really into Pink Floyd, Talking Heads, ELO and 80s synth bands. I was also lucky to grow up with an older brother who was incredibly passionate about music and drumming, it makes a massive difference when you're young to be a few years ahead of the curve in terms of musical taste which I was thanks to his influence. We were always fascinated by music and not long after he got his electric drum kit I got my first guitar at the age of about 10 and we started jamming. I was a total rocker when I was young, playing in grunge bands and worshipping Queens of the Stone Age, Led Zeppelin, Nirvana, Rage Against the Machine and anything else with good energy and heavy riffs. At around 16 as I mentioned earlier my brother brought home some Shpongle CDs from his job at a local music shop, I was instantly enthralled! Before then I thought Chemical Brothers were pushing the boundaries the furthest in electronic music but after hearing 'Nothing Lasts… But Nothing Is Lost" my musical world burst wide open.
I've always listened to a wide range of genres, at the same I was getting into Shpongle I was deeply in love with the indie rock scene which was still strong back then and things like nu rave and synth based bands. Around the same time I got into Shpongle I also properly discovered The Beatles which was a massive game changer along with the other 60s psychedelic bands. I got into psytrance for a bit but my heart always felt most joyous when listening to psydub, Ott has been a massive influence on me and another crucial turning point was discovering Tipper. In terms of electronic music some of my favourites at the moment are Bwoy De Bhajan, Jade Cicada, Koan Sound, Rumpistol, Culprate, Symbolico and some of Four Tet's side projects.
I'm really into Krautrock or Kosmiche Musik which is West German experimental music from the 70s, I love Ashra, Can, Neu! and Harmonia, working at Youth's exposed me to a lot of that for the first time. Neo-Psychedelic music has also left a massive impact on my musical taste and expression, bands like Tame Impala, Kikagaku Moyo, King Gizzard and the Lizard Wizard, Thee Oh Sees and Mild High Club are some constant favourites.
I am also deeply in love with folk music from around the world, particularly Polish folk, gypsy jazz, bossa nova, flamenco, desert blues, Arabic psychedelia and classical Indian music.
Besides being a musician, your work as a sound engineer is exceptional. How did you reach Youth's Meridian Studios in London? We understand that it was a life intense inflection point.
It was indeed but I'll keep it as brief as I can! As I said earlier I grew up with my older brother jamming and playing in bands together then he turned us onto Shpongle when i was about 16.
I continued to play in rock bands but my brother got hold of a copy of Cubase and we were lucky enough to be accepted, as part of their obligatory charitable efforts, to study music technology for free at the local private school (our school didn't have any equipment). It didn't teach me anything of too much use, my mixing was still atrocious by the end of it, but having the time to play around with the technology cemented my love of it and was the definite first building block.
Around that time my brother realised a fellow musician in his music lessons at school was the nephew of Youth, we had both got into Killing Joke earlier through our appreciation of Dave Grohl and were blown away when we realised the bassist was the same guy who ran the studio that Shpongle and Ott came out of and also produced The Verve's 'Bittersweet Symphony'. My brother ended up in a band with his nephew and after a few years I also joined them in a band, we met Youth and were set to record an EP with him when unfortunately that band folded.
I started university, still commuting to play music in London then my brother got his foot in the door at Youth's studio when he finished university, so I decided to drop out after just one year and do my best to pursue a career as a full time engineer/musician. I was there for a good few years before I started Cosmic Trigger although originally we had a krautrock band of the same name. It was a laborious journey from getting our foot in the door assisting on sessions to running sessions ourselves and I ended up working on tons of remixes.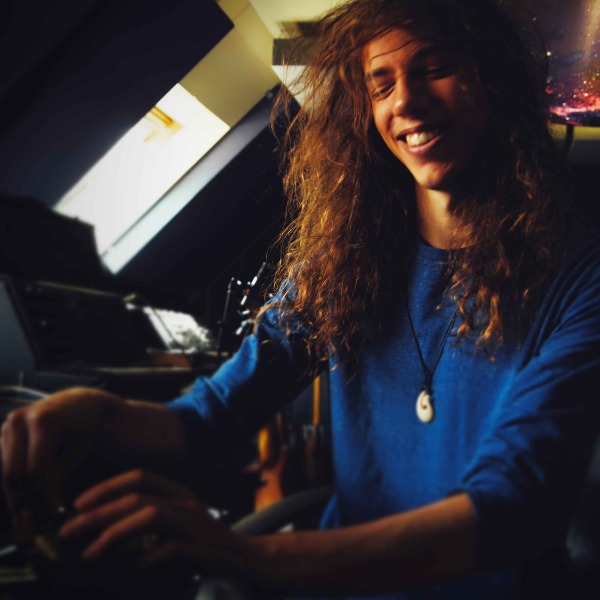 What is your vision of music? Where do you get your inspiration from?
I get inspiration from my emotions, the natural world and the chronic need to hear interesting sounds. There's something almost 3D about music when it's good, it's tangible, it gives a deep satisfaction and scratches an itch deep inside unlike anything else can. For as long as I can remember I've been in love with music, it's incredible what it can do to your mood and entire mind-body system, often when creating music the more you hear the more you want to create. When you're in the flow it's a joyous feedback loop continually supplying and propelling itself along. I also get deeply inspired by visual art and when I'm working on music I'll often look at the works of my favourite painters. The two can compliment each other so well, I see the paintings coming alive and the paintings bringing colour, structure and new meaning to the sound.
You landed into Liquid Sound Design to release some elegant and elaborated sound. Could we know a bit more about your first releases? Were they a result of a long music exploration or did they happen as another step within your progress?
I was making a lot of remixes for Youth, being exposed to lots of dub music and whenever I got a moment I'd trawl through the hard drives at the studio to deconstruct what was going on in some Orb tracks or past remixes. My first releases came as a natural progression of me doing copious remix work and experimenting in my free time. For years I didn't do much else aside from work in the studio five days a week and work on my own tracks at the weekend. Eventually Youth pushed me to release something of my own which really helped, it's easy to tread the waters of self doubt for too long when left to one's own devices. My track 'Full Moon Eyes' was written the morning after supporting Shpongle at a London event with one of Youth's projects, I was so inspired I did the whole thing in a day with a couple of small revisions later on.
How is being Simon Posford's assistant engineer? No doubt a never ending learning experience.
Working with Simon has been such good fun, I'm very grateful for the time and music we've shared. I've loved Shpongle for so long it's been extremely eye opening to go through the stems of his discography and discuss with him how he made the sounds on some of the tracks I love the most. I think working with Simon has taught me to take my time over things more and make sure a sound is right before moving on. I'd fallen into the habit of just doing things quickly while working at Youth's which, don't get me wrong, is also an invaluable skill. But to be quick and discerning is the holy grail, I think it's clear when listening to Simon's productions that he doesn't settle for things, he'll keep going until he gets something special and unique or will discard it in favour of something else.
Another real highlight has been the sessions we've done with Raj, I always come away from them with sore cheeks from all the smiling and laughter, I feel very blessed to have shared so much quality time with the two of them, it's also been a joy to get to know Alife (Simon's dog), he's a very special soul and a very good boy!
Let's focus now on your release remixing some Shpongle music. As they are more recompositions than remixes, how did you approach the work?
I knew I wanted to stay true to the Shpongle vibe but I was determined to push it into new realms not covered by Simon and Raj. It was an intense labour of love, I wrote nearly a whole album's worth of remixes while Simon was on tour in December 2019 but in 2020 reworked all of them. I'm glad I did it as I feel like the extra time really paid off, I switched from Logic to Ableton in 2020 and this album benefited a lot from the new bass design I was creating in Ableton, although aside from the bass it was all done in Logic.
I would often adopt the approach of recomposing tracks instead of doing a 'traditional' dance remix when I worked at Youth's so for me it would've gone against all my instincts to use large portions of the original song on top of a new beat. Music is the interplay of ideas and when remixing I'll find a certain sound that resonates with me and I'll build a new world around that and then sometimes get rid of that original sound all together and just pepper bits of it in or choose another part of the original. It's a much more immersive experience for me and it creates a creative dialogue with the original piece of music that results in something wholly new and unique. On a couple of the Shpongle remixes I just made a track that I liked the sound of that was in the same key as the original and only after I'd made a decent portion of it did I import the stems which then took it in new directions. I think it's important to liberate yourself when you remix in order to impart your sonic DNA on the track and not be chained by expectation or even the original bpm! For music as creatively free as Shpongle I think this approach worked particularly well and in some other interviews I've mentioned I was going for a parallel universe reimagining more than a straight forward remix.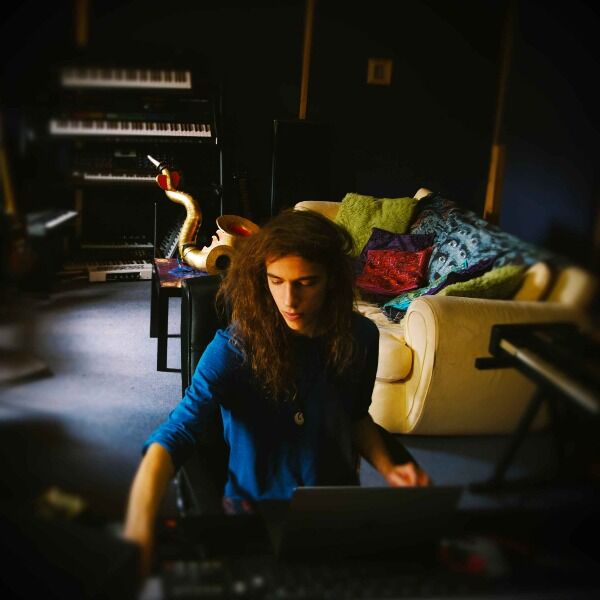 How do you organise yourself when focusing on production in terms of combining instruments, hardware and software? Do you have work patterns when creating new sounds?
To be honest I don't use much hardware except for instruments and speakers, I mainly work in the box (on the laptop) although recently I've been recording a lot more acoustic guitar and my beloved banjolele. I think it's much more useful to know a few plugins very well as opposed to using lots of different ones so you can tease apart and morph sounds in more bespoke and nuanced ways.
I do have general techniques I go to a lot but often even when I hear a track that I made I don't know how exactly I made each sound and when I look at old sessions I'm often surprised to see how I actually made them! Following your creative nose is such a huge part of music production, I've never made the track I originally had in my head when I start writing, it's something that is coaxed out of you and takes on a life of it's own.
What are your next projects in the upcoming future?
I'm about to release an EP on Twisted records, it's taken while but it's now imminent, I think it's a good progression on my musical journey and I'm really happy with how it sounds. But to be honest, as always, I'm already looking to the next releases. This year I'd love to do a more stripped back acoustic EP. I'm also working on a track with Silas Neptune (Ozric Tentacles) that I'm really looking forward to finishing as well as some more remixes for other artists. I've also recently started a Patreon page where I'm posting monthly production tutorials, giving away stems for people to remix and collaborating with the community on projects. It's been a lot of fun to share the knowledge I've gained throughout my professional career and give back to the psychedelic community that has inspired me for so long.
Now that we know a bit more about Cosmic Trigger, would you like to share a message with the psybient.org readers and listeners?
Thanks for being part of our psychedelic community, don't forget to nourish love, gratitude, patience and forgiveness whenever you can in your life, our lives are brief and it's easy to get caught up in your own thoughts. I have to remind myself of this daily!
Take it easy… but take it!
Thanks a million for sharing your words with us, we will continue flowing with the versatility of your music and freely travelling through the endless Shpongolia soundscapes. A big hug.
Listen and follow Cosmic Trigger:
https://cosmictriggermusic.lnk.to/ctmusic?fbclid=IwAR3DGa0NT6WhGojX698KJiEmhc16RdRP-j71x7HXALRECCMDyZLoHWjtCD8
https://soundcloud.com/cosmictriggeruk
https://web.facebook.com/cosmictriggersounds