We happy to invite you to Evolution Festival 2023.
Celebrating life for 3 Nights and 4 Days at a crystal clear lake, surrounded by beautiful nature. 6 Dancefloors and more than 100 Artists from all over the globe bringing the best in underground electronic music in various genres and styles.
TechHouse | Techno | Progressive Trance | Psytrance | Darkpsy | HiTech | Downbeat | Ambient I Melodic | Organic & Afro-House | Disco and so much more… equipped with high quality soundsystems (e.g. Void). Additionally lot's of specials and activities, art installations, workshops, games, fireworks, shops and great food.
Interview by Gagarin Project on 02/03/23.
Hi Michael, thank you for finding time to talk to us. It looks like your festival is one of the highlights of summer events in Germany and we would like our readers to know more about it.
Hi People! Thanks for invite.
Let's go back a bit in the past. What has inspired you to make the festival?
I have been hosting parties since 1993, starting with my own techno clubs in Berlin. Then nature inspired me to bring our growing beautiful community together for a few days at a beautiful place. Our lake.
How did it evolve over the years?
We started with a small team and were very surprised at the beginning, what it means and how much work it is to completely build up and dismantle a whole festival within 3 weeks. Meanwhile, a great team of many old friends and talented craftsmen and artists has formed around us and it is every year a huge pleasure to create this great festival at Lake Garlin together.
Are you doing events all year around ? If yes – tell us a bit about them?
Yes, I am involved throughout the year in many great festivals, which I am allowed to equip with light and large-scale decorations. This includes, for example, the Antaris, the Secret Forest Festival, Burning Mountain, New Healing, Rocken am Brocken and many others.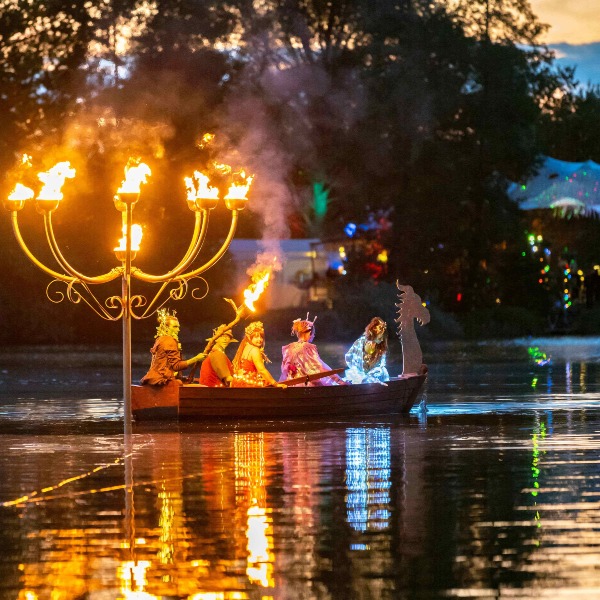 What's new will be at the 2023 edition of the festival : New stages, new activities ? What will be the biggest changes from previous editions?
For this year is new, we create a silent camping for people that need more silence to sleep. Since last year we have a new silent floor and we want to make it more cosy this year. A floor without a sound system, where headphones with four channels are issued. Guests have the option to listen to the artist on the spot or switch to another floor. Everyone dances to a different music. A fun floor that invites interaction.
Are you permanently installed on the location or do you change it?
We come back to Lake Garlin every year, it's just a beautiful location. And we rebuild everything every year and completely dismantle it again after the event.
What about decoration and land art? Do you have a different team working or you have a long term partners in this field?
As mentioned above, a wonderful team of artists and decorators has formed around us, so in these areas, with a few exceptions, we work with long-term partners.
Your festival is international, can you share some analytics how many % foreigners did you have approximately?
I can't give you any figures here, because we don't keep any statistics on this. What I can say here is that our guests are wonderful, colorful and mature people from all over the world.
What do you think will make people travel from abroad to join your event?
We believe that the reason for this is our international stores, our international artists and guests from all over the world as well as the fact that a super nice community meets here every year, on this absolutely beautiful spot of nature, are good reasons not to miss this event.
How many stages do you have this year and what are the musical genres that will be presented in each of them?
We have six floors and 2 chill areas
Pangea = Psy
Moonstage = Hitech / Dark Psy
Techtonic = Techno
Planet B. = Disco
Elfen Floor = all genres except Dark & Hitech
Silent Floor = all genres
Chill Out Areas
Chill 1 "Napeia Arts"
Chill 2 "Chaiship Entersurprise"
Do you have something like a Chillout space? What music do you host there? How important is downtempo for your festival?
We have 2 chillout spaces, one of which is very quiet and one of which is very fast. Both are important and everyone enjoys a quiet place to rest and relax from time to time.
What do you like about uptempo music for your festival?
Fast music of all genres are simply super important on our event to be able to dance once properly free and to generate an exuberant mood.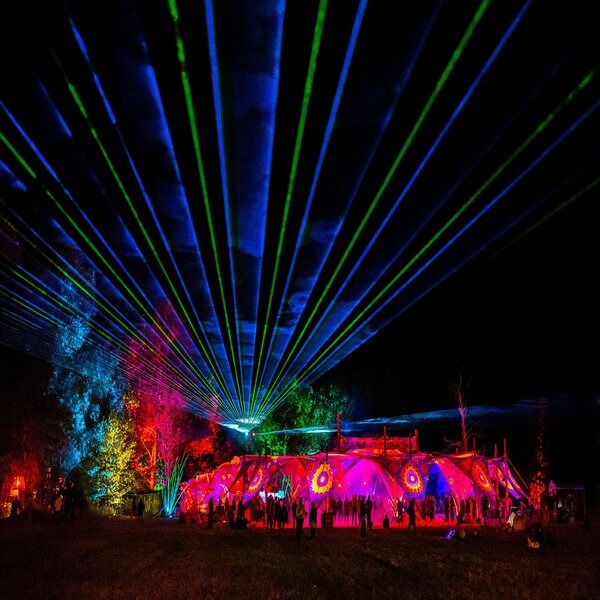 Who will be your headliners this year?
With us, everyone is equal. Every person is valuable, that's why we don't name anyone as a headliner. With so many different styles of music and well over 100 artists, it would be unfair to name individual artists as headliners.
What are the biggest difficulties for festival preparation?
Due to our many years of experience, the perfectly coordinated team and the fantastic cooperation with the authorities, we actually don't have any great difficulties in creating the festival. Sure, there are always challenges of various kinds here and there, such as the weather. But that's exactly what makes the charm and in the end the reward is also greater when these have then been successfully mastered.
The summer is very charged with many festivals, what do you think about the concurrence between different festivals?
I think all festivals should work together like it was before. So we start again to work together with some festivals.
What message would you like to send to people who will join this year's edition?
Come and see and dance with us. Let's enjoy together a wonderful time at the Garlin Lake.
Evolution has set itself the goal of bringing new wind back into the festival scene.
We bring people of all genres together again in a new way.
Same spirit, but different genres.
In free nature also with the background to create an understanding for this.
Evolution means growing, learning and developing.
We with each other and all together.
FESTIVAL LINKS:
website => https://evolution-festival.com/
next edition fb event => https://www.facebook.com/events/781495389597563
video report (s) from previous editions => https://youtu.be/mYfPOh–TcU