NOTE: Sunday, January 3rd, we officially open the "best of the year 2015" poll. We invite you to join us and help choose and highlight the most interesting moments of this past year (releases, compilations, labels, events, dj's and more). We also would like to ask you for help with communication around this poll, as we would like to have more participants this year and thus more complete results. We also will give away music freebies to poll participants.

Also we would like to invite you to join discussions in forum. each tuesday we start new weekly voting poll and it is an easy way to find new music.
When we think of world electronica of the psychedelic flavor, for any occasion – be it dance, yoga, meditation, or any other inward exploration. We think of none other than the legendary, Desert Dwellers. A duo (among many collaborative artistic allies and friends), consisting of producers Amani Friend and Treavor Moontribe. Both of whom hail from the harsh, yet mythical, Diné people's deserts of the southwest occupied United States. Together, over the past fifteen years and running, they've co-created countless amounts of awe-inspiring musical fusions of an eclectic multi-tempo electronic variety. Orchestrating a soundscape that transcends both ancient and modern space and time, telling a tale of thought within ourselves listening.
From their humble beginnings at Burning Man and The Moontribe Gatherings, these Desert Dwellers have continuously set a special intentional space for sonic seekers from around the world, looking for a soundtrack to the sacred magic and mystery that we are forever encountering as conscious beings. Among their many releases are yoga jams, downtemple dub grooves, uplifting ecstatic dance tunes, and everything in between. Their traveling sounds and stage show are ever evolving to make for an experience that is truly unique.
We, at Psybient.org, had the chance to catch up and dig a little deep with the duo. Finding out how they came to be, where they're at currently, and what the future will bring. Enjoy reading, and please share with your buddies.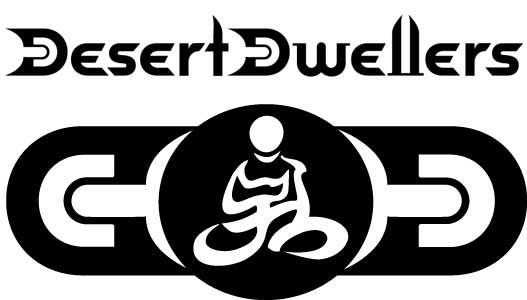 You guys just got off the Earth Heart Tour throughout North America, alongside Kalya Scintilla & Eve Olution. Can you tell us a little bit about how this came together (and some of it's special initiatives – like seed bombs). How was your experience unique on this particular road touring, and are there any special moments you would like to share with us now that it's come to a temporary closing?
Humanity is definitely at a crossroads right now, and we need to start working together towards building a sustainable future for the next generations. As artists we wanted to somehow bring more dialogue and awareness about the impact humanity is having on the planet right now, and also the resources available to individuals to make positive shifts. So we built a tour with Kalya Scintilla and Eve Olution, and worked with each community to build intentional Earth altars at the shows, often times people would go to the natural wilderness locations to find objects to incorporate. We also invited visionary artists and live painters to join us, adding a collaborative creativity to the events. We worked with a company called Seedles and gave out their "Seed Bombs" to everyone at the events. These little round packets of dirt and wildflower seeds can be tossed outside or planted in a garden and they will grow the native wildflowers of each region, in an effort to help the bees.
The nice thing about this tour is that we all had such a great time traveling together and we all wanted it to keep going … so that's the plan for 2016. The four of us will be offering the Earth Heart Live Show in specific locations in North America in the spring, and we will be going to Europe for two months in later summer. We feel that it would be good to keep the intention of this tour evolving, and bring more and more into the fold as we do it.
Our favorite weekend of this last tour was the final two shows in Northern California. It was a special treat to have our friend, Anthony Ward, join us to decorate the space and also offer his incredible flower performance. It was a powerful night all around, and a great way to finish the tour!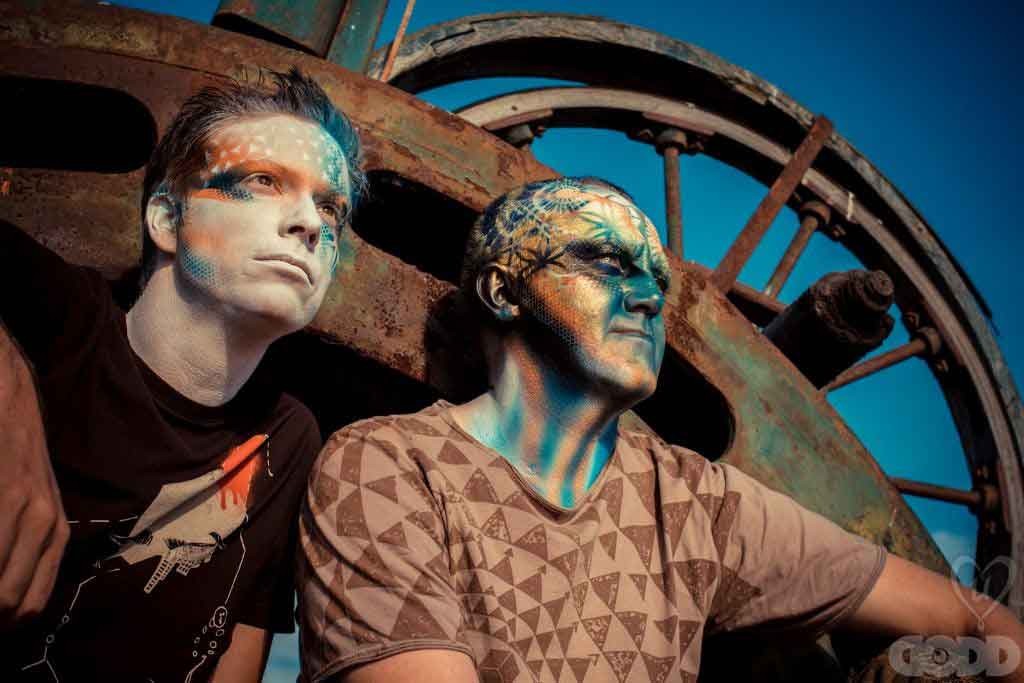 Let's get into origin stories, if you don't mind. Your name, Desert Dwellers, derives from both of your musical and personal upbringings in deserts. Are there any aspects, ideas, or lessons, from this formative environment that have really stuck within yourselves over the years?
The desert can be a most mysterious and expansive place. It's the realm of endless horizons, and nomadic gypsies who have been exchanging music with one another for eons … weaving their ancient stories within modern sonic offerings. What was true for all those who have dwelled in the desert before us to share music with one another has also been true for these Desert Dwellers. Since the '90s we have been involved in the nomadic electronic music culture that has gathered in the deserts of California, New Mexico, and Black Rock City to dance under the stars and moon all night. Those collaborative experiences have been extremely life changing and formative for all of us over the past 20 years.
Were there any particular experiences as kids that pushed you down this path of making music. Or was it more serendipitous, than any one thing?
(Amani) My father was a multi-instrumentalist and collector of literally every kind of instrument you can imagine. While I was growing up our house was packed to the gills with sound generating devices from all over the world. I started playing jazz and blues on the piano and keyboards at an early age, and also studied didgeridoo and world percussion. I ended up getting a music degree in '98 and have been absorbed in music production ever since. I definitely attribute my path of music to my father's instrument collection!
(Treavor) As a child I was into all sorts of music and as a teenager I got into psychedelic music through my experiences with psychedelics, of course. Once I discovered psychedelic electronic music, I turned all of my attention to it and began producing with sequencers and drums machines at age 17.
You traveled around with your parents a lot as a kid, Amani. How has that early worldly exposure helped you creatively over the years? Especially with making music of such a globe-spanning sonic style?
I remember as a kid having more knowledge of other cultures and places then I did of the United States; my family has always been based in New Mexico, which is in and of itself like a unique country in it's richness of traditions. The global cultures influenced my earliest foundations and are what I always find familiar and comforting, and thus what I like to weave creatively into my music.
Treavor, congratulations on recently celebrating the 22 year anniversary of the Moontribe Collective! Can you reflect on it's progression and evolution over all these years?
The most special thing about Moontribe I believe is that it never became commercial at all. It remains the most underground event in California, possibly the entire country and maybe beyond that. It could possibly be the longest running electronic music event in the world, and if not it's very close to it. If it had ever become commercialized I doubt it would exist today.
Can you guys recall exactly how you met at the Moontribe Gathering? What were the early years of collaboration like between the two of you as an uptempo duo, Amani vs Teapot?
(Amani) My friends and I were throwing electronic events in New Mexico called Cosmic Kidz at the time. In 1998 they convinced me to make the trek with them out to the California Mojave desert to take part in the 5 year anniversary of Moontribe. I remember meeting Treavor on that trip, and gave him my recently produced album 'Biodiversity,' which was a world electronic fusion project I made during my college years. That CD sparked some interest for us to collaborate together, so Cosmic Kidz kept flying Treavor out to NM to play our events over the following 4 or 5 years, and we would work in the studio together. We initially were making progressive tribal house under the name Amani vs Teapot, and had a lot of fun bringing the world music flavors and heavy laden percussion tracks onto the dance floor. We definitely rode a little wave as that sound was popular during that time and we had several pieces of vinyl released on underground labels around the world.
When, how, and why was the decision made to venture more into the downtempo realm?
(Amani) A few years into the AvsT collaboration we started working on some downtempo tracks and came up with the name Desert Dwellers as the "side project." We made about 8 tunes in 2001 and gave a bunch of CDs out at Burning Man as gifts. The downtempo sound has always been a primary focus for me, starting as early as 1990 I have been working in that direction. My album 'Biodiversity' was a precursor for me toward what we did with Desert Dwellers.
(Treavor) Funny enough the very first vinyl record I released in 1994 had two downtempo songs on it. So despite my focus on uptempo music I also always had a special place in my heart for the slower tempos. As a DJ I played many downtempo sets from my earliest days so, yeah, making a downtempo project came quite naturally.
As you just mentioned, your first release as Desert Dwellers came shortly after the turn of the millennium at Burning Man. Can you reflect on these humble beginnings now, almost 15 years later?
(Amani) It amazes me how timeless those first DD tracks really are. It is fun to go back and listen to them from time to time, as they continue to keep my interest. All the particular ingredients were there from the beginning, and we have developed the style further and further over the years.
(Treavor) I actually think those tracks are some of the best songs Amani and I ever made together. Sure, it was a side project at the time, but our first downtempo track "Ever Expanding" to me is one of the most beautiful pieces of music we've done. We actually played it as an encore at Envision festival in Costa Rica to close out the entire festival, and that was the first time we played it in a set.
The progression of Desert Dwellers since the earliest "Ever Expanding" days has been nothing short of amazing, by many orders of magnitude! From the newer feature LPs, the Yoga & Downtemple Dub series, to all the remixes and Desert Trax releases in between. Do you ever take the time to look back on this body of work, and how does it influence the music you're creating today?
We have certainly been gifted the opportunity to produce music for a wide range of collaborations, from the many yoga DVDs we scored with Shaman's Dream, to the extensive remix trading that we have been doing with other music producers. With all the various soundcloud sets and the side projects added into the equation, it certainly makes for a wide listening experience in such a diverse set of styles and occasions. Moving forward, we always want to keep the integrity of what our catalog speaks to, but also find those new edges and horizons that can keep the overall story fresh and interesting, as well.

I have to ask, as a fan, will we be hearing another installation of the classic Yoga Dub and/or DownTemple Dub series?
Yes, actually, Black Swan Sounds wants to do the next DownTemple Dub album called "Breath." We have been thinking about doing the Air element for a while now, but we just never got around to it yet. This is most likely what we will be working on in the studio in 2016, while we are touring the Desert Dwellers Live Experience show.
Your latest release, The Great Mystery, encompasses a wide range of sonic stylings (which is something to say, considering the wide-ranging nature of your music already). In some ways it seems to be a culmination of all the previous Desert Dwellers sounds, and then some. Was there a conscious decision made to incorporate everything, or did it just naturally happen that way?
The intention of The Great Mystery was definitely to showcase all the different sounds that we are into, a journey through many electronic and world music styles, woven into one cohesive album. It has been an idea that Treavor and I have wanted to do together since the beginning, and it has just been on the back burner. We ended up spending about two years producing The Great Mystery.
This is the first Desert Dwellers album that both of you have created entirely together from start to finish – let a lone while on the road. Can you describe how this recording process went? The ups and downs. How does it compare to the past, and will this be the new norm for your future recording?
It actually has become very fluid between us, in terms of being able to write music while traveling a lot. The great thing is that when we visit other places we sometimes get to meet and incorporate new vocalists and musicians, so it's really becomes a global collaboration. The two of us have become accustomed to passing projects back and forth between us, instead of working on projects at the same time together. We have done that since the start because we have always been living in different places. So that makes it easy to write music on the road, as well.
On this album, we met up with a good friend James Lumb from Electric Skychurch, while we were in Atlanta, and he mentioned he had a Neve analog summing box. So we ended up separating out all the tracks and sending them through the warm Neve components before everything was bounced down. This was the first time we have tried this technique and have wanted to explore it for a while now. I think it's really noticeable on big sounds systems how the music has both an added warmth and enhanced spatial field. We would like to repeat this process for future albums.
How has your production setup changed over the years for the both of you? In what ways has it stayed the same?
(Amani) My first electronic music performance was a live PA 1998, which meant I dragged my entire studio of synths and drum machines down to the warehouse each time to perform. I had the good fortune of acquiring a TB -303 that I performed with, which made it really fun. Eventually, that method of performing got tiring because it was so much work, so I sold a lot of gear and focused just on music production for many years. Until 2009, when I got back into it and started buying MIDI gear again. Everything is so compact now!
(Treavor) My first live PA sets were in 1992 actually, the very first one being at the house of legendary producers Electric Skychurch, before I even knew them. When we first started doing Moontribe events, I would do live sets there and I didn't start DJing until 1994. Back then I had a huge keyboard sequencer, drum machines and synths, it was quite a pain in the ass to play live, which actually led me to get into DJing, which was an easier way for me to play music out.
There are a lot of natural recordings incorporated in your music. Can you describe a memorable time when you heard something you needed to record, and on what record did it go towards?
(Amani) Nature and environmental recording have been a passion of mine since college. One of my professors, David Dunn, was an expert in the field, and I was lucky enough to learn so much from him. I think my most memorable nature recording moment was when I stayed in Tikal, Guatemala, and at 5 am the most amazing bird sound woke me up and I jumped out of bed in a daze and rushed out to the jungle, where I recorded the most amazing chorus of Golden Oriols. Their call is like a "psychedelic water drop" that reverberates through the trees. I have incorporated those particular recordings into many Desert Dwellers and Liquid Bloom tracks over the years. My buddy, Merv from Eat Static, has also added it to one of the tracks on his recent 20 year anniversary album he just released.
(Treavor) I've never been much of a field recording kind of guy. I always just have confidence that Amani will record the coolest sounds.
What live instrumentation have you guys done or are planning on doing? Will we hear more done with your first instruments of guitar (Treavor) and piano (Amani)? Any interest in doing shows that include live instrumentation with DJing?
(Amani) I have started playing the didg again this month, after so much time away from it. I used to play tons of didg, percussion and keys early on in my life, but I honestly haven't been practicing any of them for years, especially when we started touring so full on in 2012.
For all the Live Experience shows in 2016 we will be performing with our friend Megan Chandler, who is the voice behind The Great Mystery, Seeing Things, New Generation, Trail of Nomads and other DD tracks. The show will also have the stage talent of Tammy Firefly and Anthony Ward doing their spectacular performances. We may have some guest musicians as well from time to time.
(Treavor) If I could clone myself, I would learn many instruments and play them live in our shows, but I really don't have the mental capacity to do this right now. With all the touring and music production we are doing, I don't have much extra time for fun things, like learning a new instrument, or even getting good at guitar again.
Can you talk about The Great Mystery tour you put on earlier this year. Are there any special memories from it that stuck with you?
(Amani) The most memorable gigs from The Great Mystery tour for me were Sonic Bloom, Bali Spirit, and Beloved, because we were working with stage performers and musicians for our sets. Bali was pretty spectacular! The stage was a giant temple.
(Treavor) Sonic Bloom and Bali Spirit Festival were amazing, because we did our first stage shows which have led to what we're working on now.
You recently released a double remix album of The Great Mystery featuring many of our favorite producers. This obviously isn't out of the norm for your release cannon, as you've done remix releases for many years. Can you describe this relationship with the rest of the community and how important it is to provide your platform to other people?
(Amani) It's really a joy to collaborate with all these different producers to create all these interpretations. It keeps things fresh and dynamic. The networking that it creates between fan bases is a great way for people to find new music.
(Treavor) The remix albums in many ways have been a huge driving force in our live shows staying fresh. Since we're touring all the time, we often take longer than we'd like to finish new material of our own. The remixes are a perfect way for us to keep our sets new and exciting. Plus there are so many amazing artists we get to work with, so it's definitely a big plus for us.
What advice can you give for young producers who want to walk down this path that you've played such an important part in paving. Or is there any advice you would give to your young self with what you know now.
Honestly, the biggest thing is focus. If you can put serious focus into your music, rather than partying all the time or being constantly social, then I think you will find success. So really it takes sacrifice, you have to be willing to spend countless hours working on your art to become really good at it.
The Great Mystery title comes from the Terence McKenna line, "Life is like a moment, we're born out of a mystery, and we die into a mystery." This year marks 15 years since the passing of the great ethnobotanist philosopher. Can you speak on the influence he's had on your lives?
(Amani) Terence profoundly impacted our entire generation, and opened so many eyes to the conversations about psychedelics and consciousness. Without him, we wouldn't be where we are right now in this psychedelic culture. And what a great voice!
(Treavor) I remember first hearing him in Space Time Continuum's music, an early Astralwerks Records release. I thought he sounded so trippy, so I looked into who he was and what he was all about. Of course, I was amazed at the man I discovered and we've used him quite a bit over the years, as have many psychedelic producers.
One of the topics Terence talked about frequently was trance states. Can you guys talk about the power of trance to heal in music? Would you mind sharing any personal experiences of transformation?
(Amani) Music has the power to transport the listener on a journey; shamanic cultures have always used the steady beat to induce theta brain-waves, which are associated with trance states. In an Ayahuasca ceremony, one of the most important aspects of the ceremony for healing is the music that is being made, and how the music moves through you. The same is true for the repetitive rhythms found in certain kinds of electronic music.
(Treavor) Music has been the only force that has truly sent me into trance states, with or without psychedelics.
Speaking of trance and transformation, you've been mainstays of transformational festivals for quite some time now. What are your thoughts on where this community is at, and what would you like to see change (no pun intended :)?
(Amani) Overall, it's really inspiring to see an entire generation immerse themselves in a culture that promotes healthy relationships to each other, our environments, and our self. The diverse offerings at some of these festivals can be very life changing for some people, and creates a solid community for people.
One thing that I would like to see happen in the U.S. is for a group of promoters to all work together to acquire their own land, building a sustainable infrastructure, and music stages that grow and evolve each year.
(Treavor) Obviously, without this festival culture we would be looking for jobs, but to me I would like to see the music become as psychedelic and transformative as the visual arts and the workshop/educational sides of the events. I know it's my opinion, but I often find myself roaming festivals at night and seeing all this amazing art and lighting and visually psychedelic stuff, but the music is really far from being psychedelic. In Europe and in the international scene, in general, there is a great focus on super psychedelic music, and I would like to see the North American scene go that way too.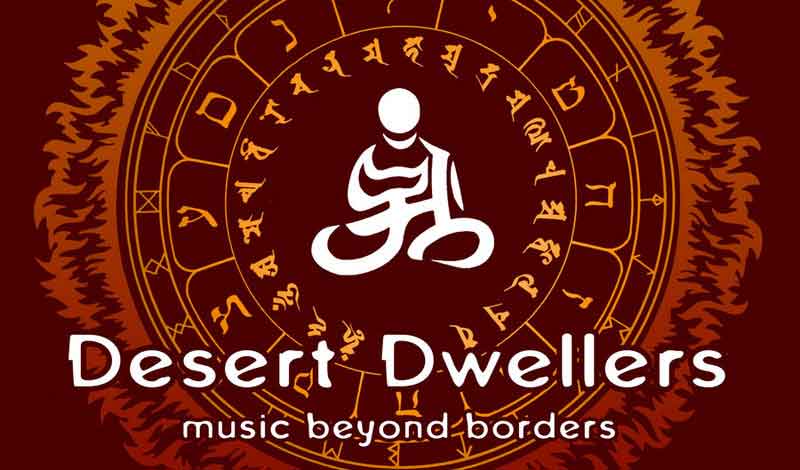 How was your experience at Burning Man this year? How has your time there evolved over the years?
(Amani) The last Burn I went to was in 2014, and my wife and I got married out there. It was my favorite year by far!
(Treavor) Burning Man is always a very personal thing for me. Some years are amazing and some years not so much. 2015 was the most difficult year I've ever had out there; quite frankly I hated it and wanted to leave. That was just my personal experience though, and I plan to go back in 2016 to make up for it!
Your touring schedule has been pretty busy, especially over the past few years. How do you stay healthy with this amount of travel?
(Amani) We are taking most of December and January off, which feels great. It's been a whirlwind for many years, and honestly 2014 was pretty rough for my immune system, but it gave me the opportunity to shift the way I take care of myself on the road, and this year I have felt great. We always try and eat well and sleep when we can and don't drink or party. We also set up our touring schedules so that we are home during the week and out gigging on weekends, a cycle that brings some sort of balance to an otherwise hectic lifestyle.
(Treavor) It's simple, I don't party. I stay sober 99% of the time, I try to eat healthy food and sleep as much as I can. Our goal is to tour a bit less though, take more time for resting and making music.
You spoke a little bit earlier about how much remixes have helped with live sets. Can you go in a little further on the process of putting together your sets and live mixing?
(Amani) Everything is in flux right now, but the way we have been doing the sets these past 4 years, is Treavor laying down the base tracks using Traktor, and we send a MIDI cable to sync my laptop, where I have been adding DownTemple Dub Instruments and vocal stems on top with lots of effects. So, essentially we are creating a bunch of on the spot remixes between our newest tunes, with key sounds from the classic tunes. I also have lots of interesting nature sounds and psychedelic iPad synths to weave in during transitions. Our sets definitely have a very 'in the moment' aspect to them which we will continue to explore this next year.
(Treavor) Big changes are on the horizon with our stage shows, and how we put our sets together. I don't know exactly how it's gonna be, but certainly it's about to change.
The focus today on touring by musicians in general seems to have been ushered in by the shift in the way music is released. Having your own label – Desert Trax, working with both Black Swan, White Swan, and Twisted Records – how have you seen this through personally, and how has it been running your own label, in general?
(Amani) Certainly things have shifted in the music industry and how people are getting their music. Most people tend to just stream music off of soundcloud, spotify, or pandora instead of downloading it and paying the artist. This drastic shift makes it really hard for an artist to survive without constant touring.
(Treavor) Our label is definitely just a place for us to release our own music, and other music we like. We don't worry about sales anymore because even really, really good releases, don't sell very well. We have like 70,000 fans on facebook, but it's really hard to sell 1,000 copies of a release. I'm not sure exactly why people don't think music is worth money anymore, but they sure seem to like paying to see us play. Without touring we become broke and looking for jobs really fast.
Amani, how's everything going with graphic design? What have you been working on lately, and how does this creative process contrast with making music?
(Amani) Honestly, not much lately. I stopped graphic design in 2013, after 15 years in the industry. The only design work I do now is for my personal projects. I found there are many similarities between music and graphic design actually; creating layers, and adding a bunch of effects to each layer; you have to mix them all and weave them in with each other to make a cohesive composition. In both you are an architect of a new world.
Treavor, what can we look forward to with T.MT? Likewise, Amani, what will see in-store for Liquid Bloom?
(Amani) Just a few days ago I was wrapping my head around what the next Liquid Bloom album will be, and I had a pretty clear vision for this one … it will be an Agua Medicina journey and bring together the traditions of music from the ring of fire regions of the Earth; Bali, Japan, Australia, and the Americas … (and maybe East India).
(Treavor) I have two solo projects I'm working on right now. One is T.MT which is for uptempo 4/4 music of various styles like Techno, House, Progressive, etc etc. I had a remix on Flow Records for Nanoplex this year that was really well received, and I have a remix in the works for Flying Rhino and a release on Perfect Strangers label Digital Structures coming soon. The other project is called Pheuzen (pronounced Few Zen, a word play of Fusion and Zen). This project will be an Electronica project focusing more on melodic music with a lot of vocals. Think James Blake meets Trentemoller and David August.
Most importantly, together as the legendary Desert Dwellers, where will your sand dune sails set next?
(Amani) We will be in Goa, India, right after Christmas for a festival called Sunburn, and then for New Years we will be in Costa Rica. In February we are playing at Gem & Jam in Tucson, and then Panama a few weeks later. The spring and summer will usher in the new DD Live Experience stage shows across North America which we are all very excited about. We are also excited to be heading to Europe for July and August, a trip that is long overdue.
(Treavor) It's really about taking things to the next level with our stage show experience. We are working heavily with performers Tammy FireFly and Anthony Ward, as well as our vocalist Meagan Chandler. We have a stage structure being built by world famous artist Carey Thompson that we will 3D project onto, as well. Our first batch of stage shows will begin in March and go thru June, before we head over to the EU for a summer tour there. I believe that the international scene is where our music will thrive the most, and I really look forward to sharing our music all over the world!
https://www.youtube.com/watch?v=TcUoaBXqR40
Links: