Hello, friends!
We have started to count the results of our The Best of 2015 poll! Best New Artist is our first revelation!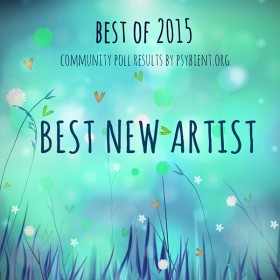 More openings coming soon! Stay tuned!
Events and festivals of this week:
Serenity Gathering 2016 (USA)
Pangani in Ritual (Germany)
Special Downtempo Night Vol 4 (Greece)
All event details and links are in the calendar.
Album of the week 10 results
1st: Harold Sleeper – Harold Sleeper [ Self Released ]
2nd: Living Light – Tales From The Karman Line 1: Hemispheres [ Desert Trax ]
Check other releases with players here and vote for the release you loved best of all!
Recent Releases (Psychill / Psybient / Bass):
aAirial – Samudra – Rednetic
Ajnia – Autumn – Self Released
Arkeyetexture – Lago De Sonhos – Big Wave Records
Astropilot & Friends – Soul Surfers – Altar Records
Birds Of Paradise – Riding The Froth – Addictech Records
Carbon Based Lifeforms – ALT:01 – Leftfield Records
Chichilcitlalli – Ambient Downtempo (Birds) EP – Bass Star Records
Dub Trees – The Cerronnos Dub Rituals EP – Liquid Sound Design
Earth Child – Dream World – Nutek Chill
Gallery Six – Static Collapse – Plusquam Chillout
Govinda – Decadence – Gravitas Recordings
Jedidiah – Aelohim Chill – Ovnimoon Records
Lab's Cloud – Consciousness Change – Plusquam Chillout
Morpheus – I.M.U. – Self Released
Motion Drive – Chill Out Realms – Iono Music
Omnisense – Covert Transhumanism Soundtrack – Self Released
R.Roo – Erroor – Self Released
Sattyananda – Tantric Frequencies – Audio Aashram Music
Soley – Entering Voids Of The Quantum Strange – Self Released
Spirit's Grapes – It's Over – Self Released
Spirit's Grapes – Systematic Chaos – Self Released
Unusual Cosmic Process – Living Earth – Blue Tunes Chillout
Various Artists – Phaeton Chronicles 3 – Tunguska Electronic Music Society
Various Artists – Storyteller – Spiritech
Wu Wei – Black Forest – Merkaba Music
YUV – Beyond Us – Self Released

Album of the week 11 selection :
Join our weekly poll to discover the most interesting music and to discuss it with us.
Express yourself and vote for the favourite release in a corresponding topic here:
http://forum.psybient.org/index.php/topic/1373-news-2016-w11-march-7-13-release-of-the-week-poll/

And for dessert this week is a 4k timelapse movie revealing the cosmosophic beauty of star trails!


NASA rock with their Ultra HD clips! Another fascinating video is Upiter, captured by Hubble in 4K.
Here is a link for particularly curious psychill lovers: it is explained about how did they do it. Upiter specificity, video details and moon maps also considered in the material, but the most mind blowing material here is a 1.5 billion pixels image of Andromeda galaxy.

The main thing is that you can zoom it in and out here – http://www.spacetelescope.org/images/heic1502a/zoomable/
It's fanstastic to play around, though at the maximum zoom it looks like if Seurat or another neo-impressionist painter had splilled glitter all over the artworks: just dots of different colours and sparkles here and there, while the image is understandable from away.
Psybient.org News team:
– news intro, dessert and publication – Tanya
– events updates – Trala Lama
– releases updates – Gordon
– forum best of the week pixie – Maia "Snowdrop"
– soundcloud group moderation – Alchemist
– fb mix group moderation – Kala Hari
– facebook page posting – Gagarin
– news graphic art – Runa
– overall supervising – Gagarin
Stay chilled and spill out!