This summer looks much more promising and many great events are scheduled ! For the lovers of electronic music in urban environment we suggest Brave! Factory Festival Ukraine in the Metrobud factory in capital ! Brave! Factory is a festival of independent music and culture that gathers thousands of guests and artists from all over the world. Last year the festival didn't happen and we are looking much forward for the 2021 event !
The rave takes place 21th-23th August. For more info, visit the festival's website.
18+/ Door policy in effect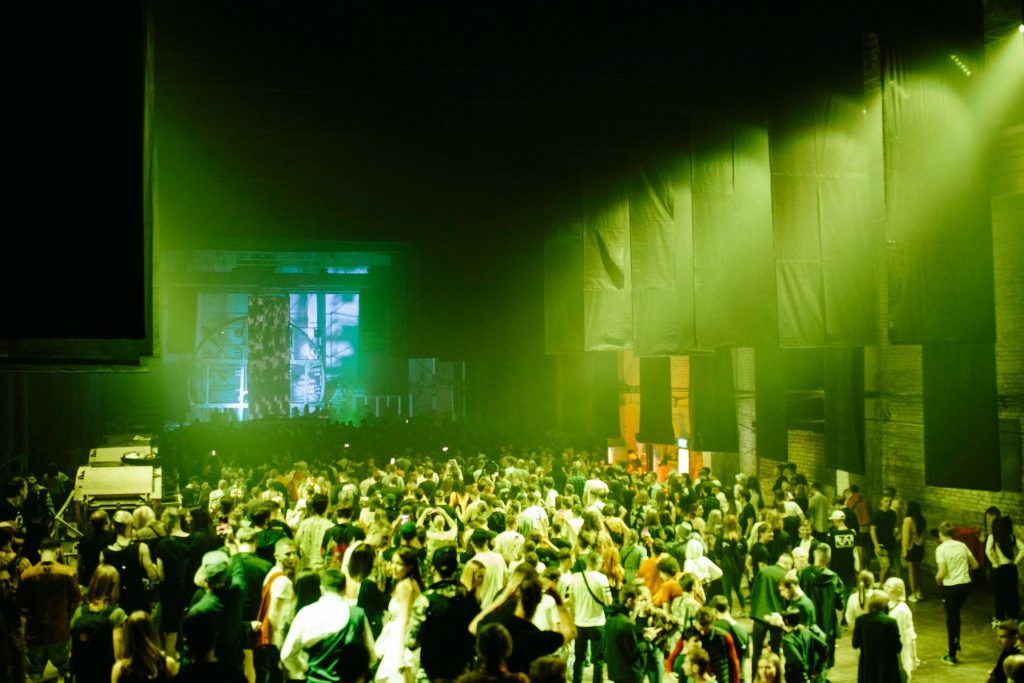 Lineup is stunning, and every one can find something for his taste !
Acid Arab (FR) – live
Alex Savage (UA) & Anna Haleta (IL)
Andrey Kiritchenko (UA) – live
Arp Frique & Family (NL)
b:mb: & M.Tkachenko & Dima Sokolovsky (UA)
Bedroom (UA) – live
Bunht (UA) – live
Chillera (UA) – live
Cristi Cons (RO)
dBridge presents Black Electric (UK) – live
Denis Polyakov (UA)
Der Diktatur (Luna Electronic Live) (UA)
Diser Tape (UA) – live
District (Trippsy & Alina Pash) (UA) – live
Dj Python (US)
Dj Rush (US)
DMX Krew (UK) – live
ERIS (DE)
Fango (IT) – live
Galaxian (UK) – live
Gapon (UA)
Haathi & Puoro (UA)
Indirech (UA) – live
Jailed Jaime aka Skygaze (ES) – live
Jana Woodstock (UA)
Jane Fitz (UK)
Josh Tweek (DE)
Kalabrese & Rumpelorchester (CHE) – live
Karenn (UK) – live
Karine & Noizar & Pahatam (UA)
Kode9 (UK)
Koloah (UA) – live
Komponente&Kurilo (UA) – live
Krossfingers (UA)
Kurs Valut (UA) – live
Leafar Legov (DE) – live
Len Faki (DE)
Lobanov (UA) – live
Maayan Nidam (IS)
Map.ache (DE)
Modeselektor (DE) – live
Monoconda (UA) – live
Nastia (UA)
Nastya Muravyova (UA)
Nastya Vogan (UA) – live
Nekiy Niko (LV) – live
Neon Chambers (UK) – live
Ocran (UA) – live
Pavel Plastikk & Philipp Markovich (UA)
Ponura (UA)
Ready in LED (UA) – live
Recid (UA)
Roman K & Igor Glushko & Vera Logdanidi (UA)
Sasha Zlykh & Trippsy (UA)
SE62 & Vova Klk & Mykyta (UA)
Serge Jazzmate (UA)
Shatalow (UA)
shemovesshe (UA) – live
Si Process (UA) – live
Sunchase (UA)
Svitlana Nianio (UA) – live
The Ghost (DE)
Timur Basha & Shakolin & Borys (UA)
Tobi Neumann (DE)
Tofudj (UA)
Tysk (UA) – live
Vani Vachi (UA)
victor.b (UA) – live
Vladimir Gnatenko (UA) – live
Za! (SP) – live
Zolaa. (UA) – live
Князь Володимир (UA) – live
Ницо Потворно (UA) – live
More TBA
***
(c) image copyright Brave! Factory Festival