Report by Fils des Etoiles,
Edited by Tanya
It is now my third week in the Lithuanian forest, from Yaga to the European rainbow and now my last step of this beautiful Baltic summer. Once again, very easy to find, and still so far from any city …
Promoted as unwelcoming alcohol and drugs, many of the rainbow family came and were a big part of what made this 2015 gathering, and I arrived with 6 more in my van, full of backpacks and smiles (one of them get hired at the entrance as journalist, how life is magic)
The spirit of Gaia Gathering is annouced as :
In this time we give thanks to the Mother Earth for the harvest yielded and the beauty given, we dance and sing in Her honor, and accept Her blessings.

Proud of its pagan heritage, Lithuania surprised me for enhancement of its traditions and culture, which filled the festival from the shops to the stages, from ceremonies to workshops, teaching sharing to keep the tradition alive.
The decoration of the main stage was entirely made of yellow grass in a wonderful shape, next a beautiful river, beach and tipy where amazing, healthy food is sold all day long. In the chill, wooden decoration and structures was melting with subtle lights around the trees.
5 stars shitpits have been dug and candles lighted them at night, it is a luxury, few shops sell very nice and healthy food day and night, and the one and only Chai yourt makes fine indian Chai tea all time near the chill, all what is needed to feel good in a festival.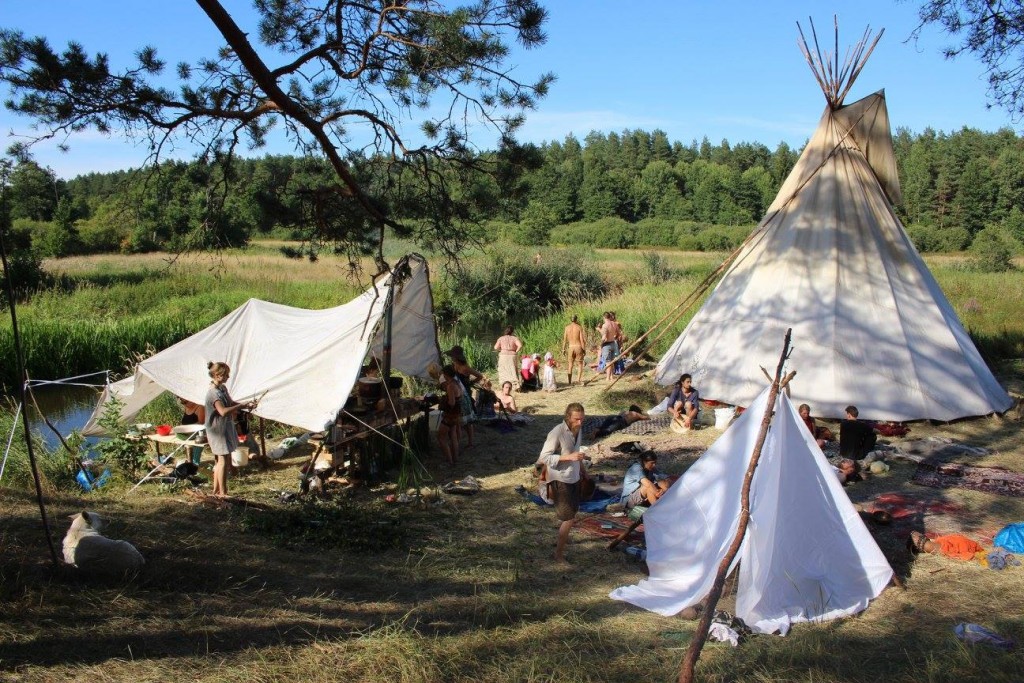 Photo by MagdaLena Gorbacz
This first night, a pagan ceremony opens the festival, candles, fire show and folk singing (Sutartines), lights dancing on the water, charming voices repeating infinitely around the fire. This feeling of being the part of an old tribe is strong and bounds us, for these next days, we are a family, we came together to celebrate life respecting the nature around us and ourselves.
In the night, the main stage has been for me was very dark, just Sunday morning was dedicated to Goa music (Goasia mainly), and of course everybody regreted the cancellation of PSYKOVSKY.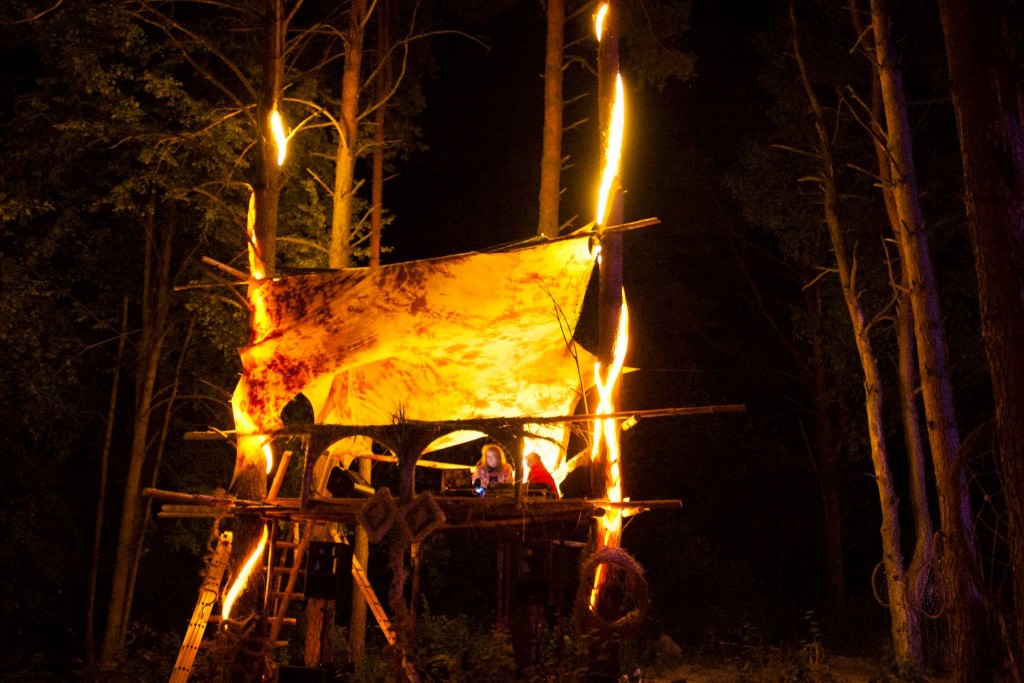 Photo by Jakub Ślipiec
The chill stage played mostly ambient, dub, cinematic and downtempo music, little to dance in the cold nights which made most of the people stay in the chai yourt and also very little for my psybient appetit
Like any little festival, it was difficult to run out of the main stage sound, and even in the chill you could hear the beat going, that made difficult to enjoy this "chill" space, so full of nets to lay down and relax.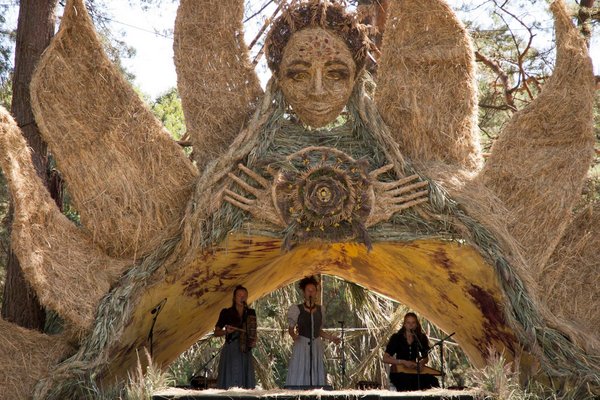 Photo by Jakub Ślipiec
For my live set, I was honored to give such a nice and fresh sunrise experience to the little audience that stayed around the fire on Sunday morning, some of the sleepers woke up with the sounds of the tropical forest and didn't know anymore where they were, magic.
Every morning, while the sun was rising, we could see some smoke going out of the river, evaporating in mesmerizing flows and spirals, unforgetable visions of pure nature.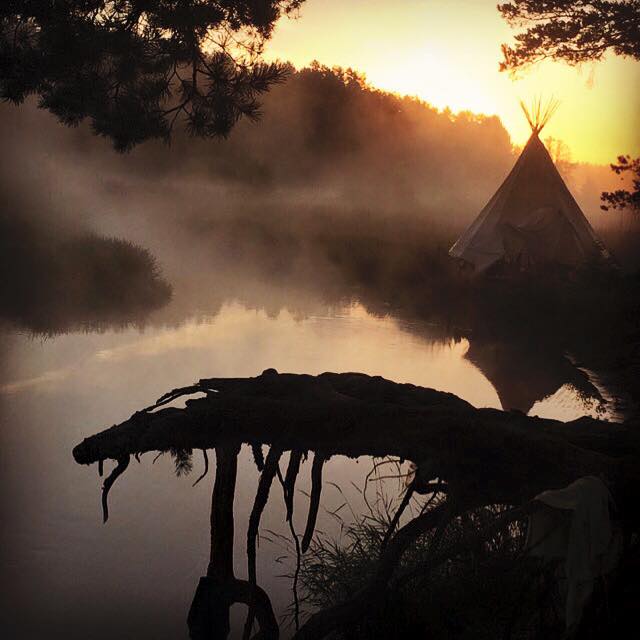 Photo by Simona Norkunaite
During the day, live artists inspired by Indian, Baltic and American Natives traditions have played in both stages, mixing mouthharp, didjeridoo, many kinds of flutes, strings, chamanic tambourins, to electronic and singings, made the atmosphere friendly and peaceful, so nice and also so rare to find in most of trance festivals.
Workshop were announced all day-long: traditional singing and dancing, lithuanian symbolism, needlework and costumes, crafts making (stones, dream-catcher…) and many self-development technics as vocal improvisation, authentic dance … and even a sweatlodge !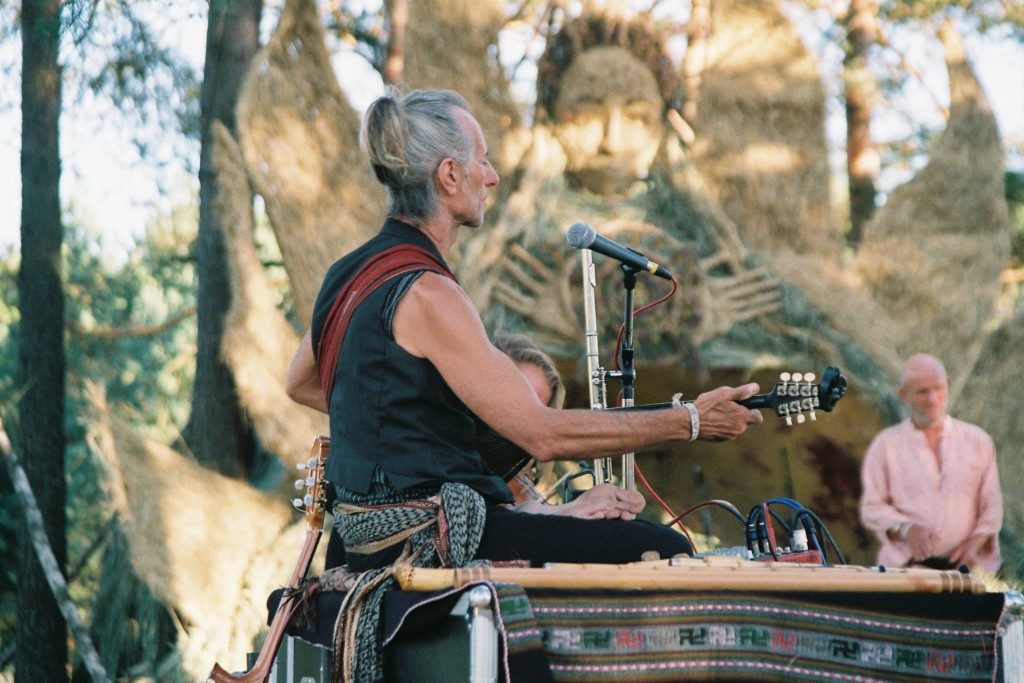 Photo by Andrej Shroomistic Novikov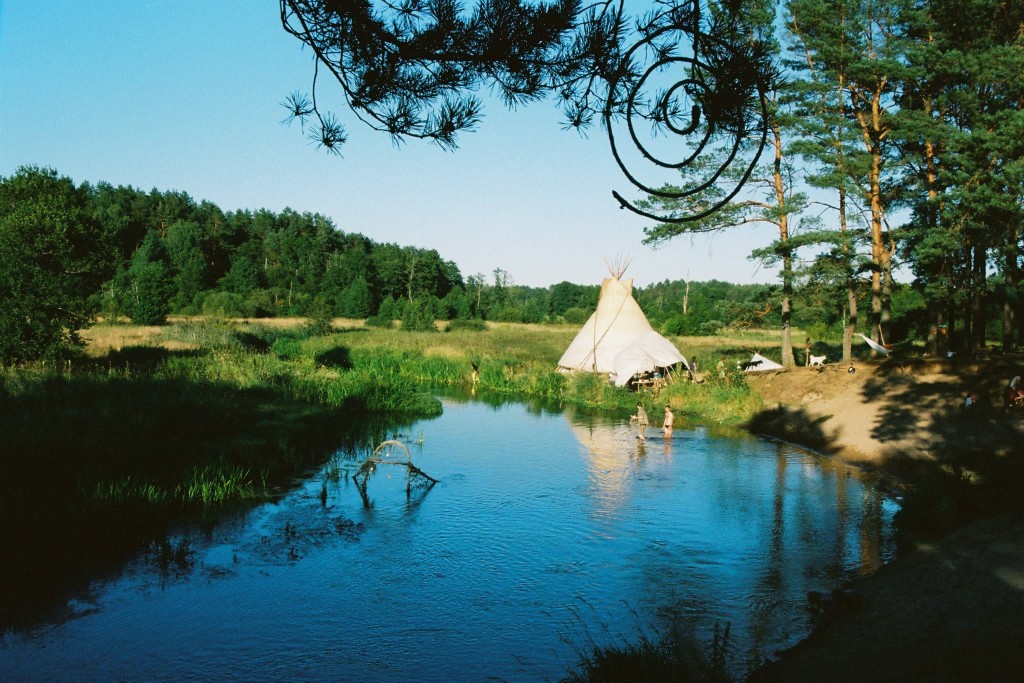 Photo by Andrej Shroomistic Novikov
In fact, very little smoking and drinking will happen in this festival, for me it is like being home, every single person smiling, children playing safely, artists meeting craftmen, teachers, jugglers, organizators, dancers and volunteers, in joy.
I can definitely state that there were too few people for this gathering to give its best, never was the dancefloor full of dancers but still locals, travellers, ravers were enjoying together in harmony with nature and peace, which is most important and makes us want to enhance this kind of festival.
Healthy, sustailablility, harmony still doesn't rhyme with popularity but each performance and event makes a step further in the direction of goodness for us and mother Earth.
Things of life made me leave before the end and I keep a beautiful picture of this lovely people, gathered in the forest to celebrate oneness with nature.
See you in 2 years for the next Gaia Gathering :)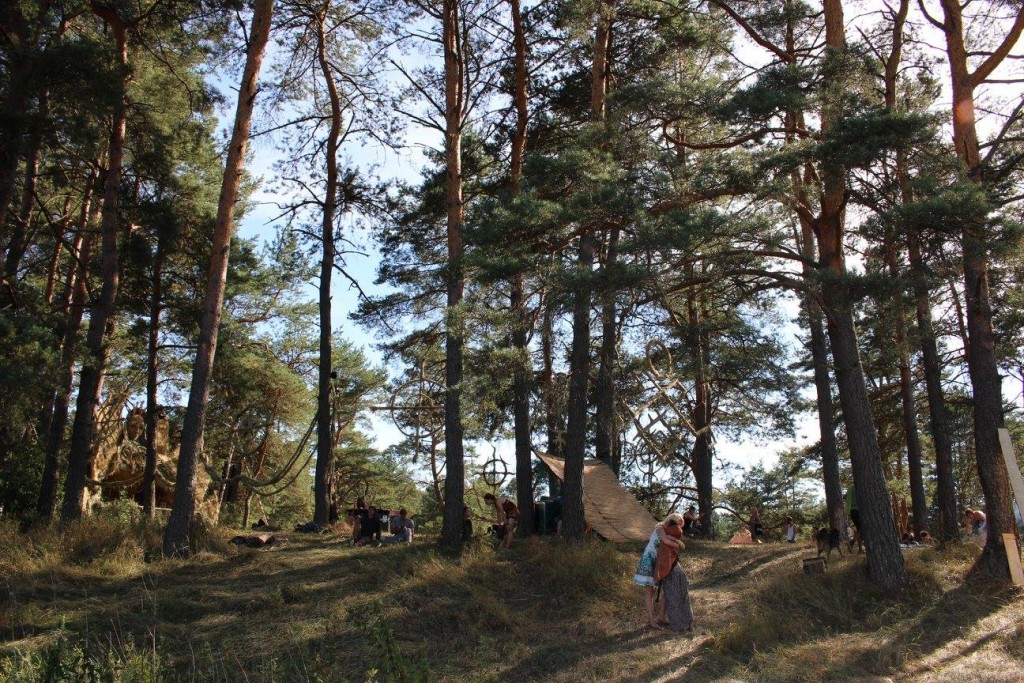 Photo by MagdaLena Gorbacz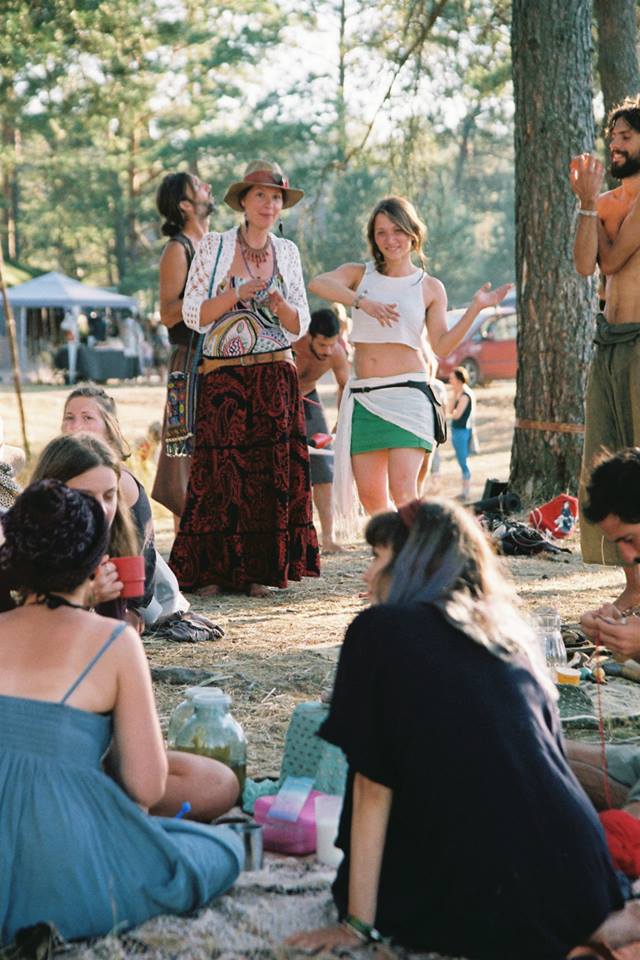 Photo by Jakub Ślipiec                                                          Photo by Andrej Shroomistic Novikov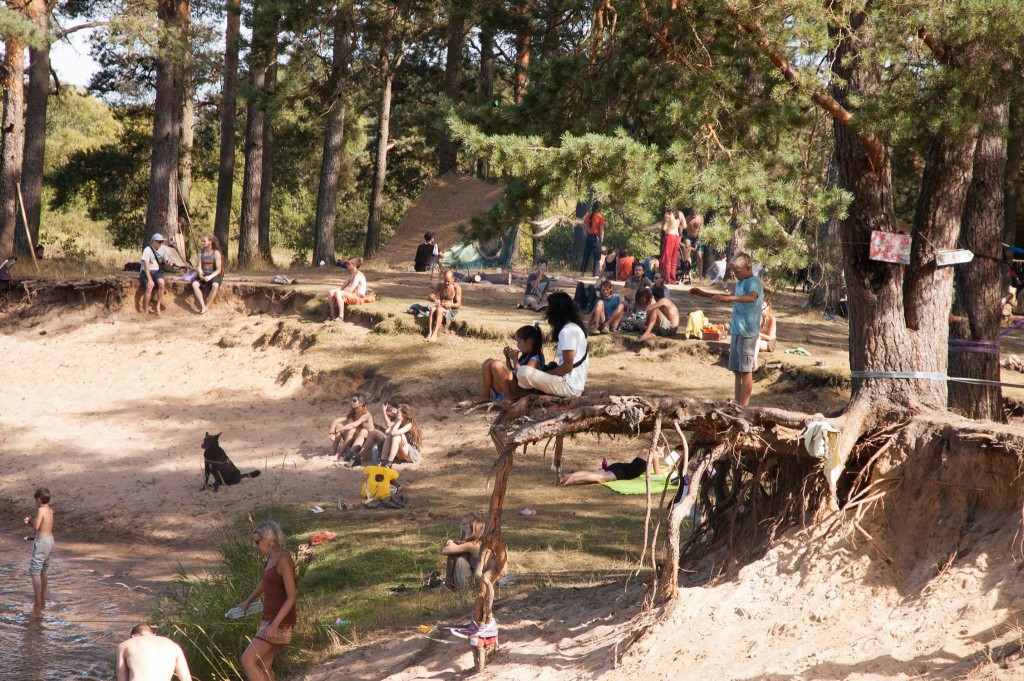 Photo by Jakub Ślipiec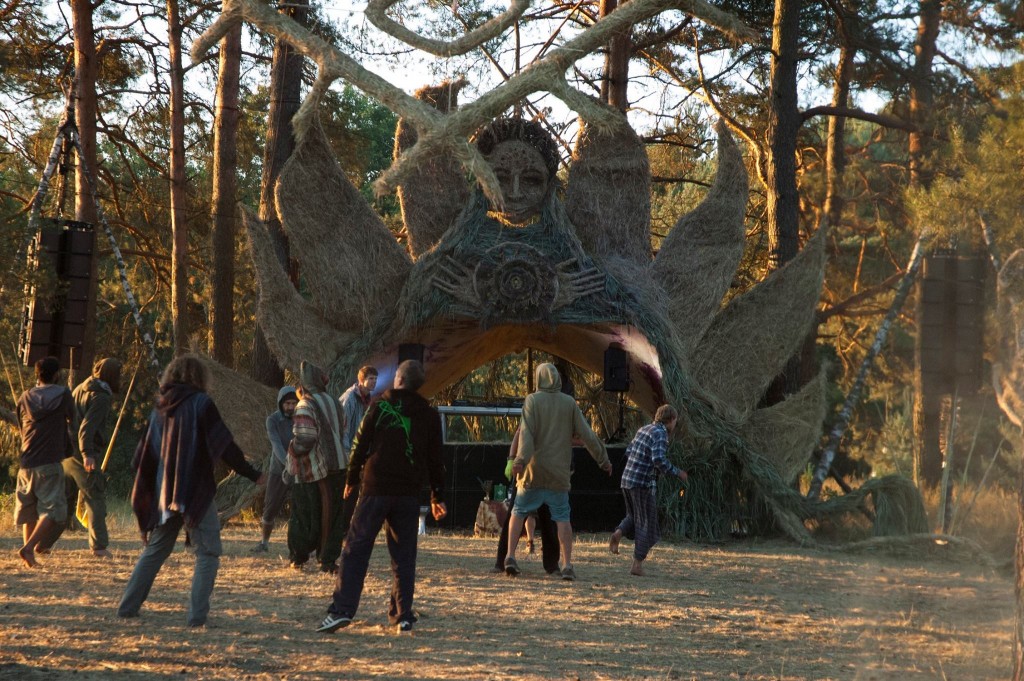 Photo by Jakub Ślipiec
Nico aka Fils des Etoiles (https://soundcloud.com/filsdesetoiles/live-gaia-2015)
Website of the event : http://gaia.lt/
Facebook of the event : https://www.facebook.com/events/664944990284463/
Facebook of the community : https://www.facebook.com/pages/Gaia-Gathering/280462541973406?fref=ts