We continue to talk about music instruments, today the topic is drums. Let us know in comments or via contact form which other instrument you are interested in.
Buying Drums
No matter how old you are, it's never too late to learn how to play the drums. Drumming is one of those fantastic things that people of all ages can take part in. 
There are various reasons why people get into drumming. Whether you wish to be a professional drummer or a hobbyist, it's something fun and exciting to do. Whatever the motivations behind a person's desire to learn and to play the drums are, you can't deny the fact that like music, drumming brings positive effects and benefits, such as:
Drummers are natural intellectuals:

Studies

suggest that there's a correlation between their sense of rhythm, intelligence, and timing. 

Impacts the health and well-being of students:

According to the

Clarke Burke Drumming Project

, drumming helps students with improving their movement, including timing, dexterity, and rhythm. 
If you wish to enhance your drumming skills, you need constant practice. While you can book a session or two in a studio from time to time, the longer you do this, the more expensive it'll be. 
If you have space and resources, then you should consider buying your drums. There are various drum sets sold in music retailing shops, both online and offline. With that said, before making this monumental purchase, there are some things you need to know before you get your very own drums. 
If you are wondering what these are, take note of these considerations below: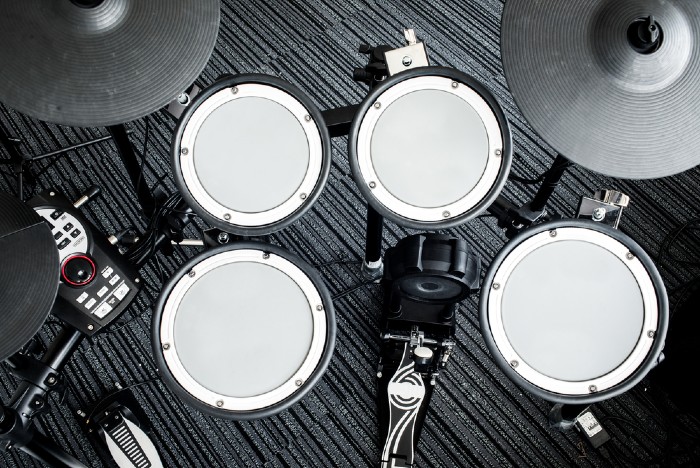 What's In A Drum Kit? 
Before purchasing, you need to make sure you know what you're buying. If you're a beginner, you might want the essential parts first. Then, once you've leveled up your skills, you can customize your own set. 
Make sure your start-up kit has the following:
Tom Drum

Bass Drum

Cymbals

Hi-Hat
Apart from this traditional drum set-up, one option that you might be interested in is an electronic drum kit. If you lack room for a drum set but have the desire to practice whenever you can and wherever you are, then electronic drums are great alternatives. 
If you wish to know about this, https://abovehouse.com/alesis-nitro-drum-set-review/ offers more information.
Who's Playing The Drums?
Whether you're shopping for yourself or someone else, you should think of two factors before picking a drum kit. These include skill level and age. If a young child is using the drums, there are starter sets that you can get. If it's someone who falls between 6 to 11 years old, there are junior kits for them that you can buy.
If you're acquiring drums for yourself, then there are a lot of options that you can choose from. It's just a matter of determining which one fits your requirements! 
What's Your Budget?
If you're committed to learning and playing the drums, then you need to determine how much you're willing to spend. When it comes to buying a drum kit, think of it as an investment. It'll help make things easier for you as you narrow down your choices.
If you're a newbie, you can start with a $250-$1,000 budget. However, if you're willing to shell out, you can get the drums from the brands with higher price points. 
Should You Get Something New Or Secondhand?
If the drums you've been eyeing are within your budget, then you can go ahead and pick that. The good thing about buying something brand new is that there's a warranty covering it. If there's anything wrong with it, you can return and exchange it.
If you're opting for something used, then you need to make sure you check it meticulously. You can find quality pre-loved drums for reasonable prices. If you do find a second-hand drum gear, don't forget to check the quality. You don't want to buy something that has signs of damage, or else you risk having a poorly tuned drum kit. 
When you're unsure of the condition, perhaps a drum enthusiast you know can help you out!
What's The Best Material?
Drums come from different materials. It's particularly true for drum shells, which play for drummers, the material plays an important part. If you're shopping for a kit, you should check which type of wood the drums are from. 
If you're not too familiar yet with the different varieties, here are the most common kinds of wood used in manufacturing drum shells:
Birch

– This type of wood is one of the most common materials for drum shells. Since there's an ample number of birch trees in the world, it's easy to make drum shells made from them. 
Given their abundance, you can find reasonably priced birch drum shells for sale. Thus, if you're on a budget, try looking for a drum set made from birch. 
Maple –

This variety is a significant alternative to Birch. Just like the Birch Tree, Maple Trees are easy to find, so it's no wonder that a lot of drums are manufactured from this. 
Compared to Birch, Maple is heavier, harder, and denser. Drums made from this material are said to have a great balance between mid and high tones.  
Mahogany –

This is another popular material for drum shells. When you're looking at drums made of this type, make sure it's from African Mahogany. 
While drums made from this are a little more expensive than the ones made of Birch and Maple, they bring vibrant and rich lower and warmer tones.
Conclusion: Strike A Great Drum Deal 
When you're on the lookout for a great drum deal, don't forget to remember the different considerations mentioned. These will help you figure out if the offer you have right in front of you is worth it!
You need to make sure that you have a keen eye for details. If you have to, you can look for reviews and ratings. These would be useful in determining if the drums you're looking at are worthy of your investment.
Once you've figured out which ones you'll be getting for yourself, you can enjoy it to your heart's content soon after. The more that you play the drums, the better and happier you will be!