Astronaut Ape is an electronic music act formed by experienced music producer Oleg Belousov. Now he is well-known around the world by the cosmic sounds of his atmospheric cosmic and danceable music.
Astronaut Ape has released five albums and made a compilation "Cahaya Dari Jiva." Along with that, his tracks are published by many labels worldwide. He is a frequent guest on numerous radio broadcasts.
As an artist, constantly trying to push his creativity from common boundaries, he is producing music as the blend of different music genres. Progressive bass line, dubstep beat, chillout melody, sampled ethnic instruments and synthesized cosmic sounds – all these mixed into immersing audial space travel.
Interview is made by Tanya Z and Gagarin on 11/06/2017, edited by Fuluf
Hi Oleg, thank you for taking time to talk to us!

Hi! Thank you for inviting me for the interview. I love what you are doing with psybient.org, always supporting good music. So I'm excited to answer your questions. You've prepared interesting ones, I have to say.
What is your musical education? Have you attended any musical school and for which instrument?

Well, at the age of 9, my grandparents tried to send me to take some piano lessons. But they were incredibly boring for me as a child; I had to escape from there on the second one. So my grandmother, angry as hell, found me in the local martial arts school, watching as my school friend training in karate. :-D
Since then, I never had any musical education, and have learned everything myself. I don't play any musical instrument except my laptop, and midi-controllers from time to time.
How have you started the project? Have your far-reaching plans at that exact moment became true?

That's a long story about the start. I grew up reading science fiction books. Asimov, Sheckley, Bradbury, you name it. I dreamed of flying to the stars in the massive spaceships, jumping through hyperspace, exploring uncharted planets on the galaxy frontiers.
I've found this picture of John Picacio, the cover art for the sci-fi novels book: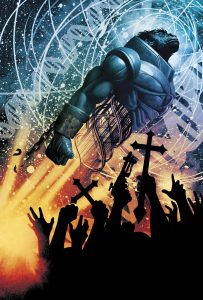 It is resonating deeply with my thoughts, all my feelings, and emotions about this world. This picture inspired me to take the name Astronaut Ape.
As for the far-reaching plans – I'm halfway there. Can't tell more right now.
What is music making / producing for you ?

I am travelling around the planet, experiencing many things for finding the most interesting pieces of emotions, then mixing them into the alchemy of sound. Making things that make people feel.
The music track is like a zip-archive, filled with emotion. Sad, enlighted, sorrow, happy.
Emotion inside the sound resonates with the emotion inside you. Making your feelings stronger.
That's how it works.
Do you have weaknesses? Is there anything that prevents you from making it the best?

I am a highly empathetic person. That's my weakness, that's my power. Weakness because I easily may become upset, or feel too many emotions, so that makes me exhausted.
That's my power because it allows me to live in the exact "now" and feel the full beauty of the moment, then share it with my music.
Making the best, huh? I think, we are making best at every single moment of our lives. But sometimes we start thinking that we are not best. That we have to struggle to change ourselves. That we have to be someone else, the better persons.
I prefer not to play that pointless game our minds trying to play with us.
What studio equipment and software do you use for composing?

My set up for composing is the powerful PC laptop, Focusrite Scarlett 2i4 soundcard, the pair of AKG K240 headphones, and the pair of JBL LSR305 studio monitors.
From time to time I had my hands on other stuff like the Akai APC Mini, Akai APC-20, many midi keyboards, and controllers. They were making things easier, but with them, it's hard to travel. So I've decided to stay as minimal as possible and sell all of the not necessary gear.
As for the software, for years I'm using FL Studio, now at version 12.
I'm using Ableton too, mostly for live performances or live sessions with other musicians.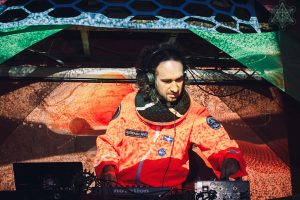 What are the musical weakness you see in the Astronaut Ape music?

This question feels strangely interesting for me. Like it is the question that I had to ask myself first. I never thought that way about my music.
I'm not ready to answer right now, but I will meditate on it. Any answer will definitely be insightful for me.
Thank you for this.
What are your favourite VST Instruments?

I'm a big fan of Native Instruments, and my absolute favorite is Massive synthesizer and Replika XT delay/reverb. The ReFX Spire is a powerful synth for me too, I love how it sounds, but it consumes so much CPU, that I'm using it rarely.
As for effects, mixing and mastering – that's definitely FabFilter bundle.
You keep on composing very cosmic music. Have you ever tried other psybient sub-genres? Or even not psybient at all?

Thanks. Of course I tried! :) I've taken part in creating soundtracks for some of the PS3 arcade games, like Wheels of Destruction and Terrover. That was a long ago, though, almost at the start of my musical career.
From time to time I'm trying other styles. Recently I've finished the track with a crazy, but the melodic mix of different styles – like psychill, breakbeat, progressive, etc. I plan to release it as a single this year.
Right now I'm working on remixing my psy-chill tracks to atmospheric drum'n'bass.
What have inspired you to composing 'Neverending Summer'?

I was traveling to South-East Asia… Thailand and Malaysia, then Bali island. So, somewhere in the middle of this trip, inspired by all these colours, sounds, smells, and smiling people, I've decided to compose music tracks about this world, where summer never ends. That was in Kuala-Lumpur, at the home studio of my friend, musician known as By The Rain. This Asian energy so uplifted me, so I've made this track incredibly fast, within two evenings.
Who are your favorite artists from the psychedelic chillout music? And from other styles?

Astronaut Ape of course – my favorite artist of all genres! :-D
I think, one of the best musicians who produce psychill – it's Noraus. I love his sound, so bright and atmospheric.
Please, enjoy his release on Microcosmos Records
Do you think it is possible to live from making music? Are you full time musician? Would you like to be?

I believe that it is possible. Many musicians are doing so.
I am not the full-time musician yet. I take freelance jobs from time to time, like making websites, or doing graphic design or 3D modeling. And of course, working on my music project.
There are many ways to get the income from music. Selling it on iTunes, Google Play Music and similar services is a good idea. Streaming services like Spotify are good too. You can perform live acts. You may teach someone to learn music. You may produce the music for other projects or artists. Mixing stems for them.
All the ways are open.
Just "making" music – I mean exact production, like sitting in the studio, pressing the buttons and tweaking the knobs – it's the most fun part.
But it's the only one piece of the big puzzle.
Since how long you work with Microcosmos label and what do you like about this partnership?

I cooperate with the Microcosmos label from the year 2011. In February 2012 Microcosmos published my first album, The Mirror.
The label was just after the starting point too – that was only third Microcosmos release ever, so you can say we grew up together.
Microcosmos did many good things to Astronaut Ape since then. As well as do I to Microcosmos.
Our relationship is productive and profitable for both of us.
[bandcamp width=100% height=120 album=2420994886 size=large bgcol=ffffff linkcol=0687f5 tracklist=false artwork=small]
How do you play live? What equipment and software do you use? Any special secrets you can share with our readers?

For me playing live, the most important thing is never to prepare live sets. Because of the most important aspect of any party – the vibe.
The line-up may change. There may be delays. The ambient artist who was playing right before you may decide to try something experimental and have ended his set with brand new glitchy breakbeat track, and people are dancing and want more.
If you had your set prepared to start with chill-out track – you would break the vibe, and half of the dance-floor will go bar or tea room, or somewhere else.
So, the secret I can share with readers… Well, if someone who plan to start his electronic music career reading this right now – here is my secret for you.
Become a DJ first.
Playing a DJ, you learn to feel the vibe of the party. I mean, almost physical feeling, I'm even shivering when the track I'm playing matching the vibe. And when you able to feel – you can control it. Playing DJ sets is the only way to learn that.
As for my equipment for playing live, I'm using NI Traktor Kontrol S2, with the NI Traktor Pro 2 DJ software; as well as Ableton and Akai APC Mini controller.
What was the funniest experience at the festivals you have been to or played at?

Last year I was playing at Trimurti festival. There was a team of fire dancers performing when I played. The decorations were "organic" (made from sticks and cloth mostly), so it's no surprise the stage catches fire and start burning.
The technical guy extinguished the fire. I was playing in the clouds of smoke from the extinguisher, lit by stage lights, with fire dancers still performing… That was funny and epic feeling at same.
Which festivals around the world you would like to participate at?

The Boom Festival is number one on my "would-like-to-participate" festival list. The others are Ozora, MoDem Festival. Samsara Festival in Hungary worth visiting, it is "the" psy-chill festival, where the chill out stage is the main stage.
I was performing at Chill Out Planet in Russia and Sun Spirit in Crimea this year, and these two were amazing. I highly recommend them and would like to take part next year.
What was the strongest failure of the project? What was most difficult moment for you?

Well, I was playing in one of the biggest Moscow night clubs. My MIDI-controller dies, laptop suddenly freezes in the middle of the performance… Only the sound card was working, so there was no silence moment. But I had the incredibly stressful and tense moments playing half of the hour on almost died equipment before finishing my set.
What was the strongest success of the project?

Playing at Aware Dance 4 Peace Festival at Bali Island, and playing on Microcosmos party with Shpongle as the headliner. These two were life-changing events for me. The first one because it was my first foreign gig; as well as first travel outside of my country. Second one – because I've learned so much then, and played for the first time for such big audience.
Ideal psybient party – what is it like, from your point of view? Visuals, location, floor, light etc?

The Psybient music is all about the immersion. So the user experience should be designed for the each aspect. There should be places for people who want dance, places for the people who want chill. Lights should be dim.
There should be other activities than dancing or listening music. Maybe virtual reality, why not? Just imagine 3D visuals performed by the VJ real-time while the artist plays! That could be an amazing experience.
I think party makers should think a little bit outside of the box. Making parties more the piece of art, than just gathering of friends.
Please tell us about your travelling experience. What was the most beautiful place you have visited? Maybe you have been disappointed in some locations? What was your most difficult trip? Do you experience Goa syndrome?

My father has been the military officer, so our family was moving from one city to another when he was transferred to other locations.
So you could say I've been travelling as far as I remember myself.
I've tried several times to settle down, grow roots, but then I hear the call inside me. It's annoying like a mosquito buzz, but inspiring and uplifting at the same time. It tells me: "What are you doing here? There are so many places on this planet to visit! Go buy the ticket to airplane right now… Or maybe a little train tip? And I'm buying tickets and going somewhere I've never been before.
The most beautiful place on Earth for me is Bali island. That was the first country I ever visited outside the Russia, so you can tell that it like the first love forever.
I have never been disappointed anywhere. Opening every new country for me is like travelling to another planet. And that's not a metaphor. Just imagine all these people living in the different world from your perspective. Another language, other meanings, different points of view. That's a tremendous experience to learn something from them.
The Goa syndrome… Yeah, all the time. It feels exceptionally powerful right when the first snow starts falling, and the weather gets cold. As an ape, I prefer much warmer climate, you know. :)
Imagine you have a possibility to choose a location for the party you will play at: any location around the world, including urban buildings and abandoned spots, beaches and mountains, transport too. Where would it be?

I have a dream to play live from the spaceship on the Earth orbit once, broadcasting to many parties all over the world. What could be more awesome than a spaceship on the orbit?
Are you into esoteric lifestyle? Do you follow any practice?

I've had some yoga lessons. Now I am just meditating time to time. I think the best practice for life – living your life. So the best practice for me – be in the moment of "now."
Thank you for your time. If you wish to transmit a message to our readers please do it.

Thank you very much for inviting me. It was a pleasure for me to answer your interesting questions.
As for the transmission for the readers, I just want to thank you for the support and love!
Your support motivates me to move further and expand my creative boundaries, go deep to the unknown sectors of space. To get you new beautiful audial gems from there. :)
Thank you.
If you wish to learn more about Astronaut Ape, visit the links below:
http://astronautape.com/
http://microcosmosrecords.com/