Lab's Cloud is the type of artist that, when releasing new music, you look forward to comfortably sitting or lying down and fully actively listening and flying. Five albums, several EPs and a good number of remixes and collaborations for compilations, all of them touching different aspects of psychedelic chill, make him an eclectic and trustable musician.
His last album 'The structure of emotions' is a profound and delicate ambient work which makes you travel through endless soundscapes, textures and sonic paradises.
Raúl Jordan's music journey is already long, not only within the chill out scene but with faster danceable vibes, and also covering research and developing projects as a sound engineer. He is nowadays leading his own mastering studio 'Abstract Studios', from his hometown Valencia in Spain.
We feel very fortunate to talk with him and discover a bit more about his activities.
Interview by Shantiago on 21/05/2021.
Hi Raúl, how is it going? Thank you for sharing some time with us.
Well, everything is fine here. It's a pleasure to be with psybient.org and show the audience something more about me.
Since the release of your first single 'Esmeralda' back in 2005, you have been very busy producing music. Why make music?
Because making music makes me happy. For me it's a necessity, like breathing, eating or sleeping. If for some reason I can't do it for a while, I have to say that I feel bad, I become a worse person, my family can explain it better! For me it's a form of meditation, a moment when I don't think about anything else, I let myself go into pure creation. That's why I make the music I enjoy.
Those are deep words I must say. Are your music roots psychedelic or did they grow from other styles?
My roots come from the electronic music of the 80's and early 90's, styles like EBM, Acid, Electro or Belgian New Beat. And artists with a very trancy sound, although back then everything was classified as techno. Here I leave some tracks with which you can understand my influences:
Bigod 20 – What ACID
Liaisons Dangereuses – Los Niños Del Parque Original 12 inch
Elegant Machinery – Process (original)
Konzept – Human Transmission
Kraftwerk – the numbers
Master Program – Hallo
Dynamix II – Techno Bass
Blind Vision – Bestialic Beat
KLF – What time is love
Konzept – Condemn Me (Fog Edit)
Nitzer Ebb – Hearts & Minds (Hypersonic mix)
The Overlords – Sundown
The Hunger – Tonight (Factory)
Der Dritte Raum – Hale Bopp (original mix)
Inspiring list, and indeed funny that in the early days almost everything was classified as techno. How did you land later into the more chilled side of electronic music?
Although I started releasing my first Goa/psytrance album in 2001 as Psycho Abstract, I soon started to feel like doing slower, more chill tracks, so in 2003 I started the Lab's Cloud project to put all these chill songs in there. Little by little my body was asking me to do more chill and less psytrance, so Lab's Cloud became my main project. But I announce that I have new songs from Psycho Abstract and that I plan to release a new album, although the date is still open.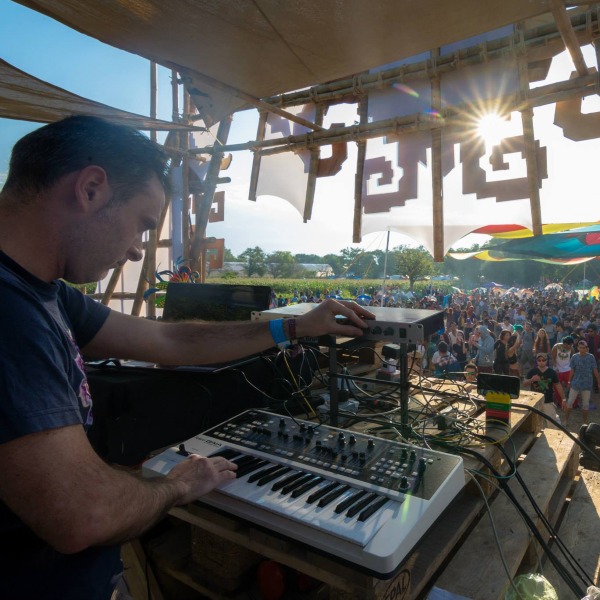 Along the bliss of listening to your new album 'The structure of emotions', we can read on the network kind and even touching comments about it. Could we know a bit more about the album?
The truth is that it is getting very good reactions from the audience. As the name of the album indicates, it is an album full of emotions, or at least I created it with that intention, to express my emotions and so that the listener could also feel them through the music. I believe that the message in the form of sound vibration has arrived, at least the comments of gratitude that I have received show it. Above all I received a very emotional one, who told me that he played my album for a friend in his last moments of life, because of the peace that it transmitted to him and the truth is that it is overwhelming to know how far music can go and that it has served as a step towards another form of energy.
How came the idea of creating a beat less album?
I've been listening to ambient music for a long time now (more and more lately). And a few years ago I thought about putting aside the pure ambient songs created with the idea of making a dedicated album, an ambient without beats, without any shocks, that you could use to meditate, to work without disturbing or to sleep. That's where the idea was born.
Besides this great ambient piece, the music you make touches very different styles, actually you have a techno project called Abstract Seeds. Is your inspiration coming from different sources depending on the style in mind or is there a unique source of inspiration? Which is the vision you have working with very different approaches, melodies or rhythms?
In the end all influences come from the same source, and it's something I can't get rid of. But depending on the kind of song I have in mind (more ambient or more trance) I choose a different direction, I focus more on the soundscape or the rhythm I want to make. If it's an ambient track I concentrate on the atmospheres and textures and how they evolve. If it's a track with a 4×4 beat or chillgressive, apart from the atmospheres, Iplan well that rhythmic part that is very deep and that hooks you with its vibration. And as you say in my new project "Abstract Seeds" which covers a very open techno around 125 bpm, here the focus is more of a club approach and maybe that's where I openly uncover my origins. What seems to accompany me in all my projects are the acid sounds, it seems to be something that goes with me, apparently I was born with an acid dna!.
We have experienced a really unusual year where we all had to rediscover and renew our mind and activities. Do you feel that you have kept your projects alive despite the lack of events?
During this past year and with the lockdown, I have kept my projects more alive, as I have been able to dedicate more time to composing and production, as well as mastering for other artists and labels. With this extra time in the studio I have been able to finish the album "The Structure of Emotions" early. So I could say that it has been profitable for me.
Which are your near future plans either in Spain and around the planet?
Well, the future is quite uncertain, to be honest. There are not many plans in sight. The most important one is to play in 2022 at Shankra Festival, Sri Lanka Edition.
Despite the uncertainty, we all keep thinking about festivals. How do you combine DJ and live acts?
As Lab's Cloud I always do Live Act, as a Dj I usually do it when I play Psytrance and even there I like to improvise on top of it with some synth.
Do you prepare specific performances depending on the nature of the event or venue?
As the sound of Lab's Cloud covers a wide spectrum of chill music, from soft ambient to danceable chillgressive, I try to find out from the organiser what sound they expect. And also knowing the time and the artists that play before and after me I adapt myself so that there is not too brutal change.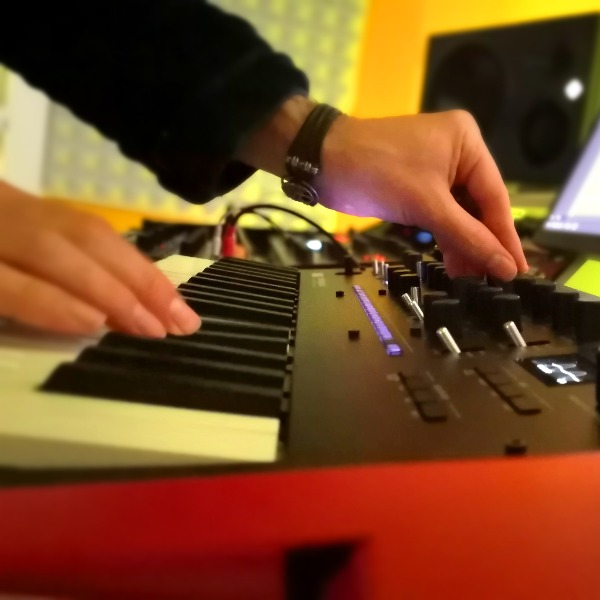 Let's talk now about software/hardware for production and live performance. Are you a hardware geek? Do you haveany preference to work either when producing and performing live?
I think I'm somewhere in between hardware/software. It's very easy to get caught up in consumerism and buy hardware, I'm trying to control that impulse and usually when I buy new hardware it's because it's clear to me that it brings something that I can't get without other of mygear or software, either by sound (like analogue synths) or because it provides tools that speeds up my workflow or help me to be more creative. But with software I also apply the same principle of buying what brings me new things. Buying and buying and having a huge list of software just makes me scattered, I prefer to focus on a few quality things.
Although the psychedelic chill scene is not huge, there are plenty of people trying to learn how to produce and create proper and quality sounds. Do you have any advice for them?
The vision that I have and that I recommend is to make the music that you make, to be true to what you feel, to make the music that makes you feel the best, don't let yourself fall into sticking to a style and a stereotype if that makes you uncomfortable. Don't put up barriers, merge everything you like and you will have your own style.
You have recently started a project managing Abstract Mastering Studios. However you have a vast background as a sound, developing and research engineer. Could you tell us a bit more about this side of your career?
Yes, it's my technical side. Since 2001 I have been working as an R&D engineer designing professional audio processors (hardware and software), first at VMB Española and later at Lynx Pro audio. 
Soon I will release the 3D acoustic prediction software that I am developing for Lynx Pro Audio, called Rainbow3D.
https://www.lynxproaudio.com/www/home/rainbow-3d-acoustic-simulation-software-lynx-pro/
With this technical background and experience in sound in 2005 I started mastering works for other artists, but it was in 2017 when I decided to build from scratch the plant that houses "Abstract Studios", consciously designed taking into account all the acoustic aspects to perform a professional mastering. Since then I have been offering my services openly. https://www.facebook.com/abstractmasteringstudios
And before finishing. We know who Lab's Cloud is, but who is Raúl as human?
I am a person who likes to laugh at almost everything and I try to see things from a positive point of view and learn from it. I like to enjoy the little things and feel nature whenever I can.
Would you like to give a message to the psybient.org community, readers and listeners?
Thanks a lot to psybient.org for allowing me to tell more about myself. The message… guide yourself by what you feel and do what moves you inside.
Thanks a lot for your words, we continue enjoying your music, and soon at a dancefloor or a chill space!
LINKS
Lab's Cloud:
Shop: https://labscloudmusic.bandcamp.com/
FB: https://www.facebook.com/labscloudmusic/
SP: https://open.spotify.com/artist/16vevQ7HqK5kj2AZS15D1W
BP: https://www.beatport.com/artist/labs-cloud/192395
SC: https://soundcloud.com/labs-cloud
MC: https://www.mixcloud.com/rauljordangalan/ 
Abstract Seeds:
Shop: https://abstractseeds.bandcamp.com/
FB: https://www.facebook.com/AbstractSeeds/
SP: https://open.spotify.com/artist/4LhdpX7SPtOtcCZOXRfA35
SC: https://soundcloud.com/abstractseeds
Psycho Abstract:
Shop: https://psychoabstract.bandcamp.com/
FB: https://www.facebook.com/psychoabstract
SC: https://soundcloud.com/psycho-abstract
Abstract Mastering Studios: