Today we are chatting with Green Beats from Barcelona
A.k.a Xavier Jansana & Victor Solsona, both of them are involved in the Psytrance scene for 20 years and pioneers of the Psychill scene in Spain.
They built Nutek Chill together with Nutek Records and brought a great color and inspiration.
After publishing in several compilations and record labels and creating their first VA 'Mira' in 2012, they released their first album 'Cosmic Turtle', then came 'The Moon Antidote' and their most recent album 'Radio Universe'.
They also released single tracks on compilation on other well known labels in the scenewith a verity of genres.
Interview is made by Iurii Gagarin on 11/12/2020
Hi GREEN BEATS! Thank you for finding time to talk to us!
Hello Psybient crew, a pleasure to be with you and congratulate you for the hard work you do and have done during these years we love it.
Congratulations for this new release. Tell us the story of "The Best of Green Beats & Friends"?
Well the truth is that the idea came from the record label, and we believed that it could be a good time due to the current pandemic situation, to bring up again some of our tracks and collabs enlightening Our catalogue of Albums, Ep's and Compilations.
What is your favourite track from this album ?
Most of them are our favorites but surely it is Magnetic Beats, it is a very special song for us.
How old are you guys and in what year did you discover electronic music ?
Let's say we have more than 40 hahaha. As for electronic music, it was probably around the 80s and The first style that marked us with no doubt were those of EBM, Synthpop, Gothic and more industrial sounds, which were the most underground that there was in our city Barcelona.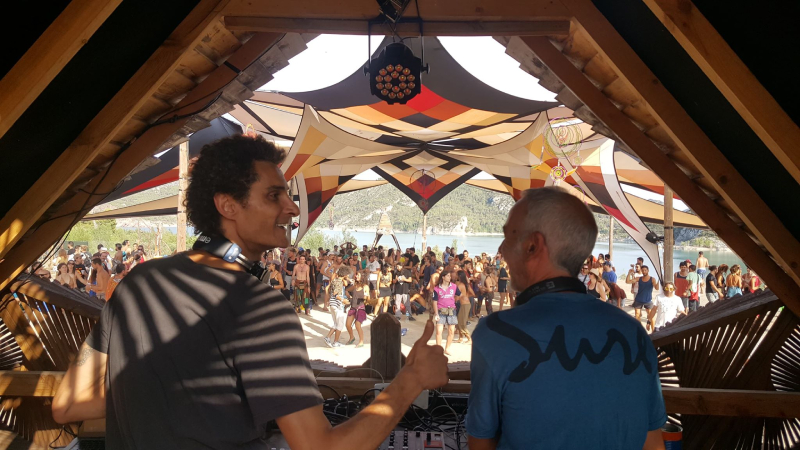 Do you remember the beginning of psytrance in Spain ? When did you join it?
Yes of course, first we would have to separate Ibiza from the main land, in Ibiza the Goa Trance parties began in the Goa style (Open Air) and parties of several days in the 90s and large producers settled to live on the island with no doubt it was the beginning of the scene.
Then from 1995 and on it arrived to the main land with some groups in Madrid and Barcelona.
How long have you been producing tracks together? What do you like about working together ?
We have been working together for more than 10 years. What we like the most about working together is that we complete each other perfectly, since each one brings different nuances, that makes our songs travel through multiple inspirations.
Tell us about your work with Nutek chill?
A great collaboration between Nutek Records and Green Beats, born out of our love for Chillout, Dub, Psychill music. At Nutek Chill we have released most of our releases, with a good impact, which has helped us a lot in our career. So we are eternally grateful for the help of many people.
Do you have side projects?
Yes, Xavier Jansana with his projects as DJ 'Dj Toxic' and 'Toxic in Dub' and Victor Solsona with various projects such as 'Hypnoxock' and 'Bioterranean'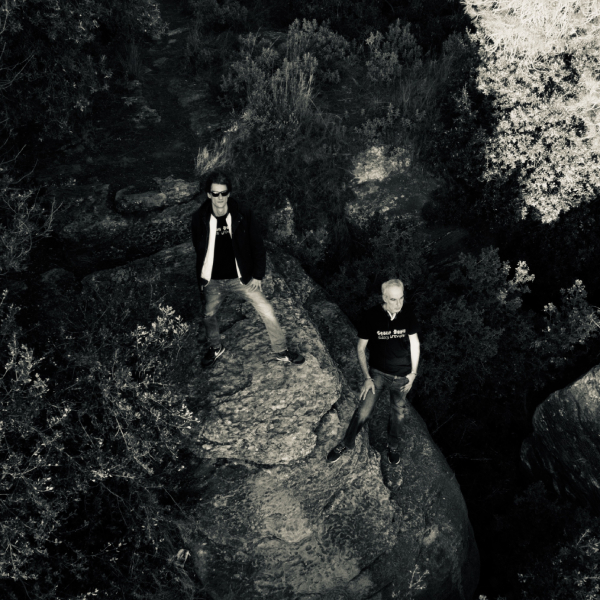 Are you a studio geeks? What are your favorite piece of equipment ?
Of course! LOL! Our favourite gear is our hardware synthesizers. Among them Moog Subsequent37, ASM Hydrasynth, Acces Virus Snow, Acces Virus Classic and many more.
What is your approach to sound synthesis and sound selection?
We like to choose sounds that can be manipulated along the track, sounds that when you listen to them they are warm and brings good vibes that touches something inside us.
What are your favorite VST, VSTi plugins ?
u-he Diva, Bazzile, Nexus and our Analogue synths, for the Vst plugs we try to use the best tool for the specific need on each sound.
What do you like about chillout / psychill music?
It is a style in which you can easily express emotions and feelings, and that makes you more creative as a musician. The range of possibilities and comibations is limitless, within the genres that we hear in our day to day.
Who are the downtempo artists that inspire you?
Shpongle, Youth, Abakus, Biosphere, Solar Fields, Kaya Project, Kuba and more.
Who are the goa / psytrance artists that inspire you?
Well we have several artists among our favorites and it depends on the time, but we can say that Hallucinogen, X-Dream, The Infinity Project, Astral Projection, GMS, Atmos, Juno Reactor, Astrix, Space Tribe just to name a few.
What shall we expect from you in the future?
We are currently working on our next album, in addition to participating in several compilations that have to come out in 2021, and hoping to return to the stage to be able to share it with the audience that we love so much.
Thank you for your time. If you wish to transmit a message to our readers please do it
psybient readers are already experts in finding the musical quality that the scene offers us and we are very grateful for this time that we have been with all of you, we hope to see you as soon as possible and We wish you a lot of love and light to continue enjoying this wonderful thing called music.
Thank you very much for this interview and continue with this fantastic work Green Beats.
Links:
Green Beats soundcloud
Green Beats on Nutek Chill
Nutek Chill
Nutek Records
Tags:
ambient psydub breaks psychedelic downtempo and chill dub electro psychill Barcelona