Pedro Monteiro is Balancé, an experienced musician who has dedicated himself to researching sounds that transport us to unknown realities since 2007. With a wide number of releases on different labels, remixes, and collaborations, we already have a good collection of his music, which is eclectic, calming, inspiring, and elevating.
In addition to organising various chill out spaces in his home country of Portugal, he has performed at major festivals throughout the northern hemisphere as a chill activist. He is also part of Moondance Music, a collective promoting chill out and downtempo events, as well as an artist booking agency.
Today we feel grateful to have a conversation with him about music and all its surroundings.
'Life is a balance, you will balance with the rhythm of your feet.'
Interview by Shantiago on 19/01/23.
Hi Pedro, How is it going? Thanks a lot for sharing some time with us.
Hi everyone! Thank you for the invitation! It's a pleasure to share with all the psybient.org crew the history from Balancé.
Where in Portugal are you based? It's a land full of colours.
I was born in the interior of Portugal, Alentejo. At the age of 18 I moved to a city 5 kilometers from the capital, Lisbon, and this is where I still live.
Let's start with a rooted question. What's behind Balancé and its vision? Why that name?
The name Balancé was chosen by the 3 members. The motivation would be to try to represent the fusion and balance between electronic bases and musical instruments, and the relaxed and happy way that moves us. In Portugal, Balancé is a name given to a toy that we find in a playground, which, as our logo represents, is simply a beam supported in a center and that with a person sitting on either side, swings with the weight and strength that each one applies. To work, there must be balance and coordination. We fall a few times, but we always enjoyed. It was the right name for us.
Could we know about your musical journey before creating music either as Noya Project and Balancé? What is your relationship with music?
My contact with music started very early. My brother, who is 6 years older, started playing in bands very young and I always had the pleasure of accompanying him. How lucky for me! Around the year 2000 my relationship with electronic music started and in 2006 I started to produce music.
With regard to your releases as Balancé/Noya Project, how do you organize and name them?
Balancé are different emotions and dimensions, but it seems to us that an indisputable characteristic is their deep side. With the Noya Project I am looking for a more spiritual space, of travel and transcendence. I never really liked naming my songs. This is perhaps the hardest part.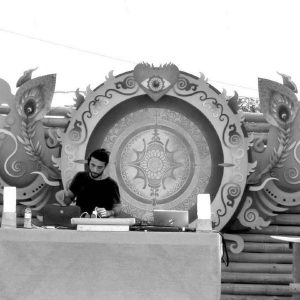 How do you usually construct your work? Do you receive different kinds of inspiration to choose between creating dancing or calming rhythms?
I have always tried to produce music spontaneously. The important thing is that it always represents the emotions and the mood of that moment. About life, me and my environment. That is the rule.
Getting into technical fields, what is your set up for making music?
Things have changed over time. At the moment I work with Logic Pro and I use a MicroFreak, Electribe, Microkorg and I record a lot of guitar, bass, flute notes.
And what about when performing? Which kinds of tools do you usually use?
When I play solo, which is most of the time, I usually just use Traktor to mix my songs. Sometimes we play together and use guitar and clarinet live. Initially the project was formed by 3 persons. I (Pedro Monteiro), Nuno Monteiro, play guitar, and Serge Polho brought the clarinet sounds and some voices to the project.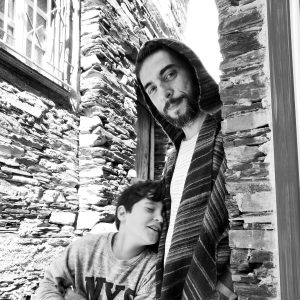 Portugal is nowadays a hub for psychedelic electronic music, full of artists, events and festivals. Why do you think this is happening? Perhaps the land? Or maybe the people?
It's good to see the enthusiasm in electronic music and its production grow. Now, with the technology it's much easier to produce and also much easier to watch and be inspired by this magic. But it's difficult to see a chillout music project gain longevity. It takes a lot of love and dedication. Which most times means giving up something in our life. Producing chillout is a matter of love and identity. Do it with your heart and you will feel fulfilled.
Could we know a bit about Moon Dance?
MoonDance is a Portugal based collective of artists and professionals dedicated to the production of chillout & midtempo music and digital-electronic art, passionate about creating musical experiences, visuals and immersive environments.
Take a look: https://moondance.pt/
Before finishing… besides a great musician, who is Pedro in his daily life as a human?
Unfortunately music is not my full time job. Most of my time is divided between work and family. I work at Kosmicare, a harm reduction project in psychoactive substance use. Perhaps you have already heard about the intervention service and drug checking service that takes place at the Boom Festival. That's my full-time job in Lisbon and festivals in Portugal. I'm also the father of a 10 year old boy, Francisco :) My other full time job that i do with all my love!
Would you like to leave a message for the psybient.org community?
I share two things…
First, a big thank you for your work and inspiring dedication!
Second, excuse my english :)
Big hug to the whole team and hope we can see each other soon!
Thank you very much for your kind words and of course for your insights. Please keep us happy by spreading your music around dance floors and chill-out spaces. A big hug back and see you soon!
Listen and follow Balancé:
https://balanceproject.bandcamp.com/
https://soundcloud.com/balance-3
https://web.facebook.com/balancemusicproject
balance-noyaproject.webnode.pt/bio