'A bundle of frequencies for your third ear' is a global and open definition of MantisMash sounds.
Dub-laced electronica, dreamy psychedelia, and hyper-modern lenses taking listeners to sun-bathed scenes and shimmering landscapes.
Celebrating almost 10 years since his first record and with a bunch of inspiring releases, the exquisite and skilled artist from Israel, Natan Lenski is a reference in quality.
We feel fortunate to talk with him about music and its surroundings.
Interview by Shantiago on 08/05/23.
Hi Natan how is it going? It's a pleasure to have a conversation with you.
Hey Santiago, thanks for having me and thanks to the Psybient team.
How are you doing these days? Are you currently in Israel? How do the spring colours look where you live?
I'm doing very good, I am in Israel in the past 3 months, been staying in Portugal before at a beautiful farm, spring is on, the sun is shining, high energy is felt all around, colours get more vivid, all life is blooming ;).
Let's start with an essential question. What does MantisMash mean? What are the origin and mission of the project?
'Mantis' attracted my attention when I was a teenager and heard stories from a friend of mine about the role of mantises in the spiritual realm, that they are like the technicians of the spiritual dimensions, also Terrance Mckenna mentioned intergalactic mantises in one of his lectures which caught my attention.
The people of Ancient Greece and Egypt saw the praying mantis as a guide for those who needed direction, either in life or death. In Buddhism, the praying mantis represents patience and perseverance, it also symbolises Stillness, Awareness, Creativity, Patience, Mindfulness, Calmness, Balance and Intuition. 'Mash' represents a mash of all the different styles and music genres that influence my sounds, which also would be the 'mission' of the project.
And getting back in time, could we know about your musical journey until reaching Mantismash?
I grew up in a home where music was always around, my father used to collect music tapes and cd's, he played guitar and sometimes flute. I believe this had a big influence on me and my relationship with music. I started collecting my own music when I was quite young, maybe around 11 years old. I remember going to a record shop and picking a Goa Trance tape which caught my attention with its trippy colours, then after a quick listen I was in love with the electronic sounds, maybe it was my destiny…
I still got this tape :). I think around the age of 15 I started experimenting with electronic music production on my computer, used many different daw's and slowly started my path of music production learning on my own, from friends and other creators I met along the way.
Why create this blend of bass waves and layers of organic instrumentation? What is the inspiration behind it?
Well, why not? :) It's fun to create, it's very playful and has no obvious rules or guidelines, I think the inspiration is a fine mash of Nature, Spirituality and Technology.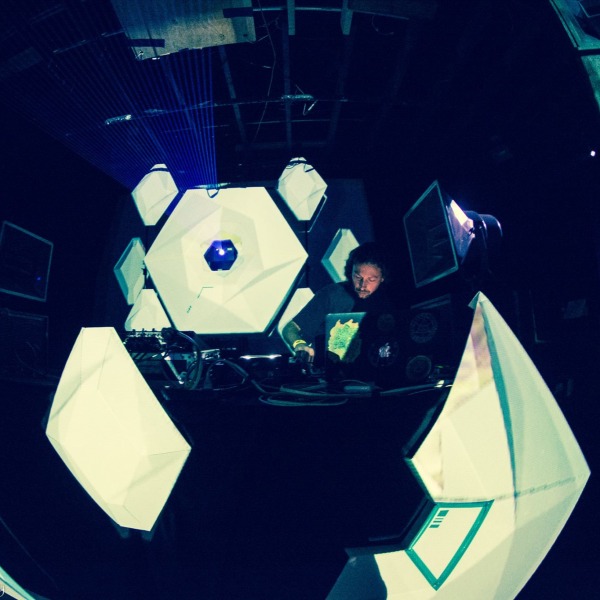 How do you focus on making music? Do you follow any structure?
In most cases I start with a rhythm, then I move on to Bass, and when I got that basic Drums/Bass loop I start to add elements and go deeper and deeper, although sometimes a melodic sequence can spark an idea, or just a melody or a beat that would randomly appear in my head and I will usually do my best to 'write' it so it won't dissolve back to where it came from.
Which kind of gear do you use to produce? Again, do you use any standards?
I got the usual stuff like a Soundcard, Monitors, Headphones, Midi Keyboards and controllers, I got a Virus TI2 synth for Digital, a Bass Station 2 synth for Analog and few older synths that I almost don't use anymore but their time will come ;).
How do you give names to your tracks?
Usually I find it hard to name tracks, I would start with a project name that I must choose to save the project, so the initial name would be just the intuitive feeling I got after that first session, then as the track develops the name might shift with it but in most cases would have some connection to the first intuitive title.
Could we know about your experience collaborating with Ozric Tentacles?
I had an absolute pleasure collaborating and touring with these legends, they are definitely one of my favourite bands (and humans) in this universe and it was really an honour to be on this crazy ride with them. Growing up the Ozrics had so much influence on me and on my musical journey and when I found myself on tour with these guys it felt like I'm in a dream.
I did 3 tours in a row with them, 2 in EU and 1 in US, warming them up with a live set of my music before each gig :). I lived with them in the mountains of Colorado, worked on a live project we did in a few festivals and venues, 'Nodens Ictus', which is the Ozrics more electronic downtempo oriented project that had many incarnations and I was in the 'Kozmic Key' one, the original one was with Merv Pepler (Eat Static) who was also the bends first drummer and on the electronic drums and programming side of Nodens Ictus, alongside Ed Wynne who is the mastermind and the guitarist of Ozric Tentacles.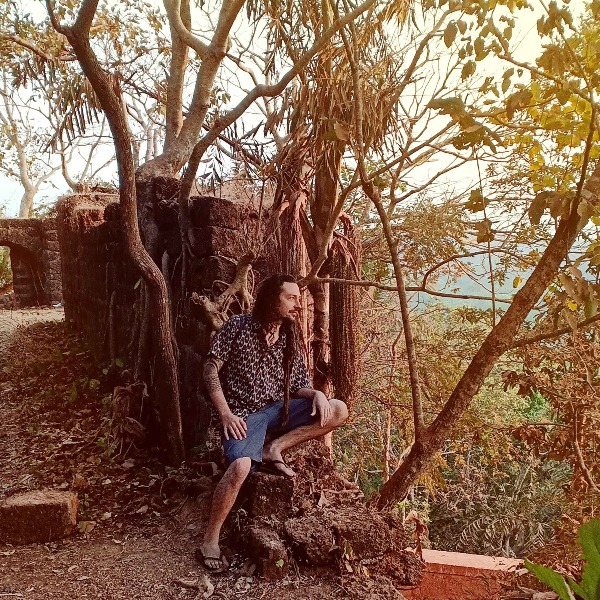 Do you listen to non-psychedelic music styles?
I listen to many kinds of music and been through many musical phases in my life from Prog-Rock to Jazz-Fusion, World music, Reggae-Dub and many more, also within the Electronic music scene I've been listening to so many genres, basically almost in every genre I guess there are amazing musicians, producers and if u dive in deep u will find them, i guess most of the time I look for creativity, originality and positivity in music, although sometimes technical and more 'mainstream' aspects might be fun to explore as well ;).
Your name is displayed at some big festivals this year. What are your plans for the near future?
My plans for the near future are to get a nice land in Portugal and have a home base there for creation, both Music and Art, and to be closer to the European musical and festival scenes while being close to mother nature as well.
Who is Natan in his daily life? What do you like to do besides making music?
I do lots of digital art and designs, prints for clothing, been looking onto laser cut art recently and in general I studied visual communication design and been working in this field since, so basically this is my main occupation, you're very welcome to check out some of my works, just look for 'MantisVision Art & Design'. Besides these two things that occupy most of my time I like to travel a lot and been travelling and sometimes living in many places on this planet and still looking to visit and explore many more.
And to finish, would you like to send a message to the psybient.org readers, listeners, and believers?
Keep supporting these vibrations, expanding your audio palettes and musical flavours as it's so important for the musical scene and for the artists making it. I believe it is where the real magic happens, on the edges, on the alternative scenes where creation and fun is the main motivation and values for the creation of music and art and thats the real source and goal of it all I think, much love and gratitude for the support.
Thanks a lot for your words; we will catch you at any of your upcoming performances to delight our ears with your luminous upbeat sound. Cheers!
Listen and follow MantisMash:
https://soundcloud.com/mantismash
https://mantismash.bandcamp.com/
https://therustmusic.bandcamp.com/album/blisstorted
https://web.facebook.com/Mantismash
https://www.instagram.com/mantismash/