Today we are chatting with Somatoast! Topics: musical background, influences, track titles and musical 'genres'.
Interview made by Sanjay Gopalkrishnan (FB, IG)
Inter-genre audio-chef Somatoast has released a new piece of sublime electronica called 'Dreamhop Jazzytime' where he whimsically explores the spaces between psychedelic soul, jazz-hop and funk-bass to cook up a work of organic Idm that is equally timeless as it is ludicrous. The multi-instrument wielder is as comfortable rummaging through and implementing various musical cutlery like jazzy chord changes or a funky beat that will make your hips hop, as he is to throw in some tasty production chops and bring it all together in one scrumptious bowl that is 'Dreamhop Jazzytime'. This guaranteed to take you to a place of goofiness with an equal portion of gritty on the side, where you are encouraged to play the fool as long as you promise to 'fruit dat squirt'!
Why did you choose the name "Dreamhop Jazzytime" for this record?
The origin of this name goes back to about 4 years ago when I released a mix previewing my album "Goop." I felt like then, I had dialled-in my own sound which I called "Sillydelic Dubfunk." I thought calling the mix a "Storytime" was more intriguing than simply calling it a mix. It also spoke to the journey-like structure of my compositions.
This gave way to the larger concept of releasing a series of mixes titled with amalgamations of genres and descriptors blended with "story times." When I premiered my album "Live Dreaming" I called the mix "Dreamytime." So when I felt like I had finally developed a style of dreamy, jazzy, ambient hip hop beats that made up this album, I was eager to continue the tradition.
Can you tell us a bit about the album art?
I discovered MUTE Illustration through Fusion Culture, a production group out of Tel Aviv. They always had amazing art for each one of their shows. When I did a show with them, the art they had made was mind blowing. That art has since been used as art for my Thicc Magicc EP as well as being printed on clothing as a collab between MUTE, FC, and Plazmalab.
After playing in Israel, I was certain Mute (Nathaniel) would be my go-to artist for upcoming releases. The DHJT art is based off of a real photograph that I had already felt was the perfect icon for my persona and knew it would make a wonderful adaption for Nathaniel's style. Needless to say I am ecstatic about how it turned out. I am already asking him about commissioning another piece from him for my next album, and to give you some perspective, I have maybe 1 song done for it. That's how much I love his art! I plan on continuing to work with Nathaniel as long as he will work with me!
How did you go about the sound selection and sound design to go with the theme of the album? Was it all ITB or do you use external hardware and gear?
There are a few different aspects that shaped the sound of this album.
As far as hardware goes, most of the characterized synth sounds are from my Access Virus TI. Though in this album specifically, I made a lot of textured chord progressions in the box using Native Instrument's Razor.
What distinguished my approach to sound selection for this album was a more laid back attitude compared to my previous works. For DHJT, I allowed myself to be satisfied with simpler, more "classic" sounding drums. Here I enjoyed the simplicity of classic 808 sounds. I still experimented with foley layers on some occasions, but I tried not to get too lost in the complexity of it all.
When it did come to foley, much of the samples were sourced from my own personal experiences. Shakers in Buggin' and Radiate :: Pulse are recordings that my partner and I captured of dried flowers and seed pods on our adventures in Australia. Not all of them though— I must give a shout out to 5AM for his amazing foley sample pack. Those claps are a go-to for me!
You are a multi-instrumentalist. Can you tell us how your learnt to play these instruments and incorporate them into your production?
Music has defined my life since I can remember. When I was 5 years old I watched my dad play guitar in his band, and soon after got started playing the drums. I played drums aggressively throughout my childhood, and with the unconditional support of my parents. They fostered my musical abilities at every opportunity (without the imposition of noise restrictions!)— funding lessons, buying me drums and accessories, and when I was a pre-teen they'd drive me to my screamo band's gigs and be there from set up to tear down.
In grade school I joined the percussion section, taking piano as a pre-requisite and learning all types of percussive instruments.
I also picked up my dad's guitar along the way, and after he taught me some rock n roll basics I pretty much took it from there and taught myself, expanding into folk and Americana territory.
And then one year my sister asked for a Bass guitar for the holidays. She learned for a short while but then lost interest. Woo hoo! Bass for me!
Production was an outlet. Initially it was to record my band's music but it quickly turned into a frustrated attempt to construct each part myself because I lost patience compromising with others and felt so passionate about my own ideas.
Honestly, electronic music and synthesizers were not even on my radar until around 2009. I was one of those musicians who pigeon-holed electronic music thinking it was all "techno". It took artists like Bluetech and Tipper to show me the diversity, elegance, and fidelity that is possible with electronic production.
Incorporating instrumentation into my music isn't the challenging part for me. It's what I do naturally. The challenging part for me has been the electronic side— learning synthesis and shaping my sounds and songs to work on large sound systems and dance floors.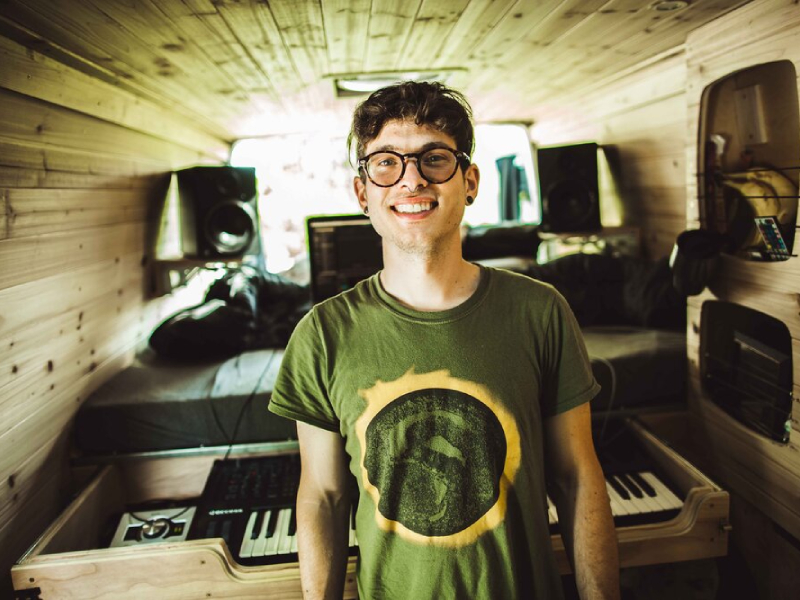 What does the first track name: "Radiate :: Pulse" mean? Is there any story behind the making of any of the tracks and/or their names?
The title comes from some old Timothy Leary recordings he made as an effort to guide people through the psychedelic experience. In this recording he is describing anatomic imagery, asking the traveller to tune into their bodily functions. He describes the flow of blood, the heartbeat and the pulse of life. He asks travellers, "Can you throb to the pulse of life?"
A lot of my track names are inspired by my Word of the Day app. Whenever a cool new word pops up, I add it to a list of potential songs name. Sometimes I make puns or phrases out of them. Like, "Persnickety" and "swivet" were two separate words that when I put them together made a phrase that made sense. It's not on the album but check out Persnickety Swivet.
I guess the track name that has the most interesting story behind it is "Fruit dat Squirt," but, I think it's best left to your own imagination ;)
I feel there a sense of humour and playfulness in your music. Would you agree?How important do you think that is in music?
I'm glad you noticed! I feel this is largely a reflection of my personality. There are not many things in life that I do not approach with humor.
Making music is about having fun. There have been phases where I took writing music way too seriously, where I pressured myself to fulfill some type role as "Somatoast." And those times are never fruitful creatively. As I've progressed on this journey I find I am the most productive when I have the most laid back attitude. For me, that's synonymous with being silly.
There is no style that is off limits. I used to scoff at American "trap" trends infiltrating the psychedelic music world. But now I use elements from trap music in very playful ways, basically joking in my approach. It's lame to me how many artists are so stern and serious about making butts twerk. But it's hilarious to be a clown and make butts twerk.
I think I'm finding myself at this crossroads of "if you can't beat them, join them!" Because I've always felt sour about pop culture trends and found myself a niche in "fringe" sub cultures. But recently, I like the idea of reaching more people. I have a vision of being able to make wildly psychedelic music accessible to the average person.
So, in a way I am sort of mocking mainstream elements but also hope to fuse them into my style to make my music more accessible. I think silliness can act as a bridge between the two worlds of fringe and mainstream. And I know people sometimes frown upon artists who "conform" their sounds so more people will "like" them but I don't feel like that's the case here. I'm genuinely having a ton of fun, expanding my boundaries, and never plan to sacrifice the unapologetic psychedelic character of my music.
Plus, I get bored. Trends even among my own "fringe" genres get repetitive and overdone. The humorous element of my music is a lot of the time a self-reflexive exclamation of, "yeah, I KNOW this is cliché and overdone!" And somehow, that makes it fresh again, haha. It's a post-modern approach I suppose. I just want to make fun of everything.
What do "genres" mean to you in Electronic music as well as outside of it? Funk, Jazz, Glitch, Psychedelic, Chillout, Hip Hop; How do you fuse the various genres together to create your own sound?
Some producers sit down with the intention of making a specific genre, or maybe they've learned to specifically produce one style of music. I'm kind of coming from the opposite end. I just make what I feel inspired to make without any pre-conception of what I want the finished product to be. The tempo I choose is simply whatever feels good in the moment.
The fusion of genres sort of happens after the fact. After some experimenting I'll notice stylistic patterns that get defined once they make themselves known. Then I'll say, "Aha! I've got the theme for the album" and maybe continue to create with those elements now in the forefront of my consciousness.
In all the phases I've gone through, I think the stylistic goal was always the same: To fuse high fidelity dance floor production with traditional compositional elements. Of any genre.
Today, if music can be clearly confined to one genre, it has probably already been done before. I can't really think of any modern electronic music that inspires me which objectively fits in to one rigid box.
Genres now serve as foundational, stylistic building blocks that inform, but do not define, fresh takes and new ideas.
What are your musical and non musical influences?
Making Dreamhop Jazzytime, I had felt burnt out of a lot of electronic music and really started digging more into jazz. Stuff like Hiatus Kaiyote, Alice Coltrane, and Alfa Mist. Yussef Dayes & Kamal Williams "Black Focus" has been a favorite on repeat for a few years. I think what I took away the most from these artists were the use of chords. See, I've never formally mastered music theory. Not as a textbook understanding anyway. I've always understood it intuitively, but I couldn't name the variations of chords I'm playing. But I have been inspired by trying to focus in on chord variations and changes. Most songs on the album were incepted by chord progressions. I hadn't really focused in on that so much before.
And as I indicated previously, I was also inspired by pop and hip hop trends. I've found it fun and challenging to incorporate elements I think could make my music more appealing to a wider audience. Usually those elements are much more simplified than what I'm initially drawn to create. But finding grooves and creating something catchy via simplification is a challenge in itself. Sometimes it's almost easier to create a mess of complexities. It's the refining and simplification that takes taste and finesse. I appreciate popular music in that regard.