We are glad to be the information partner and to support canadian legendary Orion event that is held on the New Year Eve.
The event has a tradition of strong "Espace Entheovision" (chill). This year the lineup includes :
ASURA, SUFI'S LIFE, GAGARIN PROJECT, KRIKKITT, MAT THC, PRANA PAPA, DJ ZEN .
more info below:
– event page with updated info => http://www.facebook.com/events/401450883398460/
————————————————
▲☽ Orion 2016 ☯ The psychedelic landscape
By Psychonaut and TechSafari Records
▲ ESPACE ENTHEOVISION ▲
ASURA LIVE!
Ultimae Records / France
www.facebook.com/ASURA-106457240133/?fref=ts
SUFI'S LIFE LIVE
Altar Records / Serbia
www.facebook.com/SufisLife/?fref=ts
GAGARIN PROJECT Dj set
Psybient.org / Altar Records / France / Ukraine
www.facebook.com/gagarinproject/?fref=ts
KRIKKITT Dj set
Kinematic Records
www.facebook.com/krikkitt/?fref=ts
MAT THC Dj set
TechSafari Productions / Festival Éclipse
PRANA PAPA Dj set Québec
www.facebook.com/PranapapaDj/?fref=ts
ZEN Dj set
Altar Records
www.facebook.com/ZenAltarRec/?fref=ts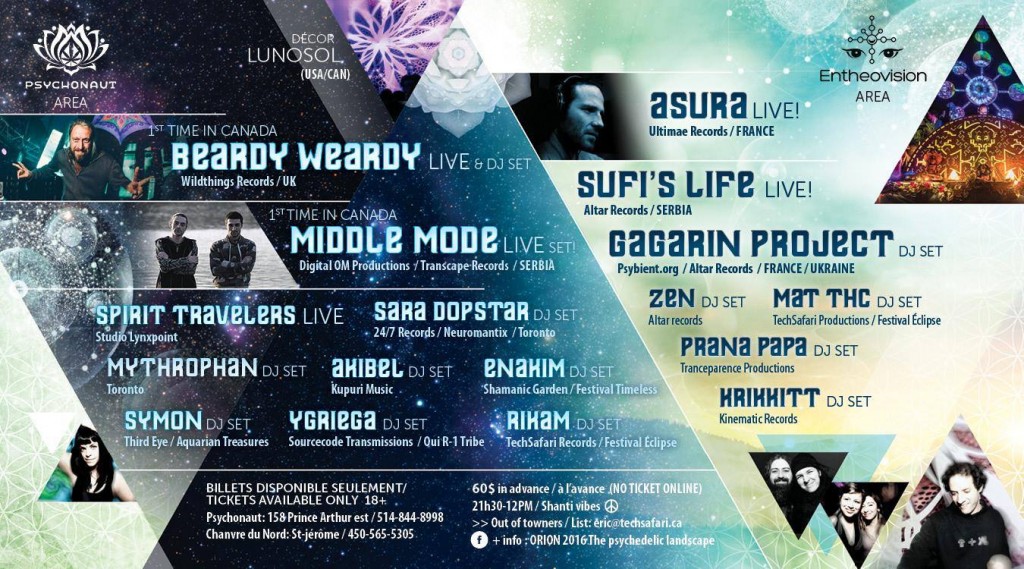 ————————————————
ॐ ESPACE PSYCHONAUT// Décor par LUNOSOL (USA/CAN)
1st time in Canada:
● BEARDY WEARDY LIVE + Dj set
Wildthings Records/ UK
soundcloud.com/beardy-wildthings-recs
www.wildthingsrecords.co.uk
1st time in Canada:
● MIDDLE MODE LIVE!
Digital OM / Transcape Records
Serbia
www.facebook.com/MiddleModeMusic/?fref=ts
soundcloud.com/middle-mode
● SPIRIT TRAVELERS LIVE
Lynxpoint Studio / CAN
www.facebook.com/Spirit-Travelers-1696701687215889/?fref=ts
soundcloud.com/spirit-travelers
● AKIBEL Dj set
Kupuri Music
www.facebook.com/DjAkibel/?fref=ts
● ENAKIM Dj set
Shamanic Garden / Festival Timeless
www.facebook.com/djenakim/?fref=ts
● MYTHROPHAN Dj set
Toronto
www.facebook.com/mythrophan?fref=ts
● RIKAM Dj set
TechSafari Records / Festival Éclipse
www.facebook.com/DjRikam/?fref=ts
● SARA DOPSTAR Dj set
24/7 Records / Neuromantix / Toronto
www.facebook.com/saradopstar?fref=ts
● SYMON Dj set
Third Eye / Aquarian Treasures
www.facebook.com/Symon-aka-Psymon-227707580757852/?fref=ts
● YGRIEGA Dj set
Sourcecode Transmissions / OUI R-1
www.facebook.com/Dj-Ygriega-173729339379186/?fref=ts
●●●●●●————————————-●●●●
BILLETS DISPONIBLE SEULEMENT:
TICKETS AVAILABLE ONLY @ 60$
Psychonaut / 158 Prince Arthur est Montréal / 514-844-8998
Chanvre du Nord / St-jérôme / 450-565-5305
(NO TICKET ONLINE)
● Kiosque (nourriture et boissons) par le Salon Enchanté
● Massage par ZENERGICA
◉ No cans or bottle ◉
►►No smoking inside ►►
►►Shanti Vibes only ►►
◉◉◉◉◉ ॐ P.L.U.R .ॐ ◉◉◉◉◉
—>> TICKETS / OUT OF TOWNERS / List:
please contact [email protected]
LIEU // VENUE
Cabane à sucre dinelle (22h00-12PM)
Permis d'alcool jusquà 3AM!
St-Rémi / Quévec (35 minutes du centre-ville de Montréal
18+ / ॐ P.L.U.R ☯
●●●●—————————————●●●●