website re-design and speed improvements, you support us – we support artists
we have been online for almost 4 year ! psybient.org is entirely dedicated to the CHILL universe, over this time we published 400 posts, made 42 interviews and gathered more then 3000 albums and few hundreds links in our catalogs.
— Now – Psybient.org website is super SLOW :(
— We have many ideas and it is time to UPGRADE !
We need your help – join crowdfunding, share this page with your friends ! Supporters will get great music from our partners! Each small help counts !
Perks:
€1 EUR – any support counts
€5 EUR – psybient compilation download
€10 EUR – 3 free albums download
€20 EUR – 4 albums download + stickers
€30 EUR – 6 albums download + stickers
€50 EUR – 11 albums download + stickers
€50 EUR – promotion of your music
€100 EUR – 16 albums download + interview with your fav artist
€100 EUR – promotion of your label/ event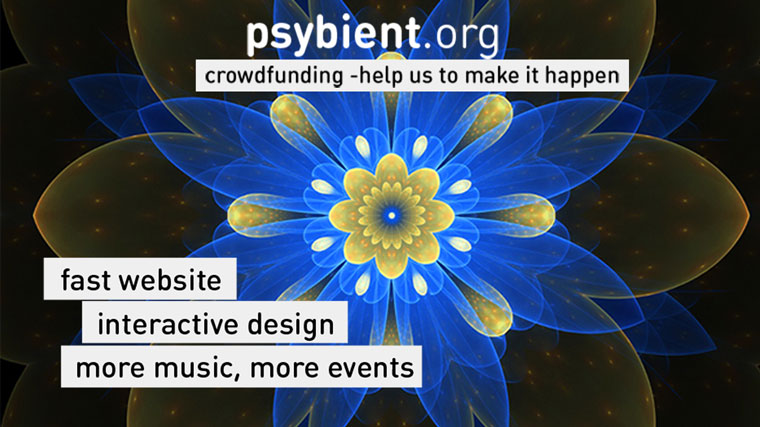 Future of this project:

This project generate very small amount of revenues and we are relying on your donations, of course we are open for a "related" sponsorship and advertising , but but we don't have much demand.

In 2016 we have received 143 euros of donation from our supporters, which is much less then we spend on web site hosting and maintenance.

My desire and dream is to upgrade hosting and optimize website to make it faster and if possible to completely rebuild it to make it more interactive, more modern and to do this we need to invest money into this. If you can't participate in crowdfunding please support us today and/or later via paypal / bitcoin. We are also looking for ideas and collaborators to create the future together – you can express your ideas in forum or contact us via contact page or fb.

We will gladly use your paypal, bitcoin or bank transfer donations to develop and maintain the psybient.org project website.

text by Gagarin.
Calendar of psychedelic events
to submit or view in a form of a list please visit => calendar page