Foreword by Gagarin
Folks, we are happy to share with you this very interesting article about the chill scene in Brazil. The idea of having article highlighting each of the country is very interesting to us, but it is also was a long work. I would like to thank Allix for preparing it for us.
This article is also available in portuguese language, and you can read it at gypsyfrequency. If you have anything to add on this subject feel free to comment below. If you can help us to write about your country please also get in touch.
Previous editions:
Our previous article on this subject was about Russia. Also we are having interesting discussion about chillout in Russia in our forum.
Table of content:
Intro
How it all started
How it developed
About the musical and cultural aspects
How it's growing
Web Radios
Conclusions
About me
Intro:
Before I start, if you don't know Brazil, let me tell you a bit about it.
Brazil is the biggest country in South America and Latin America region. It's the 5th biggest territorial area in the world (equivalent to 47% of the South American territory with a population of more than 202 million inhabitants). It's the only country in South America where Portuguese is the main language, while it's surrounded by Spanish speaking countries. Brazil covers an area of 8.515.767,049 km², it has a coastline of 7.491 km of extension and covers a perimeter of four time zones.
It's evident in Brazil a great multicultural, ethnical and cultural diversity, due to a large number of immigrants coming from various corners of the world, which has been occurring since it's colonization times beginning at the 1500's.
According to the National Indian Foundation, FUNAI, it's still possible to recognize about 305 different indigenous ethnic groups in Brazil and 274 different indigenous languages. However, our ethnic formation also includes Africans, brought to Brazil during slave trading times between the XV and XIX centuries, and other immigrants from all parts of the world coming from many parts of Europe mainly from Italy, Spain, Portugal and Germany; Asia, chiefly from Japan, China and Korea, and immigrants from neighboring countries like Bolivia, Chile and Peru.
It's estimated that, in 2010, the number of foreigners legally living in Brazil was around 1.5 million. This number increased by 50% in 2012. If we mention the number of illegal foreigners living in Brazil, they are more than 0.5 million. Only in 2012, the number of requests to legalize residency in Brazil for political or humanitarian causes was increased by 254%.
(Source: National Immigration Council – CNIg)
The Brazilian economy is amongst the 10 biggest in the planet and holds 55% of the GDP of Latin America, however, in the last years, this is loosing it's strength and emphases with 7 Latin American countries overpassing Brazilian economical performance in the year of 2014.
Take a look at the world map. This vast territory looking like Africa, it's Brazil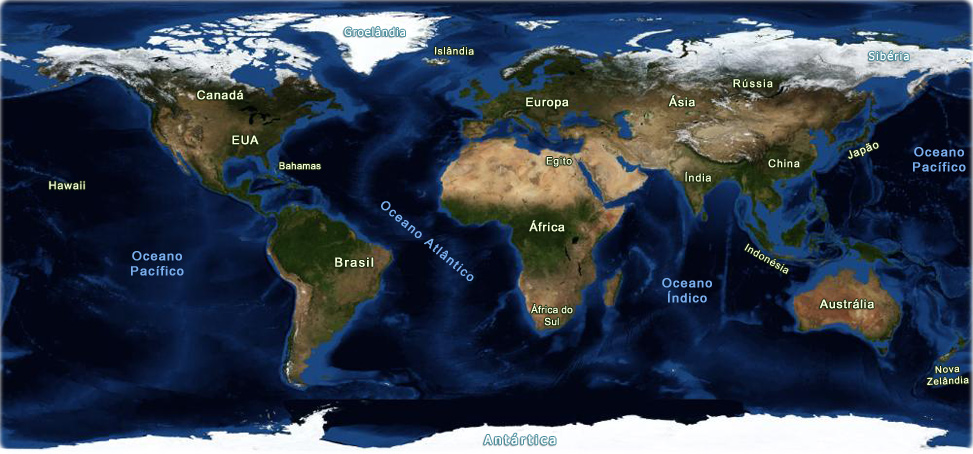 (1. World map)
Truth said simply: my country is a huge cultural and musical cauldron in which cultural references from all over the world can be noticed. I, that have only a moderate knowledge of Brazilian popular culture, can identify more than 50 different rhythms within our music.
That said imagine how difficult it is to find in Brazil an unity or a corroborating voice in any subject that are. In Chill Out scene, the focus of this article, it's no different, and you'll notice it along the article.
How it all started:
According to the fable, the psychedelic trance scene started in Brazil when some Germans, Italians and Swiss disembarked in Goa do Sul of Bahia, in Trancoso, around 1986/87, bringing in their luggage the first DAT tapes, some ultraviolet lamps and fabrics painted with psychedelic figures of Indian Gods. They held several minor events and parties in the area that promoted the psychedelic culture.
(Source: http://www.psynation.com/historia-das-raves)
Bahia is a State of the Northeast of the country famous for it's exuberant nature and stunning beaches.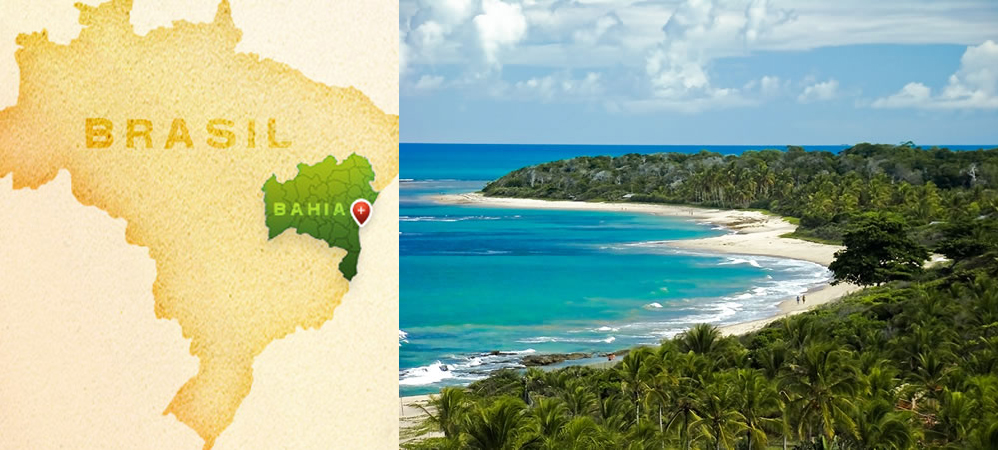 (2. Trancoso – Bahia, Brazil)
But it is the Naganaja Festival held in the city of Atibaia in São Paulo state during New Year's Eve of 94 that is pointed by many as the first Festival of the Trance Culture in Brazil.
How it developed:
While researching to compose this article, I interviewed around 15 people among artists and organizers of parties and festivals and from what I could gather the Chill Out scene took its first steps in the early 90's.
Rica Amaral is one of the oldest names in the electronic Brazilian music scene, with almost 20 years of experience playing and organizing parties. He told us in an interview that the first Chill Out Stage of Brazil that he remembers was in the first edition in the famous XXXPerience, in the year of 1996, in which he appeared among the artists of the line up for the Chill Out Floor.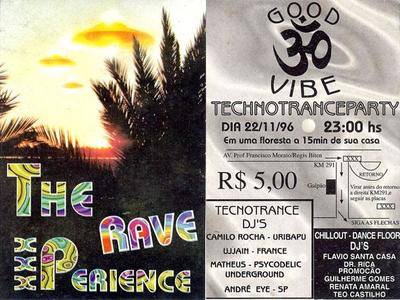 (3. XXXPerience – 1996)
In the beginning of the 2000's, about 15 years ago, it occurred the first Universo Paralello Festival in Chapada dos Veadeiros (Goiás) center west region of Brazil. After 3 editions held in that area, the event was transferred to South of Bahia, where it stays until today. The Universo Paralello Festival is, hands down, the biggest electronic music festival of Brazil, and certainly this Festival has contributed immensely to the implementation and proliferation of electronic music in general in the national territory. Without question one can say this Festival supported and was very important to the consolidation and growth of the Chill Out scene in the country, since it had from its first editions a Chill Out stage in the program.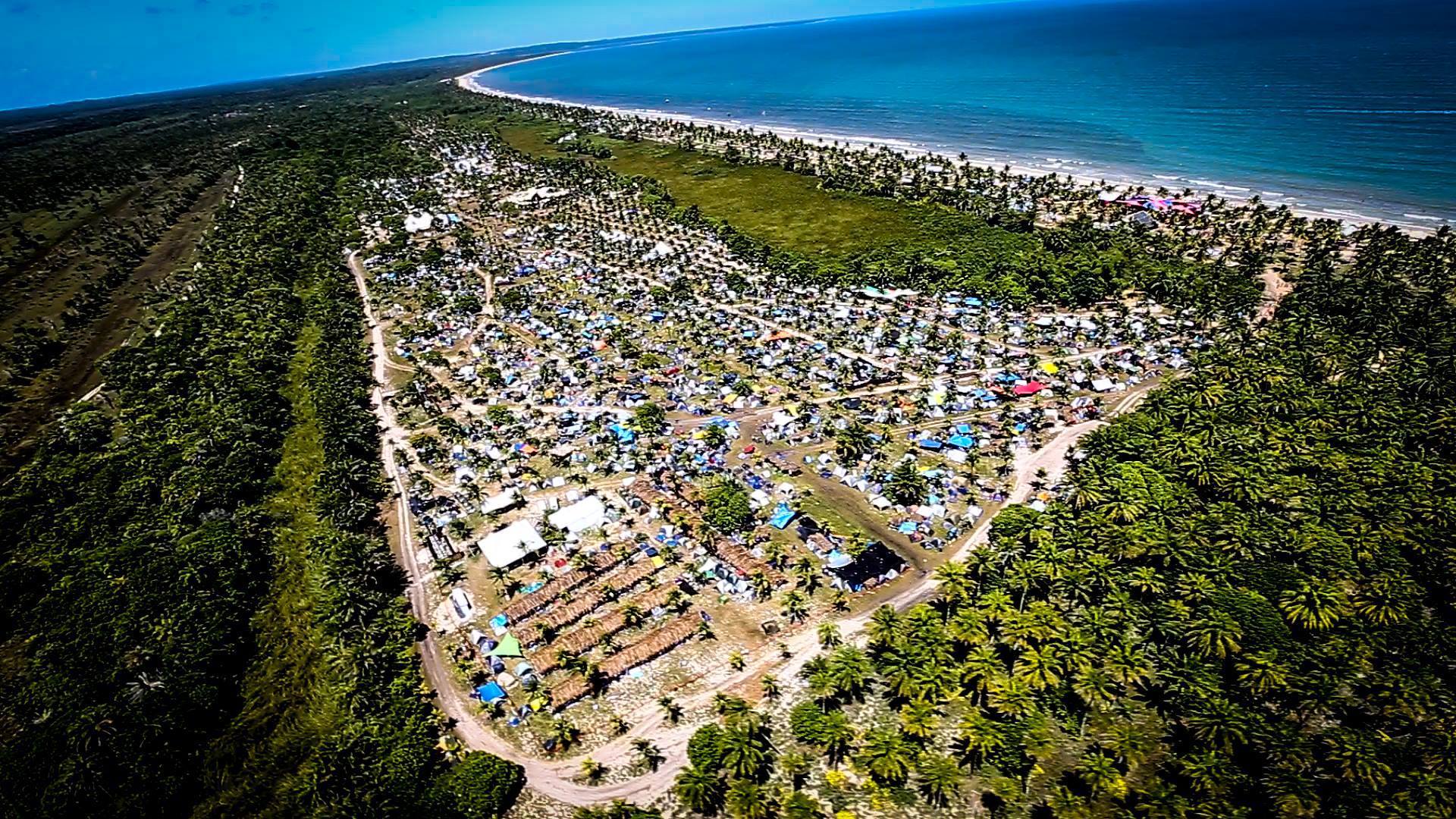 (4. Universo Paralello Festival – Bahia, Brazil)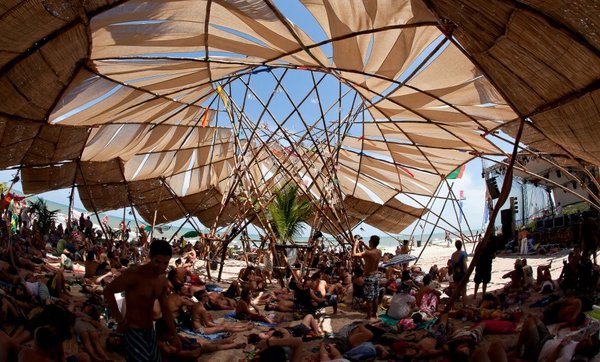 (5. Chill Out Stage – Universo Paralello – Bahia, Brazil – 2013/2014)
At the same time, also in the central west region of the country, it was the start of the Kranti Alternative Festival (F.A.K.) that likewise had a Chill Out Floor in the program. From that time on other parties like Transcendance and Solaris followed the example of these big Festivals and began to include, within it's possibilities, Chill Out stages to their programs.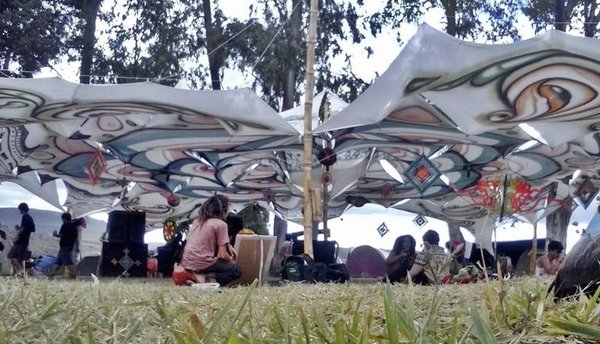 (6. Kranti Alternative Festival – FAK – Goiás, Brazil)
Luciano Sallun, another longstanding name in the Brazilian Electronic Music scene, DJ and member of the Pedra Branca Band, gave us an interview in which he told us that the development of the national Chill Out scene had as a pattern the direct attachment and dependency to the trance parties that always happened in areas away of urban centers. However, the artist explained to us that starting from 2001 new urban spaces devoted to the musical styles present in the Chill Out started to appear chiefly in São Paulo and Rio de Janeiro which contributed to the birth of a more independent Chill Out scene. One of these spaces was the Institute for the Development of the Human Conscience, the IDcH in São Paulo a mix of nightly Chill Outs and daily yoga sessions.
According to Sallun, in the Trance parties and festivals, the Chill Out Stage was always underappreciated. The investments in the structure and quality of the sound system were scarce and the artists worked for little or no money. The connection between Chill Out and Trance can still be noted to these days, however with an independence component on the Chill Out party.
Many of our interviewees described to us this same situation about the configuration of the local Chill Out scene. They explained to us that in general some aspects of these events like the structure and compensation have improved along the years, but the situation is still far from ideal. Rica Amaral, more than sharing the same experiences as Sallun, cultivates the idea that it's necessary that the Chill Out seek for more independence from the Psytrance scene, by organizing its own parties focused on its own style. These days, Rica is responsible for the theme party Supernatural. "The ones that played the Chill Outs were never concerned in organizing their own parties, thus could never afford to take the Chill Out off the trance parties." This has certainly made the scene grow less, or much less than desired.

We can identify a gap in the growth of the scene around the years 2006 and 2009, when all national trance scene was going trough a "crisis". The parties started investing even less in the Chill Out areas and in many parties it was simply cut out and desapeared. That is what Danilo Granato, aka Catan-Cotie, co-owner of the label Cymatic Lab tells us. "I remember that it was not a good phase for festivals, at the time people would say Trance was dead because of the substantial drop in the number of attendees." The Chill Out Floor survived only in the sporadic large and medium size festivals like: Universo Paralello Festival (Bahia), Kaballah (São Paulo), Respect (São Paulo), Samsara (Mines Gerais), Mystic Respec (São Paulo), Ekologic (Espírito Santo).
From 2008 to these days, the rumors that the trance scene had died where not more than speculation, therefore a general reconfiguration of the national trance scene has occurred. Older parties and festivals that were relevant to the birth and expansion of the scene disappeared from the Brazilian map, giving place to new events devoted to this culture. The scene is not ideal, but it's gotten better, and among the events that have given more attention to the Chill Out stages, I can cite Zuvuya Festival center west of Brazil, and Shiva Trance in São Paulo.
About the musical and cultural aspects
Musically speaking, says Rica, in the beginning, the Chill Out stages were more psychedelic and gave emphases to the sub-sections within psychill and ambiance music styles.
According to the analyses of the records collected about the origins of the Scene in national territory, we presume that because there weren't many solely Chill Out DJ's nor Chill Out producers in Brazil the line ups over the years started including other non psychedelic musical styles to the dance floor, like for example: Brazilian Popular Music, Nujazz, Reggae, Soul Music, or even Latin Rhythms like Cumbia and the tunes influenced by ill-famed Carioca Funk.
The music producer Dan Flict, aka Escape Into, who is part of the scene since 2005, agrees with him. He told us a bit about his experience between 2005 to 2009, check it out the video:
At his point in my research, I detected a major debate around what fits and doesn't fit in the ambiance of the Brazilian Chill Outs. This debate has been going on for years and it this debate seems warmer these days these days. I deduce, by the extension of our territory and our cultural diversity that this discussion is far from being settled. Within a small range of internal existing nucleons, some understand this musical diversity as a positive and productive factor, while others that come from a more purist point of view, believe that by adding other styles of music in the Chill Out de-characterize the concept of Chill Out Music. Sallun believes that, more than about the musical styles, what is and what is not Chill Out music is more connected to what atmosphere a tune can channel to a dance floor.
The artist Flict also points out that he misses the transcendental aspects that are present in the European Chill Out music that shows less incidence of the styles and subsections incorporated by the Brazilian Chill Out.
I, personally, confess that many times it's difficult to know where the Chill Out Stage ends and the Alternative Floor starts in the Brazilian parties. Many DJ's and musical styles that wouldn't fit in the Main Stage want to be incorporated in the Chill Out stage by pressuring and even by using influence-peddling, because the "Brazilian Way" gives blessing to the ones that use influential friends to guarantee a place in a festival.
How it's growing
Apart from variances, we know that in the last 5 years the scene has expanded and gotten bigger. Numerous parties and festivals of all areas in the country, independent of its size or conditions, started to include in their program a designated Chill Out areas. Citing some of them: Mundo de Oz (São Paulo), Soulvision (São Paulo), Chidneris (São Paulo), Terra em Transe Festival (Bahia), Ressonar Festival (Bahia), Revolution Festival (Rio Grande do Sul), Kundalini (Rio Grande do Sul), Blue Beats Festival (Rio Grande do Sul) are some of the events that surfaced during this time and presents Chill Out area.
We also observed the appearance of new nucleons focused mainly on this style. One of these nucleons, the Cymatic Lab founded in 2012 and headed by Roberto Vieira (aka Salvinorin) and Danilo Granato (aka Catan Cotie) seems to be the first Brazilian label to exclusively dedicate to the Chill Out music. They organize the Cymatic Stage of the Chill Out area for the Zuvuya Festival, and have one of the most serious artistic curators in Brazil. In only 3 editions, the Cymatic Stage has established itself as one of the most desired line-ups by the artists besides being the most complimented by the crowd. By now, the label has launched two compilations and one EP, and it looks like by their constant activity that there are some more good authorial works to get out to the public in the next few months.
Some parties and urban spaces have also surfaced in the last 4 years, like the weekly Chillaz, a thematic space that is now deactivated but had been active for 2 years in the city of Santos, a port town near São Paulo. Its importance is not measureable and the effort of its organizers to keep the party going is at least admirable. I could also cite the Chill In as another urban space that has been unrelenting in creating events in the city of Curitiba, southern Brazil.
In São Paulo, the Moon Dance Chill Out Party, that I'm responsible for, is an event that happens twice a year since 2012. Currently, the Moon Dance is getting into a new cycle where further than supporting local talents it intends to establish an exchange with international artists. We started this new phase well with our first European name being nobody else than: Master Margherita.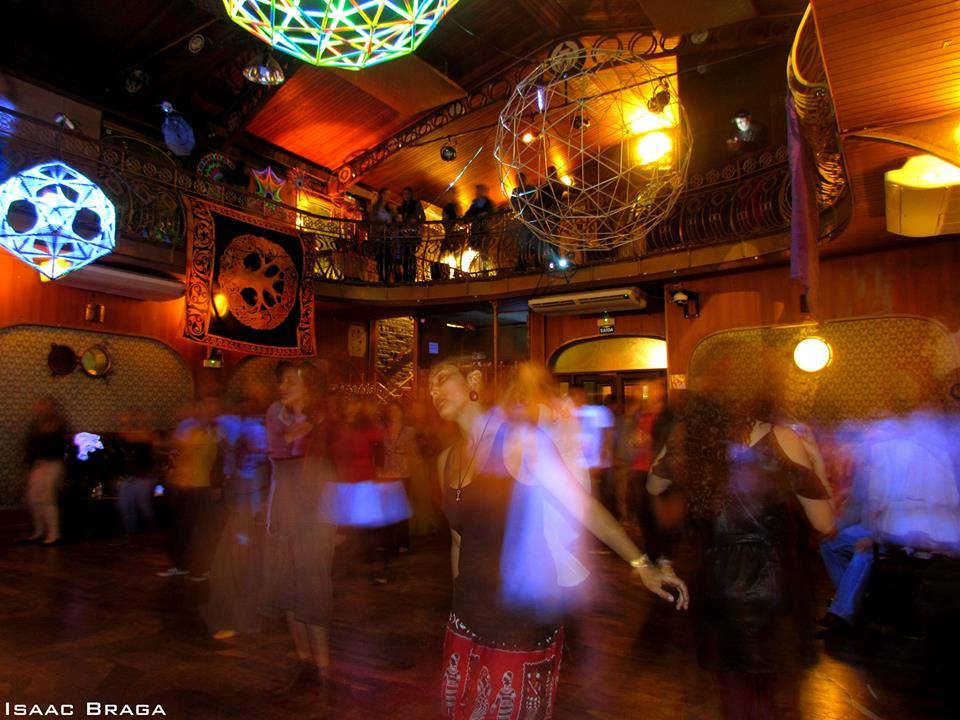 (7. Moon Dance Chill Out Party – São Paulo, Brazil – 2014)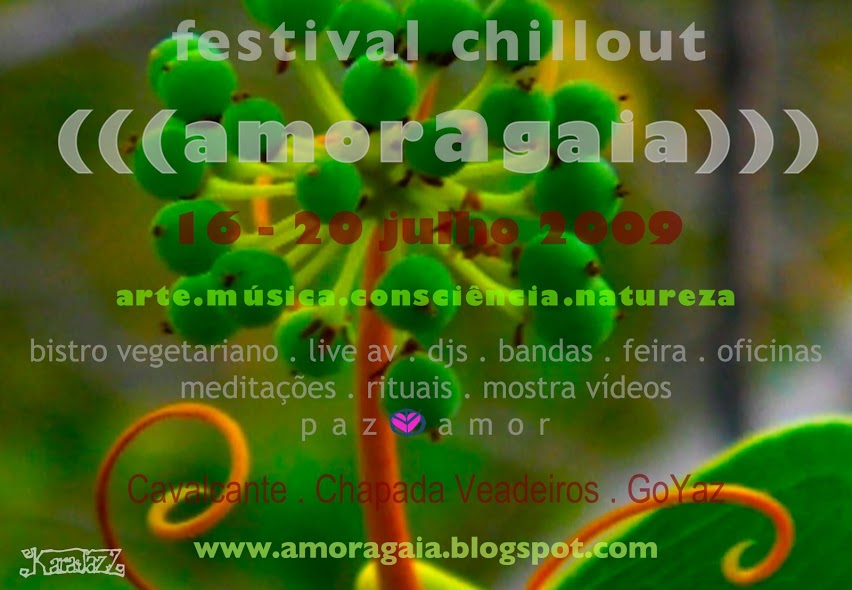 When it comes to specifically Chill Out festivals, to this time, the only one we have knowledge of is the extinct Amoragaia that happened circa 2009 at Chapada dos Veadeiros (center west of Brazil). But, from what we can gather, this will be changed by the Collective Chillout Brazil. Born in the last few months with the purpose of strengthening the national Chill Out scene, the group enjoys great support from the public on the web, in a short period of time, has gathered on its Facebook group page an expressive amount of the national artists. This group is has the mission to conceptualize and plan directions for the new Chill Out Festival, which is expected to happen in September of 2015 on the lands of Minas Gerais State (east-southern of Brazil).


(9. Chill Out Festival – will be at september, 2015 – Minas Gerais, Brazil)
Web Radios:
Based in São Paulo, The Multiman Web Radio has provided great service to Chill Out Music in Brazil. Disseminating artists and Brazilian and international projects, the radio has much of its programming dedicated to musical aspects present in the Chill Out Stage.
Another radio that has just opened a channel dedicated to Chill Out Music is the OnTrance web radio. From what we have seen until now, it has been dedicated to play djsets, livesets and international programs of chill music.
Conclusions:
Despite the ups and downs, the competition for space and the innumerous fights to improve the stages more and more, I see the Brazilian Chill Out scene with optimistic eyes. I closely follow the scene in Brazil by playing music and organizing parties, and I observe that practically all festivals nowadays have a Chill Out Stage and that, even though the outlays for the Chill Out Stages are not as good as the outlays for the Main Stages, at least there is an effort to preserve what has already been acquired.
It's clear to me that this article is far from reflecting an absolute truth, and much more could be added to it as far as data, history, cultural and musical aspects of the scene go. At the same time, I believe this article reflects at least one aspect of the reality. I've the feeling que the last 5 years of the Brazilian Chill Out scene has aimed to future que promises growth and development of the scene.
My reasons to believe in this is based on the fact that, after about 18 years being on the scene, finally the Brazilian Chill Out seems begin to recognize itself as a live organism made by many different voices. Sometimes these voices clash; sometimes they are in perfect tune, but yet, as the most important aspect of the growth process, they begin to elaborate themselves fundamental questions like: who am I? And: where am I going?
The answers to these questions lay in the future, and who knows in a few years I'll come back to tell you the story. =)



Massive thanks to the artists interviewed for this article and that directly contributed to it: Djane Fada, Salvinorin, Alex Carvalho, Trotter, S.M.U.R.F., Manolo Fraga, Rajna Leela, Rica Amaral, Luciano Sallun and Dan Flict.. And also, to the ones that contributed to this article indirectly: 4Tuna, Rabana, Cheytania and Ilari Reborn Soul.. Special Thanks to Catan Cotie for share data and for the big support on the entire process.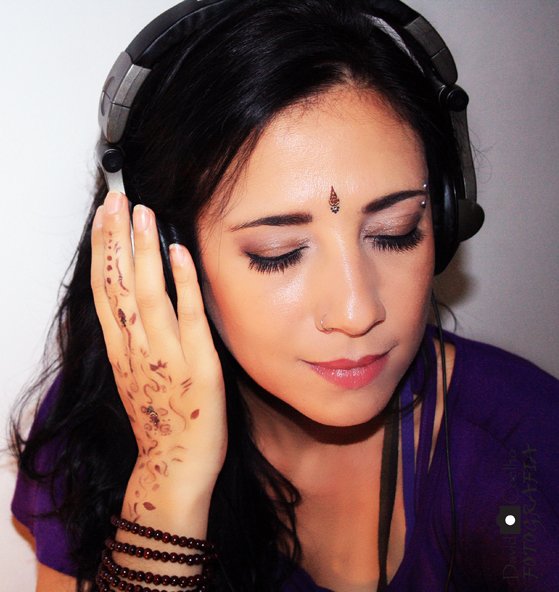 About me:
Allix, aka Lis Rodrigues, is a singer, songwriter and DJ
With a musical career of over 10 years singing and writing brazilian music and two solo albums, Lis became Allix, a newest alter ego to perform a new path: now she is engaged in research and produce electronic music, an old passion.
Always connected to new technologies for musical production, besides of being founder of the largest songwriters network Clube Caiubi de Compositores and she also coordinated, for two years, the music area at Campus Party Brazil, knows as the world largest Internet offline meeting, bringing together 6000 of technology lovers.
Nowadays, Allix is part of Cymatic Lab, that includes DJs, VJs, visual artists and performers, engaged in the exploration and production of immersive art and the Ambient Culture. Allix also realizes the Moon Dance Chill Out Party at São Paulo, Brazil. Dedicated to the study of Hindu and Buddhist mantras, has shared electronic sounds in Yoga practices such as: Shakti Soul and Samadhi Dance.
At the electronic scene, Allix stands by her chill out tracks that wander for styles like downbeat, ambient, psychill, IDM, psybass, glitch and temple step, besides soundscapes, always presents in her production. Combining technique and sensibility, her musical sets gently lead the listener through a sensory journey.