It is time to present you a new release and new artist – Biobazar from Canada ! Composer, writer and DJ, Dany Janvier is a multidisciplinary artist who works with both image and sound. Specializing in chill-out electronic music, electronica, IDM, ambient, and psybient, he's been part of the Canadian electro-underground scene since 1998. Biobazar has offered hundreds of live performances and DJ sets as part of various shows and several Canadian electronic-music festivals.
Interview made by Melissa Lara Clissold and Iurii GAGARIN PROJECT on 20/08/2019
Hello Dany, Biobazar, how are you? Thank you very much for taking the time to interview with us. We know that you have a new album "Archétype tonique" coming out soon. We're excited to ask you a few questions about that, but could you please tell us a little about yourself first? What got you into music back in 1998?
Thank you. Just to be exact, I was making music before 1998, but it was more along the lines of experimental/progressive/space rock. I was writing, painting, taking pictures, etc. Around the time my son was born, my band left me behind and went into exile, leaving for Montreal. At that time I'd already started producing on analogue 4-tracks but in 1998 I found myself alone, a new dad without a job really, in front of my computer and Windows 98—which democratized music. So I was somewhat captive at home, and I thought I could, on my own, start making some of that new style of music I was starting to enjoy more and more over the 1990s. At the time, I was listening to Banco de Gaia, The Orb, System 7, FSOL, KLF, Steve Reich, Mixmaster Morris, Kid Loco—which itself was inspired by music I'd always listened to, like Daevid Allen's Gong space rock (1960-70s), with guitarist Steve Hillage who later, in the 1990s, founded System 7, and British progressive and experimental rock, etc.
So I had all of the right sources of inspiration to satisfy my creative needs—and I listened to this kind of music precisely in order to create, as it's often instrumental and lets the brain surf on its waves.
You have quite an expansive discography. Any particular albums that have been your favourite to produce? Why?
In my discography, I'd say my favourite albums are Whale's Vagina, Obomkontek and Vitaphone. For Whale's, I'd just changed the way I work. I'd spent a very busy summer in outdoor festivals and I'd been studying the sounds of my peers. My conclusion was that I needed to stop pushing compression and mastering—I found everything was pushed too far, everything had a "plastic" sound, overly boosted… But aside from that, the tribal atmosphere at those festivals is quite unique and inspiring. For Ôbômkôntek, I was lucky to collaborate with a talented multi-instrumentalist who specializes in medieval and ancient music. And the album came out on a label that does classic and world-beat music, so that pushed my sound to a superior level. I invite you to discover the album: It's the one people mention most often to me. There's also Vitaphone; on that one I succeeded in creating my most homogenous album, with a very chill-out concept. Using vintage instruments like an electric bass and an organ provided the album with quiet yet rhythmic ambience, filled with mystery and emotion. To me, the album feels out of time—its sound is ageless, impossible to date.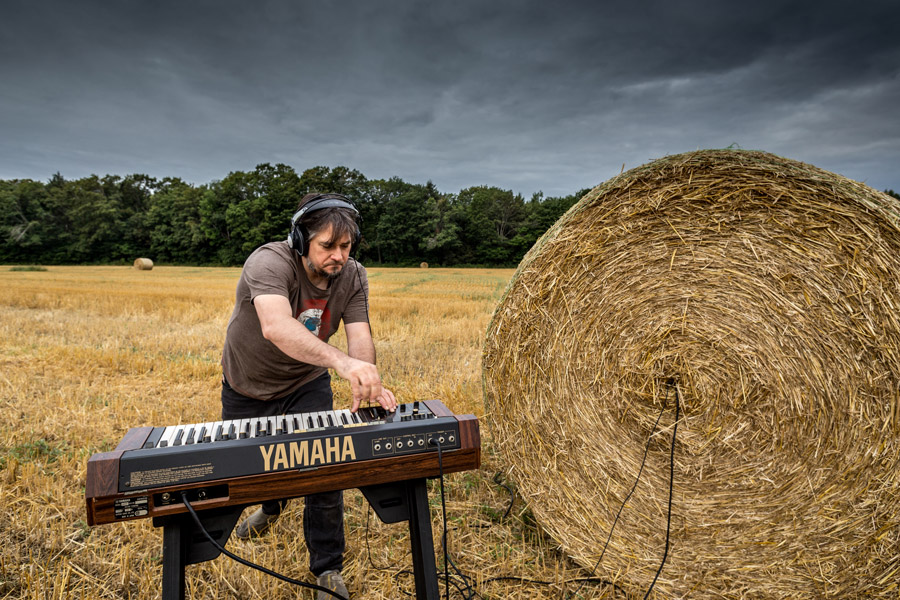 Each album has its own flavour and colour. Some are more contemplative, others are more energetic and have plenty of beats. How do you go about creating music? Do you decide beforehand or does it flow?
It's a bit of both. For an album, I like to begin with some concept, but when creating, accidents happen and I follow the flow and play with the unexpected. I used to let each album go its own way, but now I guide it with a bit more direction. When I want to have fun and create without imposing limits, when I want to return to letting things happen the way they will, I produce EPs and singles. That's one benefit of being independent. That's the way it was in the days of single vinyl records…
Where do you gain your inspiration? You live in Montreal, I believe? Canada is beautiful; do you enjoy spending time in nature?
Wow, you seem to know me already—does my music reveal so much? :) No, actually, I live in a little suburb that's not quite the country, about an hour from downtown Montreal. I don't really like big metropolises. I like wide-open spaces, nature, taking my time, observing the clouds and wide skies. Inspiration comes naturally: I need to create, to make things happen, to produce. I need to produce music as much as short films—or fine herbs, fruits, vegetables! I enjoy starting from scratch and creating something, or recycling something to give it a new use, and I create these amalgamations as much in my daily life as in my work and creations.
There are a lot of vocal samples / talks in your albums. What sort of messages are you trying to put across?
I like messages that remain mysterious, open, with some double or triple meaning. I want listeners to make up their OWN minds. I like clips that are rare, strange, from other eras, that leave you with a question or at least don't give all the answers. I like making people laugh, or give them hope. I enjoy using samples from old films or old vinyl records I either pick at random or search for after a long period of reflection. I enjoy searching through vinyl records from old television shows for kids. Or educational or institutional recordings, or strange conferences. But let me repeat the main message: It's that you can do whatever you want. Actualize yourself, have faith in life. Stay jovial yet realistic: no one is getting out alive anyway! ;)
On the technical side, most times I'll set the volume of samples and voices a little lower than the rest. I want it audible, but not too clear. I don't want to impose a message—and many of those who enjoy ambient music like instrumental music for that purpose: They don't want their thoughts disturbed, and so I don't want to impose voices or messages.
So, now let's talk about your new album. I really enjoyed the story being told—for me it was sort of a reawakening into a childhood innocence, struggling with fears, becoming oneself and taking the step into the present and opening up to the future and unknown but with confidence. Is this the sort of feelings you wanted to portray? What is it about this album that sets it aside from others?
I think you just described my new album better than I can! :) My goal was to make a hyper ambient album—rhythm-less, or almost so, meditative, very introspective, melancholy, yet opening on a future which I do wish to be filled with hope. It's the most conceptual album I've made since 2005. First the title, Archétype Tonique, represents the musical scale of 7 notes that together make up almost all of music. I wanted to give it a more poetic name. Each track on the album starts with the French name of its predominant note, so Do for "Dormir ou se lever," track 1, Ré for "Réveil," track 2, and so on, going all the way back to DO (like in The Sound of Music) with track 8, "Dortoir Abyssal," to finish.
So you see we progress naturally along the scale in eight tracks, Do, Ré, Mi, Fa, Sol, La, Si, Do.
When can we expect to hear it on all platforms?
On September 23, the first day of fall. After much thought, I decided to publish the album exclusively in digital form on Bandcamp, because I find it's the only platform that's really fair for artists. I know I'm giving up a wider audience, but to reach such an audience I'd have to spend more than I make with streaming, and I'd rather spend my money on instruments. I find it's completely illogical to evolve in a world where artists pay to be heard on sites that exploit them.
Will you play at any festivals soon? Where can we catch you?
2019 was very, very intense in the studio, so I only played at one small outdoor electronic music festival in Ontario (Canada). However, with this new album coming out, I do want to be heard as much as possible anywhere on our beautiful planet. Invite me: I'm open for bookings! ;)
I'd like to ask you about some of the plug-ins you use. And the DAW you use? What are your favourites—if you'd like to share. There are some lovely atmospheric pads in your songs.
I love those geeky questions! I'm like a kid with his toys. The core of my creation, whether digital or live with "real" instruments, is controlled through the powerful and versatile Ableton Live. I've used LIVE since version 2. Using Ableton is like picking up an old guitar I know like the back of my hand, starting to compose on the fly and having it already sound like you want it to. If I remember correctly, Ableton Live was only offered in MIDI at first … :) Even the integrated effects, like reverb and beat repeat, are excellent in Ableton LIVE. For virtual instruments, I really like U-HE's stuff—such as Diva—and effect plug-in bundles from Waves, like H-delay, H-reverb, the Abbey Road suite, SSL, etc. I could talk about this for hours, but most people would zone out quickly. For them this isn't important, and what matters in the end is the result, no matter what tools are used or what path is trodden.
Any particular equipment you prefer to use during music production?
Oh yeah, tons. One is a super Yamaha CS15D dual monophonic with an analog sound of such purity and warmth I wouldn't want to be without. Nothing digital sounds like it—it's my baby. I bought it at a pawn shop in the 1990s for $175. I have tons of incredible stuff I paid very little for, and some things that were found, given, free, like a superb Hammond Auto-Vari 64 beat box for $0, leaning on a garbage can at a garage sale—people didn't even know what it was anymore. I like searching for vintage finds for a few bucks more, and I collect them. I love beat boxes. I like passing my synths—recent or vintage—through guitar effect pedals: delay, analogue, chorus, reverb, filter, or wah-wah, I get a sound that's dirtier, warmer.
What do you think has evolved the most with your music creation over the years?
Definitely the sound is what's evolved the most. My mastering is more subdued, completely at the opposite end of the spectrum from the "brickwall" trend. I like to see a nice wave: I want it to look like a wave, not a wall. My sound is better defined, it doesn't get drowned among the other tracks, it's less compressed. I've always tried to reduce the number of tracks—on Archétype Tonique I never went above 8 tracks, whereas before for a psytrance piece it could easily go upwards of 30. As for actual machines, hardware, I've always used them, but now it's almost exclusively that. Yet I've never forbidden myself anything, so I mix various sound sources, like studio takes, big fat analogue sound, digital sound, samplings from the TV, from vinyl records, old movies,
field recordings, etc. It's what gives me the best sound, a perfect hybrid in the end. Of course my outlook on things has changed a lot with Biobazar since 2005. It's evolved and I don't see life and musical creation from the same angle. I'm much freer today; I no longer strive to do things to sound like this or that—I do my own thing, very simply. I follow the line I trace. I know my worth and I have nothing to prove anymore. I also have way more fun! When I jam live with MIDI in my studio, with my machines, 360 degrees all around and no computer, I'm just so happy.
Do you enjoy collaborating with others? Any particular projects in this respect?
I love collaborating with other artists. Nowadays, with the pace of things that keeps on accelerating, it's hard to make schedules coincide, so I like collaborating remotely. That's what happened with the Obomkontek album: I got a chance to work with multi-instrumentalist Ingried Boussaroque. On my vinyl record Paréidolie, you can hear 3 collaborations: with Debbie Tebb, a well-known electro producer from Montreal, Frank Boutin, a very talented trumpet player with whom I have an electro-jazz project called Bandz'n, and with Dominic "Rock" Laroche, one of my long-time friends who is a bass player, including with metal band Voivoid. For the longest time, I've wanted to make a dub album with him.
You are a multidisciplinary artist that works with both image and sound. How do you work with image?
In 1983, I was 10 years old. I'm from the video-kid generation. I've always listened to music as if it was my life's soundtrack—and that's my only selection criterion: Can it fit with my life's sound?
I studied fine art and photography. I make collages and I paint, and my main job pertains to video. Image has always been at the core of my work: I've always felt attracted to synaesthesia, the perception of sounds as visuals and images as sounds. Biobazar is its own universe, a complete world, an experience for all senses: It's an oneiric, visual, sonorous, physical, psychic, aromatic, and gastronomic feast! :)
What can you tell us about the cover of your latest album? Any particular reason you have chosen it?
When I set out to create this album, I started from a macro photo of a dandelion flower on a green background. It was very serene, but so quiet it reminded me of some old new-age classic album. So I played with some models and I came upon this picture at an exhibition of traditional First Nations' art. It represented the very concept for the album, with its 7 vibratory circles, like the musical scale's 7 notes.
At the same time, you can see a human or extraterrestrial being made up of light particles, or chakras. It was what I needed: tribal, timeless, luminous, and mystical, all at once. My art has always had a touch of the tribal—I think you hear it in my music, not so much on this new album, but throughout my discography.
Can you also tell us why you have chosen the name "Biobazar?" I always find it interesting listening to reasons why and how names evolve.
I love the question. The name was derived from a live electro-tech duo project I had discovered in 2000, which was called Apnor Biobazar. I wanted a name that could be pronounced in every language or almost, a made-up word that would be distinctive, and a word with an actual meaning, that would represent how I work. Biobazar was it: bio for life, and bazar for the bazaar, all of the experiences, influences, people, mixtures, objects that distract us, odours that remind us, all that transforms itself, transforms us, makes us travel without movement…
What are your future plans?
On the artistic/musical side, I have several projects in the works. I'm thinking of a groovy album, a dub album, and another one with my own texts. On the professional side, I still have the Dream, even after 15 years of Biobazar and several collaborations, which were not always great, of finding THE right person, a trustworthy collaborator, someone who'd believe in me and be a great agent or be attached to a great agency that would take me as seriously as I take my projects seriously, someone who'd help me raise Biobazar all the way to its full planetary potential. That's always been my vision.
Any recommendations for anyone entering the field of music production? This is often needed for many who do not know where to start.
Do it out of passion. It's always been true, but perhaps now more than ever: Many are called, but very few are chosen. Simply be serious, set realistic goals. Don't do it for the spotlight like some do; do it for yourself, for your own self-actualization, to have fun, discover things and discover yourself, find pleasure in creation. Otherwise you're certain to be disappointed in a niche as tight as ambient instrumental psychedelic music. At least that's true where I live.
Lastly, any final messages you would like to give to our readers?
I'd rather not sound too old-fashioned, but I'd tell your readers to keep on looking for music everywhere, including here. Be proactive, don't always wait for an algorithm to dictate what you'll listen to, ask friends, go see live shows, look for old vinyl records in junk shops, follow certain sites… Discover new artists on your own, tell your friends about them—you won't believe how satisfying that can be. Yeah, yeah, streaming is very practical, but there's a curation problem; just like advertising, an algorithm can be misleading… I'll stop there and remain positive. I'd say follow your favourite artists on their Bandcamp page. Bandcamp is the fairest platforms for artists. Thank you very much, Melissa.
Links to discover more:
(BANDCAMP)
( ALBUM LINK )
(official FB page)
(personal website)
soundcloud.com/biobazar/
twitter.com/biobazar/
instagram.com/biobazar/