Dear Readers,
we are happy to share with you our next interview, this time with Suduaya, a prominent, young and very well established artist from France. He has already released 3 albums, 5 EPs and numerous tracks on different labels. Louis is also a big traveller who has made his live performances all over the world. At moment Suduaya has two projects, downtempo and progressive.
Suduaya has recentely released his third album and a new EP together with Ancient Core, so for us it is a perfect opportunity to ask him some questions.
* all necessary links will be provided in the end of the page.
[interview taken in november 2013 by Gagarin and Runa]
Hello Louis, thank you a lot for finding time to speak with us!
Thanks to you
First, tell us, please, where are you now and where are you going next in terms of music?
I'm currently in Austria, i arrived in the beginning of november for the Halloween Electronic Carnival in Vienna, and the BMSS & S.U.N Festival Label Party in Innsbruck. I will be working on some new productions here until my next gig in St Pölten on the 7th of december. Then i will go to Hamburg on the 14th for the Midnight Sun 2013, organised by Solar-Tech-Events. A good warm-up before the asian tour coming up in mid-december. With gigs in Thailand, Malaysia and probably Goa…
Wow, impressive! You are so young and alive. What's you secret? Where do you get your inspiration?
I've been doing music since my early childhood, it's just like breathing air. If i don't create i don't feel good, maybe that's the reason i need to be on the move all the time, having experiences that will be transformed into music.
Do you do some spiritual/health-oriented practices?
I don't do any practice regularly. I had some amazing spiritual experiences but they were not planned, it just happened. Some rituals, meditations, nature trips, blessed encounters…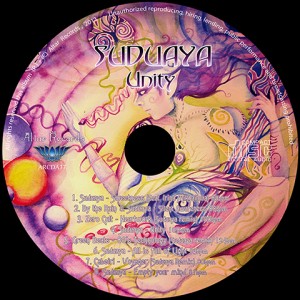 About a month ago you released your new album Unity on Altar Records. Tell us, what is the concept of this album? What does the word "unity" mean to you?
This album has different influences. Actually it was supposed to be a 5 track EP, but we decided with the label to add 3 more tracks and release it as a physical CD. Wich took sense in the end, i'm very happy about the result, and mostly because of the beautiful collaborations i've been honored to make with Irina MIlkhailova on the track "Sweetness", Christian Amin Varkony on "Empty your mind", a more shamanic trip with dub/melodic elements, and By The Rain on "Silent Awarness" , a track we made in Malaysia.
To explain the title "Unity", you can find that quote on the release page online "Unity, not uniformity, must be our aim. We attain unity only through variety. Differences must be integrated, not annihilated, not absorbed".
It's important to feel connected as living beings, not only between humans, but with all forms of life. This world we live in is being destroyed by people who gained power and control the whole system. What can we do on our small life…it can be pretty depressing…so at our own level, we can find ways to escape that trap and build something positive together.
Was it a difficult process to produce it? when did you start to work on this album and who helped you to accomplish it?
The previous album was made in 3 months, this one took one year. That's because of more touring in between, but also i realized i wanted to spend more time working on the details. And i understood it was the best way. There is no need to rush.
This album has, in particular, three remixes you made for other producers. Was it planned from the beginning? Tell us, why did you decide to integrate these remixes to the album?
I just felt they would fit with the concept of the album. I really like these 3 artists, Zero Cult and I already made a track together that was released last year, i've always loved his sounds, was a pleasure to work on that remix. As well for Cabeiri and Green Beats, they also remixed one of my track that was released on my remix EP "Salutation to the planets".
In general do you like to work on remixes?
Sure, work with sounds you don't make usually is really inspiring. Pushes you to find new ideas.
You were travelling quite a lot in 2012-2013, do you produce your tracks at your home studio or mostly on the road?
I don't like to produce with headphones. Many tracks were done before i started to travel intensively. But i was lucky to stay at some friends places where they had a music studio, i've been making some tracks in different countries. But nothing is more comfortable than your own home studio.
We know you have two projects right now (progressive and downtempo). Do you dedicate them the same amount of time or you have different priorities?
Yes, totally, beside the new album, there is few progressive tracks coming up this winter. A collab with Sideform for Hadra Records, some tracks for BMSS Records, as well some i made with Aioaska for our project called Aiodaya, and one EP for Sadhu Records.
Human beings are very limited expressing some things with the words. Still how would you describe your downtempo music with 5-7 words?
I don't know…i will use words i get as feedback from listeners…love, light, healing, meditation…it really touches me, i'm so grateful to all the people that are supporting me.
Ok, let's get back to releases. A few weeks ago you have released new EP "Sound Massage". How can you describe its sound ? How different is it from "Unity"?
I would say it's more atmospheric. With more dub/ambient background, psychedelic and melodic. It was made in collaboration with Ancient Core, at his studio in Transylvania.
https://soundcloud.com/bmss-records/sets/suduaya-ancient-core-sound
Tell us about your label, Altar, when have you started working with DJ Zen and how do you enjoy it?
We've been in contact since 2010, and decided to work on my first CD release and progressive album "Dreaming Sun" (released in 2011). I enjoy his work, his professionalism and his creativity.
What makes your music a very well-distinсtive is that you add the bass guitar passages. Do you have a musical education?
I've been learning violin since i was 5 years old and the guitar since i was 13. Before discovering psytrance i was not really into electronic music, but more into Heavy Metal, Hiphop, Reggae, Soul, Funk…
If no, have you ever felt a lack of it?
I feel more having a lack of audio engineering. I've learned to produce electronic music without studying it, that's what i'm working on.
What are your musical influences ? How have they changed over the last 10 years?
I'm still listening all kind of music styles, and actually more i'm on tour, less i'm listening to psytrance at home, i need a break of it sometime. Always up for some good funk, or hiphop :)
Do you listen to music of the other artists? What are your recent discoveries?
Sure, there is so much to list on. But staying around psychedelic, i really like Talpa these days, he is going to many directions, full of ideas and the quality of production is really good.
Can you share with us any downtempo artist / album / or label that impressed you recentely and why?
I'm a big fan of Sundial Aeon, Tripswitch, Solar Fields and Astropilot.
Winter holidays are not far away. When did you celebrate your best new year and why?
Last year i was playing at The Experience Festival in Thailand, it was so good, people from every part of the World gathering under the Sun, such a nice feeling. Will be there again this NYE.
What would you like to wish or share with our readers?
Follow your dreams and be yourself. And most important, be kind to one another, we need it.
LINKS
progressive project => https://soundcloud.com/dreaming-sun
downtempo project => https://soundcloud.com/suduaya
latest album => http://altar.bandcamp.com/album/unity
latest ep => https://soundcloud.com/bmss-records/sets/suduaya-ancient-core-sound