Hello Chillers,
today we would like to share with you other discussion with Birds of Paradise.
Birds of Paradise is California-based producers Torin Goodnight (Bird of Prey) and Tyler Gibson (Gibson). Each has a decade of experience behind him, and has been steadily making waves in the electronic music scene. Having a similar aesthetic but still maintaining an individual approach, they combine forces in a new symbiotic project to work towards a common vision and master the art of collaboration. The duo plays to its strengths- patience, beauty, and depth to offer a truly original sound of rolling percussive breakbeats, progressive melodies, incredible sound design and twisted psychedelic layers. Their fusion of elements, both natural and synthetic, create an engaging bio-digital landscape that leaves little to the imagination. It will take your ears only a moment to realize that you have uncovered something special.
interview taken in February 2015 by Floyd 2.0 and Gagarin
— Hello guys, thanks a lot for finding time to speak with us!
So let's start with the first question. How long have you guys been involved with music? Did you both start with psychedelic music?
Torin: I first started seriously approaching electronic music production about 15 years ago. I was initially inspired by to create psy trance and that was what I put most of my efforts toward with explorations in alternative downtempo here and there. It was around 2008-2009 when I finally came to the understanding that I just wasn't able to fully express myself using the psy trance format, so I began combining what I loved about it with other beat styles.
Tyler: I've been inspired by electronic music most of my life, and started writing music in 2004. I was mainly focusing on drum and bass, breaks and midtempo as GIBSON until I met Torin in 2008, when we began working together on the larger verity of stuff that would become Birds of Paradise.
— What are your musical influences ? How have they changed over the last 10 years?
Torin: My primary influences are movie soundtracks, 80's pop music, industrial, world music and I have a deep love for ambient soundscapes. Anything that gives me a sense of depth, adventure or just easy-going fun.
Tyler: 10 years ago 'breaks' were pretty popular, and I was really inspired by the music and the scene. Electronic music has changed a lot since then, and so have I. I've been inspired by almost all genres of electronic music, and often express those things in my writing style. I am equally as inspired by 'world', and 'indigenous' music, and blending the two has been an inspiring goal for me with Birds of Paradise.
— Do you guys listen to music of other artists? What are your recent discoveries?
Torin: At this point I let music find me more than pursuing it the way I used to. I find myself inspired quite often by a hybrid of electro/acoustic music, because it gives me a space to relax and daydream in. I've somewhat burnt out on listening to exclusively electronic music after studying it meticulously for so long, it just seems to activate my analytical mind which I don't find to be what I'm looking for anymore. Now I let music be an enhancement to everyday life, rather than it being all consuming as it was. Something I came across that has been in constant circulation is a soundtrack for a video game called Ibb and Obb, composed by Kettel. He has uncanny classical composition skills that he very gracefully combines with electronic production. Beautiful stuff!
Tyler: As far as electronic music goes, i'm honestly mostly inspired by our own friends' music! It's been so awesome to meet and collaborate with other amazing musicians from around the world. I am so happy to say that our friends make the most inspiring and awesome electronic music I know.
— What inspires you guys to make the music you do?
To continue our own journey of self-expression and discovery, while being in service to the happiness of others.
— Human beings are very limited expressing some things with the words. Still how would you guys describe Birds of Paradise music with 10 words?
10 words…okay, here we go. 'The coolest shit we can possibly think of and create'
— What is your workflow to create music together? Do you work mostly together or you are exchanging project files over internet ?
One of us will generally start an idea and shoot it to the other. We continue to make sounds both independently and together depending on whether we're close enough or not. We now live in the same town again so we are doing most sessions together. One of us will drive for a time while the other dances in the background shooting off ideas. Then we switch it up and continue to push each other until we've got what we're after and are both completely sick of it, heh.
— Do you guys produce your tracks at your home studio or mostly on the road?
We really only work at home in our studio's. We like the idea of doing stuff on the road and may get into that, more but when we travel we really like to take in the experience.
— What are the most important elements of your studio ?
Probably the Universal Audio powered plugins. We employ them on most everything we do and they contribute a significant character to our sound and quality.
— What analogue equipment do you use?
Torin: At this point it's all pretty much in the box except for a midi controller, our Apogee and UA Apollo audio interfaces with Dynaudio speakers. I used to own proper analogue synths and a bunch of outboard gear ages ago, but the only one remaining is a Nord Lead 3 rack. We have collaborated with Robert Rich at times who has contributed from his analog modular synth and flutes. We love integrating live instruments and alternative sound sources in our music which we will continue to do more and more.
— How do you guys experience producing? Is it a natural process/flow? Do you guys have any specific rituals?
Yes, it's a pretty natural flow. We're constantly discussing what we feel we'd like to explore next, and often one of us will start an idea and then we both get cracking on it. Rituals include yoga, tea, mental and emotional breakdowns which if we're lucky eventually lead to breakthroughs. We're quite blessed to feel so aligned with what we're looking to achieve and what we want things to sound like. We have very similar skill sets and aesthetic preferences so it's a pretty amazing process, although we do go a bit crazy managing the details and wrastling these beasts in.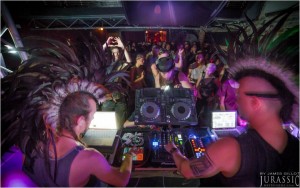 — What keeps you guys going? What's your biggest motivation?
The beautiful places we get to visit, the people we meet who are sincere and devoted to creating magic in this world, and the sense of bringing joy to others are all very important to us. Having each other as partners in this journey is much of what keeps us focused and motivated.
— How would you guys' say your music has evolved over the years?
Well, we've covered a lot of territory in the down to mid tempo ranges, and as of lately we've been moving up into faster tempo's. We continue to allow ourselves to be influenced by what we experience in life, what we feel would be fun to offer to others, and whatever scratches the perpetual itch of our own creative nature.
— Do you associate yourself with Psytrance music scene or Electronic music ?
We're most interested in hybridizing everything we love about electronic music genre's, and that definitely includes Psytrance. However, we just don't see the real value for us in subscribing to any genre fully. In fact, we have trouble making it through a single song without somehow exploring what else can be done with any given style or BPM. We love performing at Psytrance festivals around the world, as well as festivals for bass music and EDM. They all have their strengths and beauty, just as the music does.
— At Boom you played tracks from Symbolico and Land Switcher, have you met those guys ? What do you think about their music ?
Yep, they are friends of ours and we hold them in very high respect. We generally play our own music, but have found it to be very enjoyable to include songs by our friends that are complimentary to our own. Land Switcher, Symbolico, Hedflux, have all made their way into our sets from time to time. We are also stoked to announce that we have an amazing upcoming full length remix release of our Flight Patterns album featuring these artists and more.
— Who are the modern artist that inspire you ?
Our friends. :)
— When you're not in the studio, what do you like doing? How do you spend your free time?
We do yoga on a daily basis, some disc golf out in nature, go to they gym, watch movies. We like to step away from the computer to be re-energized, so that when it is time we can be fully in it. After staring at a screen for so long we've come to realize how important it is to get back into the body, breathe fresh air and pull inspiration from sources other than electronic media. Unless of course we're talking Donkey Kong Country Returns, heh.
— What do you do for living ?
Torin: We've both been blessed to have music be our primary source of income. I am also completing my yoga teacher training this year so I can begin to work with people in new ways, and in new environments. Health and well-being has been a major focus the past few years as I've learned to balance my needs with this lifestyle, and it's very important to me to help others achieve balance in their day to day lives regardless of their profession.
— What's your favorite drink for a chilled out evening?
We're both pretty much on the tea these days, with a kombucha here and there.
— Thank you for your time, it is very interesting to discover more of your reality. Would like to use this occasion to invite you to visit newly created forum (forum.psybient.org). Your advises and feedback to young producers will be highly appreciated.
Thank you so much for reaching out to us, we really appreciate the opportunity to share some time and ideas with you. Feedback we can offer is to be patient and diligent in your journey of self-expression. Take it seriously enough to make steady progress, but not so much that you create stress and anxiety in your life. Remember to step away from the computer and gather inspiration from other sources. It's difficult to come up with something fresh and new if all we do is listen to what's already out there. Life and nature have a way of speaking through us if we create a healthy channel. Be well and thrive!
https://facebook.com/birdsofparadisemusic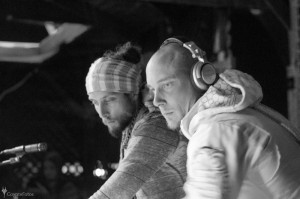 https://soundcloud.com/birdsofparadise
Birds of Paradise-Live at Boom 2014
https://soundcloud.com/boomfestival/boom-festival-2014-alchemy-circle-ep-05-birds-of-paradise
Bird of Prey-Live at Boom 2014
https://soundcloud.com/boomfestival/boom-festival-2014-alchemy-circle-ep-10-bird-of-prey