Celtic Folkotronica is what best defines the music Scott Sterling is gifting us. An alchemy of musical traditions, energetic tribal rhythms, and pagan atmosphere.
Based in California, Drumspyder explores the synergy between Heathen and Celtic old ways with contemporary expressions. An expert percussionist, he sculpts organic grooves with bass-heavy productions with a magic result either for the dance floor or the bliss of listening while having tea on the sofa.
Over a decade exploring this connection and a good number of releases make him an appreciated and unique artist, often sharing within his releases the theme of the albums and tracks, usually related to ancient stories and antique traditions.
Today we are very happy to talk with him and travel within the ancestral archetypes of the music he produces.
Interview by Shantiago on 12/10/21.
Hi Scott how is it going? Thank you for spending some time with us.
Hello – it's good to talk with you!
Are you spending these days in California? Are you originally from that colorful part of the planet?
I live in Berkeley, but I am originally from Massachusetts, on the east coast of the US. I think that some memories of Massachusetts and Maine still infuse my work.
How is the electronic music scene over there? Is it easy to be an artist who melts ancient and contemporary sound?
There is a  lot of creativity in many types of music over here. Since I have moved into a less populated niche of the musical landscape , it has been naturally more difficult to find electronic artists who I feel a close connection to. But as they say, "your vibe attracts your tribe", and I intend to just keep putting my music out there to find the right connections.
Your last album 'Kenning' is another good example of tribute to antique Scottish, Irish and English melodies and rhythms. Could you tell us about your passion and appreciation for these old music traditions?
I am still relatively new to Celtic styles, having been listening intently for about  7 years. I have listened to Medieval and Renaissance music on and off for much longer though, for most of my life. On all of my tracks of the past 4 years , I play the lead melodies on whistles, and learning to play on this instrument has really helped my appreciation and understanding of these styles.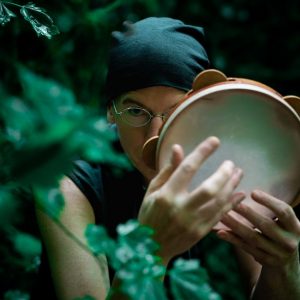 Did you land into electronic music through organic percussion? How came the idea of working on this encounter between bass oriented vibes and medieval music?
Yes – for a long time I was a drummer in various bands and dance ensembles, but at the same time listened to electronic dance music, and was influenced by its energetic rhythms and powerful bass sounds. Gradually these two interests merged as I began to produce my own tracks. I think that in my work I have always had the desire to engage in a conversation with the past, and to bring past art forms into the present..
Could you also tell us about your life music journey? Have you been listening to traditional folk music since you were a kid? Which other music styles have shaped your nowadays creations?
After some tentative, but quite educational beginnings in classical piano and music theory, the first instrument I really "clicked in" with was the drumset. I started by playing in grunge and indie rock bands, then moved to an involvement in modern dance, circus arts, and bellydance. At the beginning of my arabic fusion/ bellydance years I switched from drum set to hand percussion – at first arabic tabla (doumbek) , then settling on my current specialty of frame drums. In my drumming there is a great deal of arabic influence, plus the techniques of cross-cultural frame drumming, particularly the approaches of Glen Velez and David Kuckhermann. Of course most of my listening nowadays is Celtic music, and I have picked up a lot of bodhran (Irish frame drum) elements and try to incorporate them into my drumming style. But I also think that in my current music , there are still some echoes of my indie-rock and circus-troupe past.
Which kind of elements and set up do you usually use when producing a new track? Are you a hardware fan? Do you usually work with the same software?
Most of my sound consists of my own acoustic drums, whistles, and a few other favorite instruments such as the harmonium and appalachian dulcimer. As an electronic producer I have always preferred to keep things simple. I've only used Ableton Live as my primary software. Currently I don't useany hardware synths, only Analog , the Ableton software synth. I round things out with some virtual Celtic and Medieval instruments from Eduardo Tarilonte's (highly recommended) instrument racks.
What about when performing on the stage? Are you shaping your performances depending on the type of venue? How do you combine the organic instruments with the electronics?
For many years my only live instrument has been the Korg Wavedrum Global, which I use to simulate tamborine and framedrum sounds. It's no substitute for the real drums, but I find it is realistic and playable enough for my live sets, and very easy to travel with. All other elements in the music are played from my laptop, running Live. I make some adjustments to the set list here and there, but for the most part my priority is to play my newest music.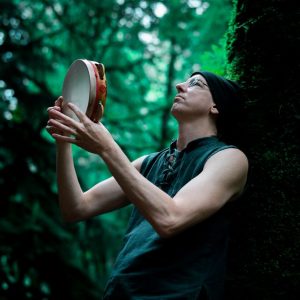 Besides the strictly musical side, you are a visual artist. Could you tell us about your inspiration for painting, ink drawing and vector designing? Do you create your album covers?
Yes, I designed the covers to all of my independent EPs and albums. Several years ago, in conjunction with the shift to my current music style, I began to learn Celtic and medieval art styles, sometimes called "insular" (British island) Celtic or Hiberno-Saxon style, which is known from ancient metalwork, carvings, and most famously from monastic manuscripts such as the Book of Kells. At the same time I entered a new spiritual orientation and became a committed pagan , which continues to be the core of my inspiration as an artist.
About the near future, are you planning to be focused on performing now that it seems that the world is waking up again? Any projects within the next year?
Yes – I have a few live gigs going on currently (October 2021) and I hope to return to regular in-person performance in 2022. I am currently at work on a new album of 8 tracks, plus a handful of remix projects.
Before finishing, would you like to send a message to the psybient.org listeners and readers?
Thank you for listening – thrive, create and be true to yourself – "Wes Hael" ! ("Be Well" in Old English)
Thank you for sharing your words with us! We will continue transporting ourselves to Celtic Folkotronica soundscapes listening and dancing with your music art.
Thanks & Blessed Be!
Drumspyder music links: