Universe sonic narratives, endless imagination, philosophical soundscapes, visionary synths and a considerable number of releases. Sergey Sever is Eguana, quiet, kind and intelligent music, a magic world of harmonies awarding the audience with blissful sound travels.
Handling the majority of the process when creating a release (songwriting, singing, producing, mastering, art designing…) makes him an extraordinary musician. We are now celebrating 10 years of his elegant albums and tactile rhythm patterns.
Eguana sound swims around Plexus Music and Cosmicleaf Records, sharing an audio space with creative and passionate artists. His Cosmos Episodes and Invisible Civilization series are pure bliss for the hearing system, and a global chill music mind brings a paradise of versatility. We feel very lucky to know a bit more about his inspiration, thoughts and insights.
Interview by Shantiago on 7/1/22.
Hi Sergey, how are you? Thanks a lot for spending some time with us.
Greetings to you and to all who will be reading this interview.
We have been around 10 years enjoying Eguana music within a wide chill out surrounding. However, let's move back in time, which is your relation with sound? How was your music journey until landing with the Eguana project?


My music journey is quite long. When I was a boy I was listening to quite a lot of different music. I had that cassette recorder and almost zero opportunities to buy new music. Instead we've been exchanging records with my friends, copying them for each other. Sometime later I started learning playing guitar. That was quite interesting and I attempted to learn some other instruments: piano, for example. That was interesting as well. Since then, I learnt a lot of instruments and genres. I played in several bands in different genres, but ambient sound was always something I liked most. Take almost any performer, they would inevitably have something "slow" in their tracks. And these slow, calm parts of those tracks have always been attracting my attention. Back then I had a musical project with my pal. We called it "Insomnia" and we've been playing something that I define as doom metal. Yet even working in this genre – a very distant genre from ambient music – I think I managed to integrate my desire for lyrical and calm music into the music we've been playing back then.
Not surprisingly to myself, one day I understood what is the exact thing I like about my music, and this is how Eguana project was born.
The boundless spacey touch of your tracks can suggest a mind behind who thinks about an endless universe. Where do you get your inspiration from? Is the universe a relevant factor of this inspiration?
I don't think I've been thinking about the universe a lot. I don't think I do so currently. May be when I was young this was the thing, but only until the moment the universe has started speaking to me. I think it does so though my music. Anyway, I don't have any issues now about connecting to it and show to myself and to those who listen to my music everything it transmits through me.
Would you consider yourself a spiritual person? Do you believe in transcendence as a human being?
I think I understand not only our material world but also other worlds as well. I feel them. This understanding became more expressed in since I started developing Eguana project. Step by step, I'm moving in the direction of a more precise understanding of what transcendency is. Back in my early days I've been doing this unconsciously, like having a blindfold over my eyes. Now I believe the Universe shows me other worlds and my eyes are wide open. From my perspective, my series of releases called "Invisible Civilization" is a good illustration to this thought.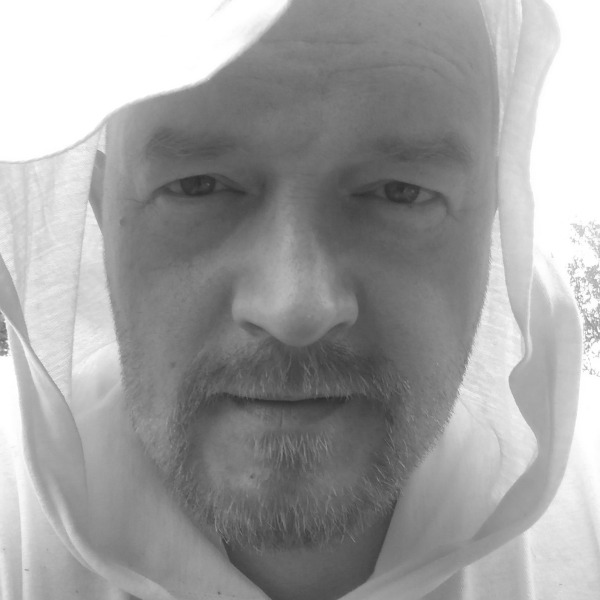 Where are you currently living? Is your place a relevant source for musical insights?
I live in Russia, in a small rural town called Nelidovo (spells like Neleedovo). No more than 20 thousand people live here. I have got an apartment in an old house. The place is more or less nice, but I would imagine myself living in a different, more spiritual place. There are such places in the world, but I'm situated here and that's fine. There are a lot of stuff I take inspiration from around me. I say it is practically everything. In a nutshell inspiration is not about place you are situated. You can live in a perfect valley with a sea or a mountain view, but have zero inspiration and no connection with the Universe. I think in my case ability to interact with the Universe and the place of living have no connection.
We can clearly feel a peaceful state of mind when listening to your Cosmos Episodes. Each episode precisely arouses travel to the unknown. Could we know a bit more about the idea of creating these sound journeys?
Well, Space is something I've been interested in for a very long time. It is not like I was learning science specifically, more like I like to observe from the distance. "Space" fragments always were part of my music. However at some point I discovered for myself the world of the Invisible civilization. Only sometime later after I wrote that music I realized that it was the Universe who opened this Civilization to me. This is when I got the feeling that this world has been shown to me. This world was transmitted through me, through the sounds of my music. It was also the moment when I realized that I'm not that important as a musician. What the Universe says – that is important. I thank Her for showing it to me and giving me ability to show it to those who listen to my music. Cosmos Episodes are results of my personal journey. I wasn't just an observer, but real participant of the journey. And now my plan is to end it in 24 episodes. I imagine this will be a long journey in an open space. Every episode is another part of this journey. One parsec per episode, through new solar systems and galaxies. I'm sure every single person who will hear it, will find those they would love most.
Besides more meditative and extraterrestrial sound, your work with quiet music is approached from many sides. Could you tell us about your vision of chill out music? What leads you to create different serene styles?
Before I started developing the Eguana project, I had a very long musical way. I played a lot of different genres and I love them all. If you want, I'm full of various sounds and they all don't fit in Eguana only. That would be an unnecessary limitation. When I compose chill out music I use the experience I got in my past. I listen different music and I compose different music. I think I'm able to create music with different kinds of vibrations, which can put a listener into different kind of state. That is beautiful.
I don't think I would be able to create music only in one genre for twenty years. I would burn out very soon. I perceive and transmit the world in a different way. At least it is different in comparison to those, who can actually do that: compose in one genre for tens of years in a row.
Do you usually listen to other music rhythms? Either electronic and non-electronic ones.
I like to listen new music, and it doesn't matter what genre it comes from. I'm subscribed to many artists at Bandcamp and some other music public services. I have a lot of friends that also compose music and a listen to what they do. In other words the new music flows like a river to me. A pity thing, I don't have enough time to listen everything, but oftentimes I discover new musicians. Or at least they are new to me.
The large number of releases Eguana is giving draws the attention, as we are constantly enjoying new stuff. Is it straightforward for you to produce either quantity and quality? How do you organize your work?
Trust me I can't say that creating music is a laborious stuff to me. Never in my life I felt exhausted by creating music. It is always like a party or a holiday. Sometimes I feel like I want to create a thing. But at the same time I feel that today is not my day. In this case I just start doing some other stuff. Sometimes I don't create anything new for two weeks or even for a month, but I don't bother about that at all. Back in the days, when I only started doing music I had so called creative dead ends. And I felt huge anxiety about that. I was thinking: oh, no I will never create anything new. Now this is not a problem for me. I understand that I need those pauses to fill my inner vessel with inspiration.
In general I work in the following way. First I try to understand if I'm in a mood to create something or no. If it is the case, I fire up my PC and chain myself to it. I can create a full-format record in 2 or 3 days. Or in some cases I can work on an album for a year or more. I always have several records in progress at the same time. Just putting new records in different folders until I understand that I have enough for a new release. Some times I send several releases to my label. But it doesn't mean that all those records were done over night or over two nights. For example, it took me four years to finalize "Dragon Songs" album and one I spent one year and a half for just a single track – "Sun". So it is not always that easy. Yet there some releases I spent only few days to create. It is always different. Let's say I'm always in a stream of creation, however different releases take different amount of time to be completed.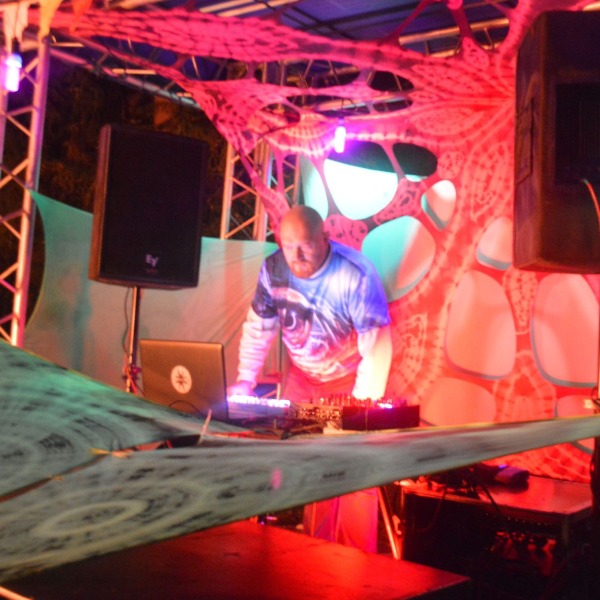 Regarding production, which is your set-up? Are you a fan of combining organic instruments and melting them into electronics? Any preferences with hardware, DAW or plug-ins?
My set up is nothing groundbreaking. A PC, few monitors, MIDI-keyboard, several "live" instruments. I often use live instruments in my works. It is a special pleasure to me when I make natural and electronic sounds work together. When it comes to software, I use mostly Fruity Loops in a quite an old version of it – 9th. Also I'm using several old VST synthesizers, especially for Cosmic episodes. When you know how to process their sound, the result is cosmic! And this is it when it comes to the tools I use.
Another significant aspect of your records is that you often master the sound and handle the artwork creation. Could we know about these angles of your work from a technical sound side and visual art?
Yes, practically all my covers are done by myself. I do collages – I collect interesting fragments and combine them in one image. Then I add some strokes and there we go – a cover image. When I create a cover image I try to visualize sounds. I listen to the new record and try to see its sound. After I see it, I recreate it in real life. That is why all my cover images are connected to the sounds of my records.
Now we know many more things about Eguana. However, who is Sergey? As a human, within his daily life.
Well, I'm a man, a father, a son, a brother and a friend. With my daughter we live the life of regular people, just like all others in our town. I do home stuff – like cooking, cleaning, and then I create music.
Before finishing, would you like to spread a message to the psybient.org community?
I'm familiar with the community for a very long time, I was around you earlier and I know for sure – what you do, your efforts to make chill out music more and more popular is the right thing. This is very good activity and I wish you all prosperity, I wish you to be able to embrace wider horizons in terms of your audience and to involve even more people in your community.
We are so glad to have your words, and we look forward to being delighted with your music creation and intention. See you soon travelling around the universe!
I'm happy to share my words with you! See you soon travelling around the Universe as well!
Listen and follow Eguana on:
https://plexusmusic.bandcamp.com/
https://cosmicleaf.bandcamp.com/
https://web.facebook.com/eguanamusic