Marc-E is a psybient and psychill producer and performer from Vancouver, Canada. His music is a blend of psychedelic and spiritual experiences expressed through sound.
He takes pleasure in integrating a unique mix of world music and natural samples into his sound. Expertly merging electronic and organic drums, he creates rhythms and soundscapes rooted in psychedelia, spirituality, and authenticity.
After two full albums titled Sub Ek and Carthasis, and several interesting singles, Marc-E has been flourishing among audiences at home and abroad. Today we have the bliss of talking with him about music and life.
Interview by Shantiago on 25/08/22.
Hi Marc, how is it going? Thanks a lot for having a conversation with us. Are you spending these days in Vancouver? What is summer like over there?
Hi! Doing great thank you. I just returned home from Future Forest Festival out in New Brunswick. Amazing festival! Recently, I released a new single called "From the Pointless Forest". It's had a pretty decent response online so far. I also have a remix of an older track "Rite of passage" coming out on a compilation album from Live Love Create. The proceeds from that album are all being donated to Ukraine for the ongoing and heartbreaking conflict happening. In the last few weeks I've been playing around with some new songs I have in the works. Nothing is finalized, but I hope to release another single soon. Hopefully by late October.
Summer has been great so far, it gets really hot in Vancouver in the late summer months. Spending as much time outdoors as possible before the rainy season comes again.
Let's talk first about your relationship with music. Did you start to be curious about making music as a child? What is your musical journey?
Yes, I started out very early with music. I grew up in Calgary, and was apart of the Calgary Boys Choir for almost 8 years. The artistic director at that time was grammy award winning Gerald Wirth. He is now director of the well known Vienna Choir Boys. My time in the choir was extremely beneficial. The musical education I received is a blessing on my life I try to never take for granted. During my years in the Choir we recorded several albums, and went on both domestic and international tours. This experience projected me to a lifetime of music, both performance and creation.
In my teenaged years, I felt I outgrew classical music and singing in the choir. I began listening to a lot of heavy metal bands. This sparked a love for electric guitar, and after a few years, my older brother and I began playing music together and writing songs. We later started and band and self produced and recorded an album in our home studio. In my early 20's I was introduced and swept up by the growing electronic music scene.
Simultaneously I began experimenting more with psychedelics. My love of djembe came quite randomly one weekend from an LSD experience in the forest. I had never played the drum before, but somehow was able to create unlimited amount of rhythms and sounds through this newly found instrument. I explored this and similar experiences for several years before moving away from Calgary.
I moved to Vancouver in 2012. After networking for a few years and writing new material, I recorded and released my first solo album under the name Marc-E. The album was called 'Here Again' and was a collection of songs I wrote on my acoustic. I played guitar (electric and acoustic) bass guitar, drums, and did all vocals on the album. It was soft rock riddled with psychedelic lyrics and sounds. Around 2016/2017 I played lead guitar for a Vancouver based hip hop group called The X Presidents. I was featured on their second album, did several festival gigs with them and a cross Canada tour.
After that I began exploring the production of electronic music. I was hugely influenced and inspired by Shpongle and Entheogenic. I felt I had finally found my genre. I wanted to create massive bass drops with slow psychedelic rhythms, synths and guitars. I am always trying to push the boundary of genre with all the music I have done, this project being no exception. The music I am releasing now is exactly what I dreamed of creating many years ago. I look forward to many more releases and a lifetime of live performance.
Listening to your productions, we can feel a lot of organic sound and a connection to nature. What inspires you to create this type of chill music that induces mystery and serenity?
Yes exactly, organic sounds and rhythms as well as nature sounds are a huge part of the creation of my music.
I grew up exploring the rocky mountains, hiking and backpacking throughout. My love of nature was born long ago. Sitting still in the forest (any forest) nature is so alive with sounds and rhythms. You can hear it everywhere! I take home a lot of inspiration from my time in nature.
Playing drums in the forest is one of my favourite things to do. You can hear the sound reverberate off of things as small as a blade of grass, and as large as a mountain peak. I try to recreate this experience as much as possible in the music I create. The pace of life in the forest never seems to be too rushed. I get a very chill vibe from nature. Everything seems to just slow down and fit perfectly together. I guess that's where the chill vibe comes from in my music.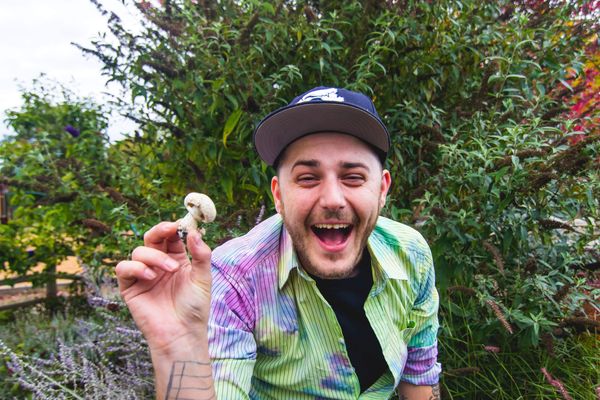 We can also note different types of drums within your tracks. Do you play them? What do drums mean for you? Do you play any other instruments that are added to your music?
Drums are everything. Rhythm is life. Our breath, our heartbeat, our movements, even our stillness, is all rhythm. Drums interpret the rhythm of life in a language understood by all humans, animals and even nature itself. I feel you can communicate directly with nature as well as the divine through drumming alone. I play or program all of the drums and instruments in all my songs. Most of the drums are actually midi, especially the full drum kit sections. This is all uniquely programmed or played in off of my Roland Hand sonic (an electronic hand drum).
My djembe's are often recorded and heard throughout the songs as well. I use a lot of synth to create my sound. Both midi keyboard programmed, and recorded live from hardware synthesizers. Many of my tracks include bass guitar, and or electric guitar. I often use several different guitar pedals to create synth like sounds on the guitar tracks. Mostly all of the sounds you hear on my tracks are created by me in the studio with the exception of the nature samples.
How do you usually organize your work when creating a new track? Also, how do you name the tracks?
I usually start with midi. A full drum kit and synth track. Then I work around the chord progression or theme I have. I try to keep all the drum tracks together in the centre, bass usually underneath and main synths above. It grows from there.
The names usually come from a spiritual or psychedelic experience. It's not always easy naming songs that have no vocals. But I try to keep a centralized theme in all the track titles. I try to set a bit of a vibe or give insight to the meaning of my tracks with the titles. Often, if you research the track or album title it will send you down a rabbit hole to explore.
Which kind of DAW/hardware do you use to produce? What about when performing on stage?
For my DAW, I'm using Logic. I have an UA apollo twin for tracking. My guitar collection keeps growing, currently at 12 guitars and basses. The main ones used for recording are my Les Paul, SG, and Godin session. I replaced the pickups in the Godin with Seymour Duncan's recently. My pedal board is used often in recording. Not only for guitars. You can put almost anything through a guitar pedal, it's great. I use a lot of MXR and Electro-Harmonix pedals. For guitar tracking I use an Orange Dark Terror amp and sometimes use UA amp plugins. I have a few different mics for recording. Shure (SM57 and SM58), Sennhieser E609, and a pair of Warm Audio condensers (WA-84).
For synths I tend to use a lot of plug ins. I am quite often using Alchemy in Logic for the atmospheric sounds, and Native Instruments plug in 'Massive' for sub bass. I have a Roland boutique synth, the SH01A. I use that for those classic acid synth arp sounds. You can get really creative with that synth. Ive used the Moog Sub Phatty in the past, but I don't own one currently. My midi keyboard/ USB controller is a Novation Impulse.
For drums, as mentioned before, I'm predominantly using the Roland Hand Sonic. I love that thing. Not only for the onboard sounds, but also as a midi controller. It has limitless potential in the studio. I sometimes use Native Instruments Maschine, but have steered away in recent years. I have a Maschine Jam I used to use quite often for live. I still love a lot of the Native Instruments plug ins.
Currently for live I use Traktor. I have a Traktor S8. I can mix the hand sonic in through the live input, and use the many onboard effects on it, creating a very psychedelic and unique sound. I don't really have a use for jog wheels playing my music live, so the S8 was a no brainer for me.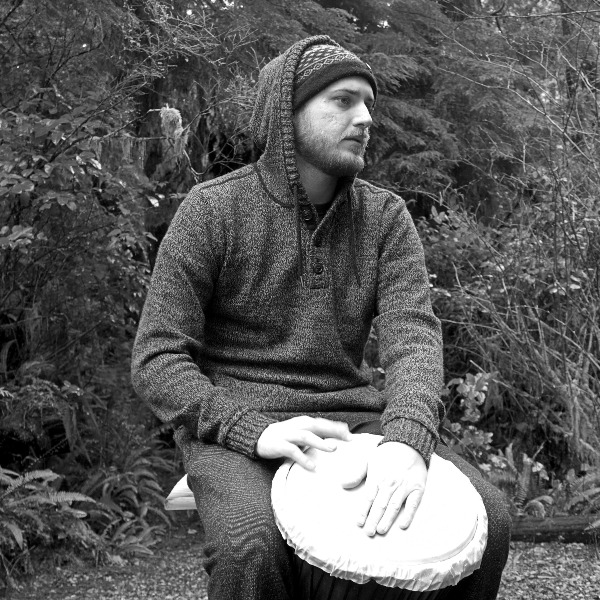 How is the psychedelic chill scene around British Columbia? Are there a lot of people making music and running events?
The psychedelic chill scene is growing. I wouldn't say there is a lot of people making music and running events specific to chill out or psychill. But they are out there. We all need to connect! The events and festivals in BC seem to be open to it for sure. Psychedelics themselves are becoming much more readily available. Vancouver now has a grey market of psychedelic dispensaries. Much like Cannabis was a few years before legalization.
I think we will see a rise of psychedelic chill music and events in the coming years. I am excited and happy to be a part of the ever growing scene.
Before finishing, what's the meaning and mission of psychedelic music for you? Also, who is Marc in his daily life? What do you do besides music?
The meaning and mission behind my music is to bridge the gap between psychedelia and spirituality. All too often the psychedelic experience is dismissed by the spiritual community, and vice versa. I find spirituality and psychedelia to be one in the same. I am trying to connect with and help guide those who are undergoing deep psychedelic or spiritual experiences. My music is made to assist in deepening the experience, allowing the listener to explore and understand who they are inside. It's a transcription of my own experiences into a relatable language we can all understand, music.
Daily life for me outside of music is fairly casual. I'm not a big partier or drinker. I love spending time with my girlfriend. We are both very into movies. We watch a lot of movies together. We often go to the theatre and see the newest release. I love movies about music, of course. We recently saw the new movie Elvis. Such a good film. I loved it! We love to go out for food as well. Vancouver is home to so many amazing restaurants. I love going out for Indian food. I get out to nature when I can, and bring the djembe's along. Often just solo trips to the forest to reconnect.
Thank you again for your words and insights. We will look forward to receiving new gentle rhythms from Marc-E and transport ourselves to a colourful forest while enjoying them. A big hug to you!
Thank you so much! Much love to you and everyone at psybient.org!
Listen and follow Marc-E:
https://www.instagram.com/marc_e/
https://open.spotify.com/artist/66xI1nCuje04ZXcJdHkif9