'Cosmic dub for the global dance floor' is how she defines her music, and can be a simple and accurate description of her sonic art.
Living Light, who goes by the name of Eartha Harris, comes from Boston, US. She brings the listener a blend of eclectic rhythms for endless feelings and experiences.
The quality of Living Light's new LP "Multidimensional Sandcastles" is immense, and following this LP launch, we are very happy to talk with her.
Interview by Shantiago on 08/06/22.
Featured image by KJ Studios.
Hi there, how are you doing? It's a pleasure to have a chat with you today. Thank you so much.
Honored to be chatting with you. I love Psybient.org :)
Are you currently in Boston? Is it a busy summer for you?
Yes, I grew up in rural Massachusetts and have been living primarily in Boston since the late 90s. Summers are usually a very busy time for my music, and after having time off from gigging due to the pandemic, this summer feels a bit like being shot out of a cannon with how quickly festivals and events have come back. It's a bit hectic going from zero to one hundred like this, but I am not complaining :)
Let's talk first about your background and your musical journey. Could you tell us a bit about how you started to listen and make music? What are your influences?
I joke that it started in the womb. My parents have stories of me kicking in perfect time to music they would play. After I was born, they would put me in a "Jolly Jumper", which is a baby seat attached to springy cables that attach to a door frame, and they would put on "Money" by Pink Floyd and laugh because I would always bounce in perfect rhythm. Apparently I would also wake my parents up at night singing in my sleep. My father played guitar and my mother played piano, and they had an extensive record collection, so music was just a natural part of my upbringing. I always had musical baby toys, and then when I was about 4 I had a small kid's organ that I would sit and play for hours. I then graduated up to a Commodore64 in 3rd grade and got a music sequencing program. This was followed by a couple of Yamaha PortaSound keyboards which I loved to play instead of doing my school homework (funny how our guilty pleasures can be a sign of what we're supposed to be doing in life sometimes).
At one point I also lived in a large house with connected neighbors who had a grand piano in the next room over from ours. They invited me to play any time I wanted, so my mom taught me to read sheet music and I learned the standard Bach, Mozart, etc. that you study when learning piano. I also did classical ballet growing up, and acted in musicals in local theaters, and did chorus class all throughout school because I just loved vocal harmonies and in general wanted to participate in as many musical things as possible.
But it was when I got to college that things really took off for me. I studied electronic music at Simon's Rock College, which meant I had 24/7 access to the college's music studio that featured stacks of rackmount synths all daisy chained into a tiny Mac Classic. It was there that I learned the basics of electronic music production. I then joined a band based in upstate New York where I learned the more modern music production software of the times, like Studio Vision Pro and ProTools, and had my first experiences in professional recording studios and playing live shows. I left that band in 1996 when I moved to Boston and 2 years later started producing what I guess could be called trance and world music influenced electronic synth-pop. I called it Spheire, and later, Project Sphere, and I sang on it – usually about issues like war and environmentalism and materialism. I also incorporated my theatrical upbringing into my shows with crazy outfits and theater effects and projections of electron-microscope images and rainforests and space and bombs exploding. At one show in particular, I dressed in tree branches behind a scrim, only to rip it open and reveal that I was covered in wires and computer parts as a symbol of striving for peace between nature and technology. I think that might have been the same show where I made it snow on stage with potato spuds (laugh).
Around this time I was very influenced by industrial music like Skinny Puppy, as well as more world music oriented acts like Dead Can Dance and early Peter Gabriel, and a really unique psychedelic band from the Netherlands called The Legendary Pink Dots. Then I started going to raves more regularly and got really into Underworld, The Orb, Orbital, and a lot of the progressive trance of that time period, eventually leading me to discovering Saafi Brothers in 2001 and some slight introductions to early goa here and there. Fast forward to 2006 and I go to Burning Man for the first time where I got into psytrance, which led me to finding the Iboga Records label and discovering their unique flavor of progressive house. Acts like Antix, Lish, Nyquest, and Liquid Soul. This is when I first touched CDJs and began playing house parties.
This was followed shortly after in 2007 by me joining an all electronic improv band called Psylab as their keyboardist, which I remained in until we dismantled in 2012. But it was from my experiences in that band that I became a much better musician, and also learned how to tour and manage my music career effectively. We were mainly improvisation, but would also cover electronic music we loved, which turned me on to dub, drum & bass, and all the great electronic downtempo that was coming out then – Desert Dwellers, Birds of Paradise, Bluetech, Phutureprimitive, Kalya Scintilla, Ott, and of course Shpongle. I found it all so beautiful and so much like the music I had always written that, when the band ended and I started Living Light, I found it very easy to connect with these artists and plug into the culture.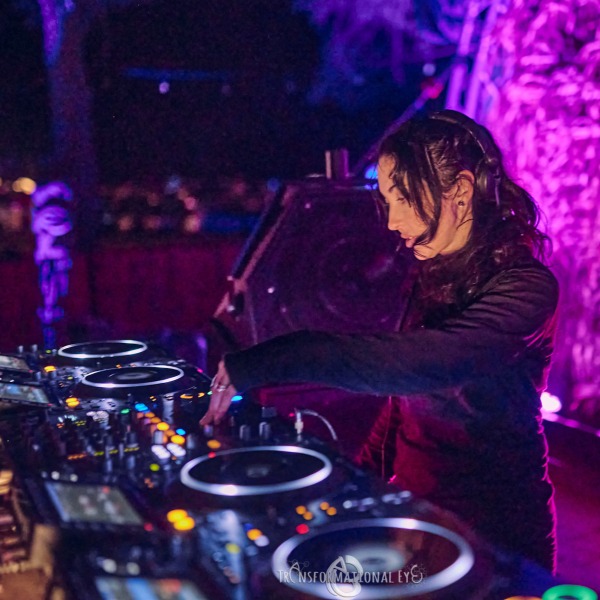 Image by Transformational Eye
What is the inspiration of Living Light? What about the inspiration of Eartha Harris?
The name Living Light came to me in late 2012 when a friend was talking about a healing modality and used the term. I immediately stopped her and joked that it would make a great band name. No sooner had I said it then I suddenly realized all the ways it could be interpreted and I loved them all. For instance, the concept that all life comes from the Big Bang – an explosion of light. I also think it's pretty neat that technically all life does emit photons. But I also liked thinking of "light" in terms of weight : light as opposed to heavy. So my next thought , as someone who had overcome severe depression in my early 20s, was that living light meant living with a positive state of mind. But what sealed the deal was that I was severely limited in where I could tour with my previous band since we had a large amount of gear and couldn't afford to fly with it. I wanted to travel the world with my music badly, so the inside joke is that Living Light meant that I could finally tour with just a backpack (laugh). And, well, it was true!
For many years I had worked as a graphic designer but had recently switched careers to become a yoga instructor around this time. 2 months after coming up with the name for the project, I traveled to India for a month for an advanced yoga teacher training and, upon coming home, immediately began production of the first Living Light album "Ecliptic Visions", infusing the music with all of the influences of that India trip.
The new Eartha Harris project, however, grew out of what was originally going to be an uptempo Living Light album. But as my productions were getting more house-music based, I started wanting some freedom from the hallmarks of the Living Light sound. I eventually realized that I was not going to get the freedom I really wanted if I kept the new music under the Living Light name, so last year I decided to release "Soft Apocalypse" and "Mirror Suit" under the new name, which set the foundation for the 125-bpm progressive/melodic techno that I'm currently working on now.
Living Light has recently released a fresh psychedelic dub-oriented album with interesting collaborations (Simon Postford, Gabriel Le Mar, and Chris Barker). Are you happy with the result?
Absolutely. It's hard to not always wish there could be more time to tinker with every track, but that process can go on forever if one doesn't set a hard deadline on themselves. I am really proud of how all the collaborations came out. And what's funny is that I am equally as happy with the collaboration that magically came together in two weeks as I am with the one that took two years to produce, which is a great example of how the amount of time spent on a track isn't always reflective of its quality. Sometimes the perfect track happens quickly, and sometimes that perfection can take years to get to.
How did you connect with them to collaborate?
I first met Simon in early 2012 after he connected with my burner artist community here in Boston. He had hired my friend Zebbler to build his stage setup for his tour (aka the "Shpongletron"). After that meeting, he became very supportive of my music. Fast forward to late 2019 and I reached out to him for a bit of advice on an issue I was having in my music career and he asked if I would like to do a remix for him (more on that another time). He liked what I did, so later, at the start of the pandemic, when we were chatting about politics and I was having some doubts about how to continue to do Living Light, he suddenly asked if I wanted a bass line, and told me to send him a 90 bpm dub drum riff, and a synth line in E minor. An hour or two later, I suddenly had not only a bass part to build a song from, but also 3 guitar parts and 2 very different versions of my synth melody that he had put through his Kyma effects unit to create a sort of arpeggiated line. I thanked him and joked "See you in two years!" but the funny part of that is that I did indeed then go about working on that track for two years (laugh). This then turned into the foundational song that inspired the whole 6 track "Multidimensional Sandcastles" release.
Now with Gabriel Le Mar, I think we had connected on social media ages ago because I was such a fan of Saafi Brothers and his solo work. I finally met him in person in Panama at GeoParadise Tribal Gathering 2018 and afterwards he asked if I wanted to join the roster of remixers on the Saafi Brothers "Mystic Cigarettes" remix album. After remixing "2046", his music partner from Saafi Brothers, Michael Kohlbecker, reached out to me about remixing his psytrance track "Change is Coming". Afterwards, Michael made mention of doing a Saafi Brothers Living Light collaboration some time, so the seed was planted in my mind. As I began working on the yet-to-be-titled "Origin Story" I realized I wanted a sort of Pink Floyd-slash-Saafi Brothers style guitar in it. After attempting to recreate the sound myself with distortion on some synths, it suddenly struck me that I could actually ask Gabriel Le Mar himself if he would like to play on it, for which he quickly got back to me and sent in not only the beautiful guitar parts you hear in the track, but also that great chugging 303 synth line and the spacious dub techno stabs that are so classic to the Saafi Brothers sound.
And with Chris Barker, I actually met him at Beloved festival in Oregon in 2016 after his set with Ott & The All Seeing I. As I am a sucker for a great dub bass line (and love to write them) I complimented him on his playing and we had a fun conversation about all things dub and bass and it turned out he was already a fan of my music. Here and there over the years I would hear from him, usually after I released something, and somewhere along the way he offered to write me a bass part. After working with both Simon, and also Bluetech last year on "Mirror Suit", I suddenly realized how much more I enjoyed the writing process when another entity was involved. So I hit him up in the fall of last year about collaborating together. I sent him a scratch track and, in a twist of perfect timing, he came back to me with this stellar bass line right as I was trapped in a hotel for 10 days with Covid after playing a gig. Having brought everything I needed for music production in case that happened, I feverishly went to work on the track, which led to "Fever Dream" being born. I enjoyed working with him so much that I then asked if he wanted to write a bass line for "A Long Winter". He came up with one of my most favorite bass lines that I've heard to date. I suspect there will be more collaborations between us going forward.
Let's talk now about the creation process. Do you have a standard when making new music? How do you organize your work?
Tracks can form in a lot of different ways, but I usually start by finding a good kick for the genre I'm producing, followed by snare, hats, and then a simple chord so I can figure out the key I want to write in. I then EQ the drums to that key (or find new ones), turn it into a 16 or 32 bar loop, and just start layering different melodies and textures until something catches on. I'll keep building up layers in this way, keeping the best bits, and then eventually spreading them out into the song composition. Then I'll add the "window dressing", as my band used to call it. Little sounds, atmospheric bits, moments of texture, risers and swooshes to give the track movement on the buildups and breakdowns etc. The whole time I will be perfecting the mix, but I will do a final mixdown at the end wearing my Subpac and really focusing on the spectrum analysers and how it sounds in headphones versus studio monitors, before sending it off to mastering (I always have someone else master my stuff, especially to have a second pair of ears on it.)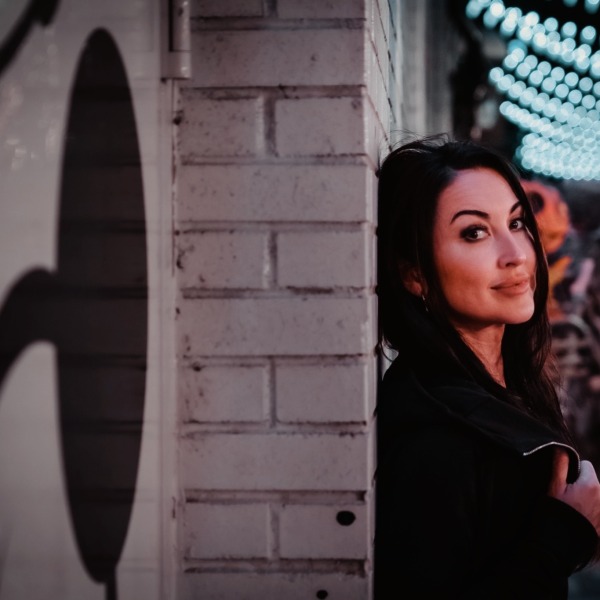 Image by KJ Studios
Which kind of setup do you use to produce?
For production, I've been using Cubase since about 2003. It has stayed a great DAW – constantly improving – and I've had no reason to move on to anything else. I used to have a lot of physical synthesizers, but with the birth of VSTs, I sold most of them other than my tiny Nord Modular since they just take up so much space. So my studio is small and cozy and pretty humble due to city living. But between properly sound treating the room and spectrum analysers and good monitors and my Subpac, I have an effective setup for production and mixing.
And when you are on stage? Either DJing or playing live.
I use Ableton Live for playing out my Living Light sets since I need it to host my samples and effects and the patches for my midi keyboard. And also because the tempos in a Living Light set vary so wildly that it would be frustrating to play on CDJs. But I DO use CDJs for my Eartha Harris sets since it's house and techno, and it's all the same bpm ball park, and I'm DJing those tunes alongside tracks by other artists.
Every track has a story behind it. What are the sources of the titles on your releases?
"Multidimensional Sandcastles" was a reference from an article that I saw Simon share about how the brain physically builds sandcastle-looking structures as it learns and grows. I was working on the collab track with his parts and I joked to him that it would be a great name for a track, after which it just stuck. But I also like to think of it as a reference to the cerebral nature of the pandemic quarantine. Due to lack of sensory input, many people started having vivid dreams. In some cases, some of my friend's imaginations seemed to take over their day-to -day realities, maybe a little too much. Many people became paranoid and ungrounded. Even speaking for myself, I was constantly imagining different scenarios and timelines for the future as I tried to wrap my head around what I saw happening in the world. To me, the "sandcastle" is symbolic of imagining the future, which was constantly changing as the pandemic progressed. (Btw, the speaking sample with the robotic sounding effects on it is actually from a voicemail Simon left me about playing virtual table tennis during the quarantine (laugh)).
Then came "Traversing The Abyss". As sociopolitical tensions increased here in the USA, and at the same time shows started coming back, having a music career started feeling a bit like walking a landmine. I had to really research every person involved in every event in order to make sure that I was not associating myself or my musical brand name with individuals who were behaving recklessly, while also balancing the financial need from events again after being out of work for so long. But in general it's a song about needing to get from point A to point B and not being sure how to do it. When the strings come in, there is a sense of hope, and as the song is completed I wanted there to be a feeling of relief in making it over this treacherous terrain, maybe even more so on the vinyl version where I go into a lengthy piano solo towards the end (note : there are still a few vinyl records for sale on the Bandcamp page)
"Fever Dream" I chatted a bit about above, but was written literally while I had a fever from Covid, so to me it's about being so passionate about something that nothing can stop you from feverishly following that dream.
"Origin Story" got its name because I could really feel so much of my musical influences coming out in that one. From the Pink Floyd of my childhood that I referred to at the start of this interview, to Dead Can Dance, and trance from my rave days, to discovering Saafi Brothers 20 years ago and then eventually writing this track with one of the members.
"Baited Breath" was written during this one particular phase over the last year when I was waiting for a lot of potentially great things to work out and found myself pacing the studio a bit. I knew there was nothing I could do to speed up the process and I just had to wait. And I think for every artist, when you are working on what feels like a significant body of work, it can be so hard to not let the world know. So there was this feeling of waiting for covid to be over, along with waiting for all these potential opportunities to come through, waiting for the album to be done, waiting to see if I won a remix contest, waiting to share this music with the world, waiting to see my friends again and play shows again, which is how the title came to be.
And lastly, a "A Long Winter" was written as Russia began attacking Ukraine and it just seemed like the challenging times would never end. I felt this sadness in me about it that I think came out in the piano bit at the beginning. It was also a cold March and April here in Boston as I was finishing it up and spring felt like it was taking forever. That's why the beginning is a sample of city streets that I layered a recording of sleet over. I think we all knew that this summer we would all be able to reunite together under the sun, and the days just dragged on and on with that anticipation.
What plans do you have for the near future?
I have a few more festivals this summer – Unifier in MA, Fractalfest in MA, Pink Moon in WV, Psyfi in The Netherlands and Astronox in TX – many of which I am playing both as Living Light and Eartha Harris. I also have a few remix projects I am working on between both my Living Light and Eartha Harris projects, some new melodic techno tracks to finish up and release, and there is also a "Multidimensional Sandcastles" remix album in the works that has a ton of fantastic producers on board.
What else do you enjoy besides making music?
So I'm actually a big nutrition and fitness enthusiast. I used to be a yoga instructor pretty seriously, but for the past 6 years have worked as a certified nutritional therapist in which I help people overcome common stuff like brain fog, low energy, weight gain, and common endocrine and digestive issues. It's extremely rewarding to be able to help people the way I wished someone could have helped me when I was younger and didn't know what my body needed. Other than that, I love dancing, and dreams, and anything that helps my brain figure out what it is trying to tell itself. I'm also really into astronomy and can stare at the stars for hours.
Would you like to share a final message with the psybient.org community?
I would just like to say that I am very thankful that this community exists. I know psychedelic downtempo is a small corner in the overall world of music, but I think it's a really important one to not lose. It's a genre of music that feels free from the oppressive aspects of mainstream culture that still carry a lot of sexism, materialism, and inflated egos. I want to make music without rules, that takes the listener on a journey and feels beautiful to the soul. I'm not sure there is another genre that feels so liberating to both write music for and listen to.
Thanks again for sharing your insights. We carry on travelling to your music in different directions. See you soon on the dance floor (or on a chilled one). Hugs!
Follow and listen Living Light/Eartha Harris:
Linktree for the LP on all platforms: https://livinglight.fanlink.to/sandcastles
Website: https://livinglightmusic.info
Facebook: https://facebook.com/livinglightfrequencies
Instagram: https://instagram.com/livinglight.earthaharris
TikTok: https://www.tiktok.com/@earthaharris