Slow tempo trance, harmonic energy, melodic layers, acid lines, or Goa influences full of mystery, are just some of the adjectives to define the sonic spectrum of Rising Galaxy.
Nikos Bitsimeas comes from Greece and has been involved in the blooming rave scene since the early 90s. He became known as Infinite Zen, and as one third of the Brain Deflections band. His tracks were widely circulated in the international psychedelic trance DAT scene.
Nowadays, he is focused on crafting a good collection of sounds coming from different styles, with a very active release schedule on Cosmicleaf. His deliveries are full of exquisite and impeccable quality.
We feel ready to immerse ourselves in the Rising Galaxy emotions.
Interview by Shantiago on 17/05/22.
Hi Nikos, how are you doing? We are so grateful to have you here with us.
Thanks for having me. I have been a fan of the site for so long and I am very happy to talk to you.
There is a strong connection between the Rising Galaxy name and the music you produce. What is the story behind the name of your project?
Actually goes back to my childhood years. I remember reading this book by Arthur C. Clark about the future. He pictured a scene from a distant planet positioned just outside from our galaxy. From this planet's vantage point one could see the whole galaxy rising from the horizon. It also had a picture of the whole scene and somehow that picture stayed with me for all those years. I think one of the core functions of organised noise -aka music- is to wake our inner child and give us a glimpse of that sense of wonder that we had in our childhood. Not nostalgia but that sense of always discovering something new and fascinating. This image mixed with my love for science fiction gave an imaginary base for this music project.
Anyway, your musical journey before Rising Galaxy was born was long, right? Could you tell us about your musical background and the first activities related to the scene?
I was trained as a "classical" musician from a young age. During the explosion of the rave scene in Greece in the early nineties I was part of a team that organised raves in various venues or even illegal outdoor places. At a certain point we were attracted by the early trance sound coming out of Frankfurt and Berlin, from labels like Eye Q and MFS. We were also listening to the ambient trance stuff pioneered from labels like Rising High and
FAX +49-69/450464. Those were really special times for electronic music. When the first goa trance compilations came out, like Paul Oakenfold's "Digital Alchemy" or "Project To Trance" by Dragonfly Records, we were completely blown away. After that most of us went full Goa-Psychedelic Trance during the "golden years" of the Goa scene. My first tracks -as Infinite Zen- were created for our first trance parties during 1994-1995. I took a pause from the Goa scene with the beginning of the 00's, producing house and progressive. Somehow i made a full circle and from 2017 i am producing mostly downtempo psytrance, psybient and ambient. It's a love affair I think ( lol ).
Whatever more chillgressive, ambient-oriented, or other directions your creations take, we feel a strong spirit. How do you choose styles when working on new projects?
For me it's completely chaotic. Sometimes I have something in my mind, I try to follow that idea in the studio and from an ambient track things shift to a chillgressive track. Sometimes it goes the other way around, or something in the middle. Some days I am just experimenting on the modular system, I press record and then adding or deleting some material trying to find where the sound takes me. If I have a couple of tracks with the same mind and sound set then I try to expand on that as a concept. Most of the albums on Cosmicleaf are created like this. An exception to that process was the album "Ecstacy of The Unborn". It's 42 minutes of continuous ambient in old FAX records style. Nick Miamis -aka Side Liner- from Cosmicleaf asked for it and we decided to give it away for free download. When it comes to remixing other peoples stuff i try to be as much as close to the original vibe but adding some signature sounds of mine. Just listen to the release we had with Dense. He sent me tracks from Ableton Live and then I expanded on them. By the way I try to have as many acid lines -the classic 303 type- as much as possible regardless the style. I am a bonafide acid head.
When listening to any of your tracks, the high quality is something to be highlighted and easily perceived. How do you usually work? Which kind of software/hardware do you use?
The funny thing is that I always believe that my productions suck (lol). Especially the mixing. So I begin with the assumption that no matter what I do I will always suck. Maybe this is my way of trying to cope with producer anxiety (yes that's a real thing). I always over analyse things in the studio. It's a tiresome process especially if you don't have too much time in your life, because of your day to day job that's required to support the music endeavours. Regarding the studio setup, I think the best way to have a relative ease of mind for the quality of the productions is this: Propper room acoustics with an acoustically treated space . Then proper monitoring with a good pair of monitors that you really know how they sound. And final, proper AD and DA conversion between your PC/DAW and the rest of the studio. I have an acoustically treated room and I rely on a Prism Sound converter for the AD/DA. Of course that doesn't mean that someone can not make professional productions just with a pc and plug-ins. Great tracks are being created with just a PC and that's fine. I use Ableton Live 11 and I have been hooked on Ableton Live since 2007. I also use Slate Digital All Plugins Bundle, Arturia's V Collection and Eventide's FX's. For pads I use Luftrum's Lunaris and Bioscape. They are really amazing tools. Unfiltered Audio's Byome is another great tool for making FX and dubs. I am a great fan of the material from Futurephonic. Their sample banks and the vst tools are really great. I try to use some more "experimental" plugins like sonicLAB's Thermal and Fundamental and incorporate stochastic techniques and software to the creative process. I think nonlinearity and chaos are very interesting in organised noise -aka "music"-.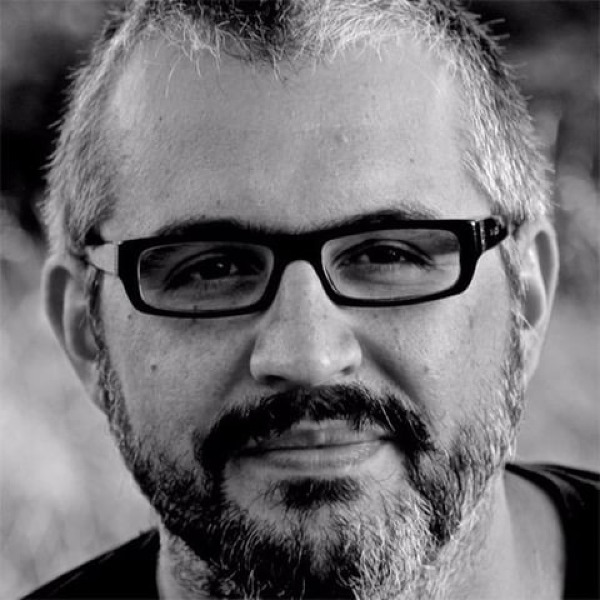 Are you a fan of modular synthesisers? Are you still discovering gear that really amazes you?
I have an ever expanding modular system. Modular synths are great for incorporating stochastic processes or really sculpt deep your sound blending filters, different types of synthesis and textures. Once again you can make all this with software. The one does not exclude the other. I am really amazed by the gear coming out of Soma Labs like Lyra 8 synth. I use it mainly for FX or more experimental projects. I was blown away by the sound of Strymon's new eurorack reverb Star Lab. Some of the Behringer clones are good like the 2600 and the Pro One. There is always some new exciting gear around. Doesn't matter if it's a better remake of an old concept or something completely new. That's the magic part with electronic music. The ever expanding possibilities.
I also use my trusted An1x from the 90's. A great synth that I consider as a classic these days. I have other hardware like Alesis Midiverb and Roland's TB03. Special mention for Arturia's Micro Freak. I think it's the best hardware synth of the last few years, for amature and pro users alike.
Which type of set up do you use when performing?
For now I am just performing as a DJ with Traktor software and a portable controller. I mostly play the four to the floor variety downtempo and faster chillgressive tunes. Sometimes I joke that I am inclined to play and produce psytrance but at speeds suitable for trance pensioners and veterans.. I will start at around 95 bpm and go up to 125 i f i have time. I am also playing 138 to 145 new stuff and retro sets from the golden years if that's the need of the event. Of course I like to DJ ambient sets and I usually play a very big spectrum of what we call ambient, outside of the narrower spectrum of psybient. For the future I am in the process of organising a live ambient project including looping, stochastic elements and a part of the modular system. It's gonna be a long process till i will be ready to perform live and maybe i'll first do it as a series of live streams through Cosmicleaf's youtube channel. It will be completely improvisational.
How did you jump into Cosmicleaf? It's a deeply rooted Greek label within the international scene.
That's rather funny. I was a fan of many releases from Cosmicleaf but somehow I didn't know that it was a label based in Greece! I was friends with George Deliggiannis -aka Cydelix-. It was 2017 and I was searching for a label to release some finalised material that I had. Cydelix introduced me to Nick Miamis, the label manager, and things worked from the very beginning.
How is the psytrance/chill scene currently in Athens like? Is it more connected to an underground movement or perhaps going mainstream?
I am not sure about the situation right now because of what happened with the pandemic. The scene in Greece has many excellent producers but the venues that play psy stuff are being dominated by the big full on names. The are smaller parties with secondary stages for psybient or psychill but are very rare. I am in discussions with some people to try and find some kind of venue and platform for more downtempo sound events but for now everything is just talk. During the "golden years" of Goa trance the scene was more in the mainstream with big venues that hosted big events. The last decade with the boomin international festival scene the culture -and social media promotion- is again almost mainstream but most of the people are keeping it psychedelic so it's somehow balanced. I think this applies in the Greek scene.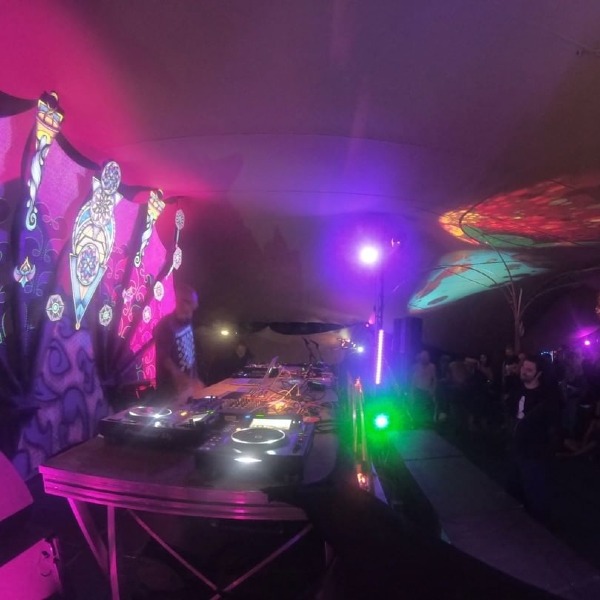 Do you think psychedelic music can still revive human consciousness?
I am not sure that human consciousness needs some kind of revival, because it never died. I think human beings need food, shelter, peace, love and free time to do whatever they want in a nonviolent, green world. And these things are getting harder and harder to have each day for ever growing portions of earth's population. So maybe the question should be what the human consciousness needs to flourish.
You also work at music and news radio stations as a program operator and a post production engineer. Could we know a bit about this side of your activities?
It's my day to day job that pays the bills and the studio. I am lucky enough to work in a job that is on the same industry branch, except for the fact that most of the time I am not as creative as I can be in the studio.
What do you like to do besides making music? Who is Nikos in his daily life?
I try to be as active as I can be in things outside music creation. The usual concept of the studio guy or gal as this apolitical creature that makes music with extreme dedication and nothing else somehow doesn't feel right with me. I am active in the Greek radio audio engineer's union and I help in a neighbourhood squat that hosts refugees. Sometimes it is time consuming and at the expense of the time I need to make music but I think it's important for musicians and creatives to be a more active part of the societies they live in.
Beautiful! Now we know a bit more about Rising Galaxy, and we continue trusting in his spacey journey. Thanks a lot for your insights. See you very soon on the stage!
Listen and follow Rising Galaxy:
https://cosmicleaf.com/en/products.php?action=artist&id=129
https://www.instagram.com/rising_galaxy_studio/
https://soundcloud.com/risinggalaxy