Greetings fellow chillonauts!
Today we bring you an interview with Seb Taylor. The man behind many amazing psychedelic electronic acts of varying styles, from the legendary Angel Tears to the ever popular Kaya Project, downtempo heavy hitting Hibernation and the uptempo likes of Shakta and Digitalis. Seb has been more than busy, over many years with countless collaborative artists, producing this music that we love. So it is with great honor that we had the opportunity to chat with him about everything from his latest release, to the earlier days. Enjoy and share around!
// interview taken by Kevin Fairbanks and Gagarin in beginning of 2016.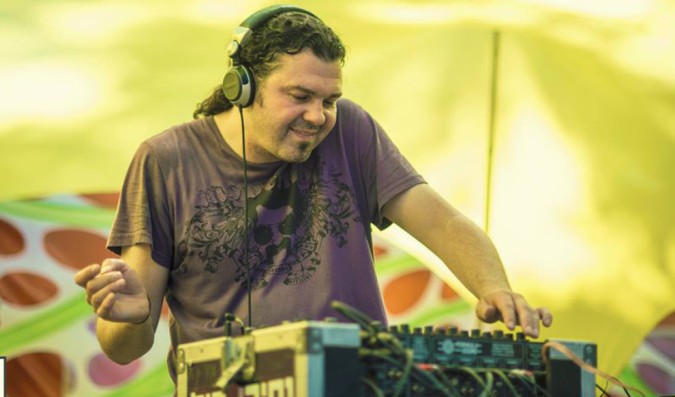 Hello, Seb! Thanks so much for taking the time to talk with us. How's everything with yourself lately?
Right this second pretty good. Just sitting by a hotel pool in Asheville, USA. Waiting for my lift to play at the amazing Kinnection Camp-out Festival. :) So life could be worse.
What has been inspiring you lately creatively?
Well, in all honesty, I haven't had much time to get creative lately. Although It's nice to be gigging so much (& I am certainly grateful for that). It means that the studio time simply isn't there. I don't often have difficulty in feeling inspired to create, but finding the time to act upon the inspiration is the challenge these days. I'm pretty sure all the travelling and new experiences (like being in the Brazillian Canyons for example last month) will all manifest in my musical output when the time is right.
Do you remember the first piece of music that inspired you as a kid? Can you describe the experience?
I'd have to say film soundtracks. Especially the work of John Barry & John Williams. Growing up in the 1970's & 1980's meant a lot of my cinematic experiences were musically scored on these two composers. I can hear a direct correlation between my musical sensibilities and soundtracks like, 'The Black Hole' , 'James Bond', 'Star Wars' etc. Even in later life it was still movie music that has primarily touched and inspired me, latterly in the form of contemporary film composers like Thomas Newman for example (American Beauty, White Orlandear, Meet Joe Black).
You taught yourself a wide range of instruments growing up. What was the driving force that you found within yourself to do this?
Initially it was Heavy Metal music. A school friend of mine, Duncan Jones, passed me a cassette tape full of some of his favorite tunes and I got seriously hooked on the music! I recall there was Dio, W.A.S.P., Motorhead, and some other bands on there. So I picked up my Mums old nylon string guitar and started copying the motorhead bassline from 'Ace of Spades' & I thought – 'hey, I think I can do this!' (luckily that bassline only had two notes!, ha ha).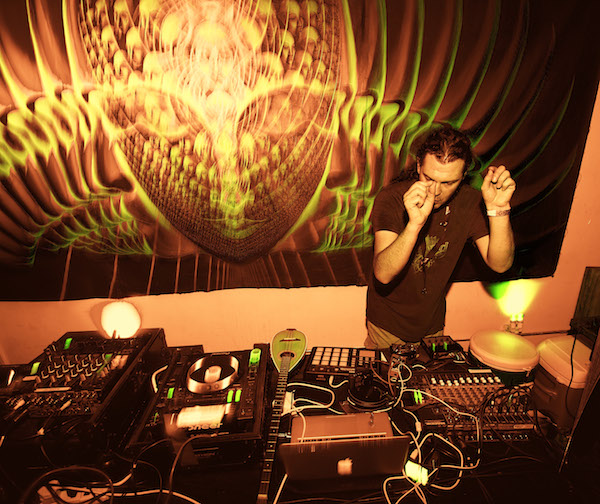 When was it that you wanted to start making your own music and record it?
Well it was a natural progression from getting my first electric guitar to wanting to record it down to cassette tape. I think I still have those cassette tapes. Some heavily distorted attempts at playing Metallica's "Sanatorium", The Sex Pistols "Anarchy In The UK" & Kind Diamonds "Am I Evil" ha ha.
Can you bring us back to your earliest days in a band? Do you take anything away from those days that sticks with you to this day?
It was only a year or so before I started a Death Metal band with a couple of school friends, Emmanuel Martin & Joe Robbins and another year or so before we had our first gig. It was actually in a pretty big venue at a local rock competition so the excitement was huge. We played quite a few venues locally and I look back on it fondly. A lot of performers these days jump straight to the laptop gigs without any experience of travelling with other band members and all the ups & downs of equipment logistics and setting up etc. I'm pretty glad I went through that learning-curve experience.
At what point did you think that you wanted to put out something on your own, and what was the feeling like at the time?
When it comes to music you could say I'm something of a control freak, ha ha. I used to write pretty much all the music in the band and have always had a very clear focused sense of the music I wanted to compose. So the first time I saw that you could actually do the entire process yourself was quite a revelation. It was when I moved to London in 1991 and saw a couple of the house mates (Jim Clews & Alan Sanford) writing amazing techno in the basement of the house. Just a couple of computers, samplers and a huge load of amazing analogue synthesizers! That was such a pivotal turning point for me, and I set all my energy on getting together enough knowledge and equipment to be able to compose and produce independently. It took quite a few years to scratch together the equipment (It was not possible to do it on just a computer back then) but eventually I got a second hand Atari ST computer & A 12bit Roland Sampler (S-550) and the wheels were slowly in motion.
What gear/programs did you start producing with, and what has changed over the years up until today?
I started on Cubase on the Atari (of course it was a cracked copy back then that was doing the rounds on a dodgy floppy disk, ha ha). But as the years progressed and I started to make a living from music I stuck with the program and am still using it to this day. I love it, having since bought two copies now for the MAC operating system. Most of my friends have since jumped ship over to Logic or Ableton, but I am so happy with Cubase I can't imagine swapping. Obviously there isn't really the need for all the old analogue equipment and samplers we all used to use. It can all be done 'in the box' but I still love to use some of my old dusty toys (like the Roland space echo or Korg Delta or SCI Pro-One from time to time) just to add a certain flavor that is very hard to achieve using software alone. I am still unconvinced that any Plug-In virtual Resonant filter can sound as good as an analogue one. Convince me somebody, please! I'm waiting….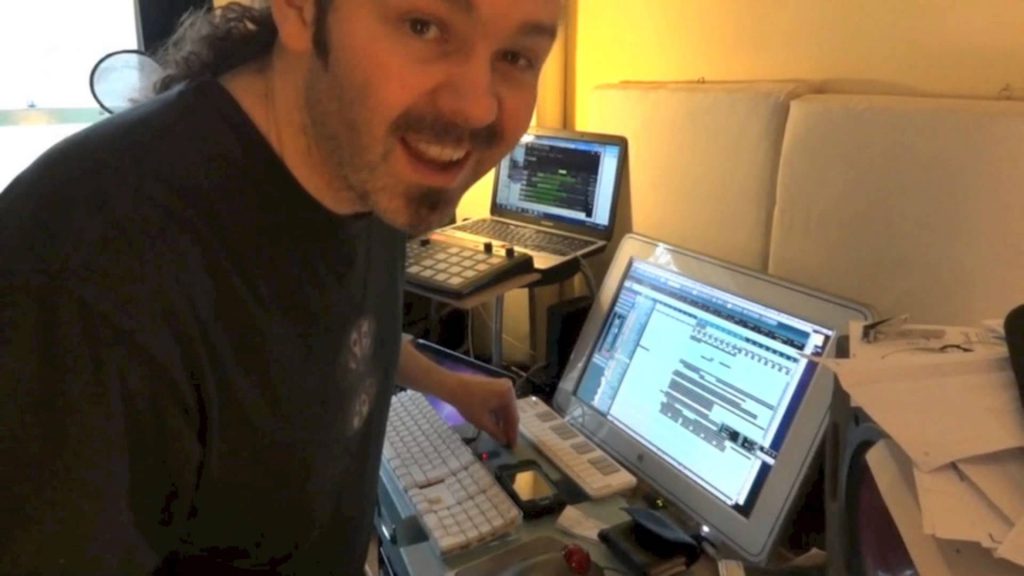 When and how did Digitalis, and then Shakta come about? What do they represent to yourself in an artistic mind set?
Well at this point they are very clearly Separated in my mind. Shakta these days is pretty much just devoted to the Old School music I wrote between 1995 & 2000. I play many Retro Goa Live sets as Shakta but do not produce much Trance anymore. Digitalis moved pretty solidly into the Psybreaks / Breaks scenes around 2006 and I imagine when I have time to resurrect the project properly it will keep those analogue and breaky – techy origins.
As to their inception – Digitalis came about when I was at College in Salford & Birmingham around 1993. A fellow student, John Whitehead, heard the music I was making and asked for a cassette of it. (Yes kids, a cassette tape). He played it to a friend of his called Andy Guthrie. Andy really liked it and played it to a local Goa Trance event called "Spacehopper". At that time I didn't even know what "Goa Trance" meant ha ha. But anyway, the club owner Tom loved it and asked if I would play at the event. Well, the rest as they say is history – those small gigs in Birmingham led to me meeting people like Sid Shanti, James Monro, Tsuyoshi Suzuki, ManMadeMan, Tristan, Psi Wilde & many other pioneers of the Trance scene. Many of my first record releases and subsequent gig bookings would be as a direct result of those meetings. Shakta was conceived as a direct result of being so warmly welcomed into the scene, and I released the first Shakta track on Sid Shanti & Choci's Celtic Label in 1996. It always amazes me that I'm still playing that very first tune "Lepton Head pt III" to this day, (20 years later!) In many cases to new fans who were not even born when I wrote it. Crazy.
You released music in the mid 90s before even signing any sort of deal. In a time period where most felt it was necessary to have some sort of deal, as opposed to today's climate. Can you reflect on the differences between today, then, and in between?
Indeed the music business model has changed drastically from when I started releasing albums. In many ways it could be argued that it is better now, more direct and immediate. Although I am actually glad that I experienced the Old Model of the industry for a few years before it all crumbled and disintegrated, reforming into the new music industry model it is becoming now. The association with a 'name' label has many benefits for new acts, it's like a 'seal of approval' that many fans take seriously and will be more likely to check out your music than if you were not associated with a label. Shakta certainly benefitted enormously from the association from Youth's Dragonfly label and simply being signed to Dragonfly meant I was taken seriously and offered gigs that I probably wouldn't have been offered in those early days. I still believe there is a place for good reliable labels, and I have no problem with giving a label a percentage of royalties when they are taking care of all the paperwork – all the non-music related stuff that can so often get in the way of the studio time. Promotion, Accounting, Licensing, these are not the things I originally went into music for! I would always prefer a reliable label to take care of those aspects so that I can spend more time actually making music. (but hey, maybe that's because I'm Old-School:)
Your first official label deal was in 1997 with Big Life/Dragonfly records. Can you reflect on your early days there, and your thoughts on the importance of independent labels in psychedelic electronic music.
It was certainly a great time to become involved with the scene. Dragonfly was at the famous Butterfly Studios (An amazing house owned by Youth in Brixton, London). Any time you popped down there it would be a vibrant hotbed full over creative types, hippies, musicians, freaks & a few hangers-on, ha ha. It was Sid Shanti who played my music to Dragonfly & that resulted in my 4 album deal. I'm very glad it happened when it did, as I got a chance to experience a few years of that buzzing scene before it all started to change and re-invent itself around 2000. I lived in Elephant & Castle, so all the Independent Labels were just a short tube journey away. I'd regularly visit Phantasm records in Kennington to see John Form & Simon Carmen, Matsuri was up in Chancery Lane, Flying Rhino in Belsize Park, & Celtic Records run by Choci was in the centre of SoHo. Along with a couple friends (Jamie Moonweed & Ping Pong Paul) we'd get 'locked in' to Choci's basement studio overnight and by the morning have a new track for him to release the following month or so. Pretty good times indeed :)
When did you and Natasha Chamberlain first meet and start making music together?
It was a very lucky meeting, She had just started working for Tsuyoshi's label MATSURI and I regularly popped into the office as I was releasing an album with them. There was such an instant and obvious magical connection which we both picked up on. The timing was perfect for us to meet and we've been together now for 17 years.
Can you speak a bit on the creation of Angel Tears, and all the great times with Momi Ochion, and of course Natasha, making this beautiful music?
Momi is such a unique individual. I was introduced to him as a result of my Shakta work and after a brief connection he was describing his concept for Angel Tears & what he wanted to create. That connection has remained very strong to this day & although the Angel Tears production has slowed down a little in the recent years, it is very much an ongoing project. 6 albums in & with a string of high profile TV & Movie show licenses (Sex & The City, The West Wing etc) , alongside many inclusions on the excellent Buddha Bar series, Angel Tears has made appearances in much more mainstream productions than most of my other projects. I think around 2004 was an especially productive time when Natasha & Myself stayed in Tel Aviv for 2 months & spent many unforgettable nights with Momi creating the music, Witnesssing countless beautiful sunrises from the rooftop studio as the tracks were being created, & that kind of magic comes through in the music for sure. For my personal tastes Angel Tears is very simplistic compared to my Kaya Project tracks – but that is down to Momi knowing the exact point to stop, whereas I would probably keep on adding layers & producing the track if left to my own devices (like with my Kaya Project music, which i feel is much more involved). I have to keep reminding myself – more complicated does not necessarily always mean better, ha ha!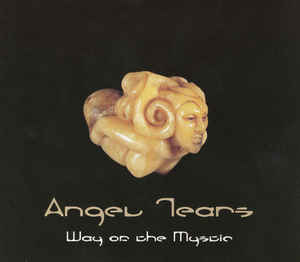 Will we get to see more music from you guys in the future, or will that particular project be frozen in time?
Plenty of unreleased Angel Tears waiting in the side-lines ;)
Let's move on to none other than Kaya Project. Can you talk about it's inception, naming, and meeting Irina Mikhailova.
I met Irina while I was performing as Shakta in Mexico, it was at Return to the Source festival, close to the Pyramids at Tehutihuacan. She was singing some vocals during the medicine Drum Sound check and I just stopped in my tracks and listened. It was reminiscent of one of my favourite vocalists Martya Sebastian, and I didn't know anyone else who sang in that style. Of course I Introduced myself and expressed an interest in working together. A few years later, on a trip to London, Irina recorded some vocals for me and the first Kaya Project track 'Labess' was created.
[bandcamp width=350 height=470 album=3531590430 size=large bgcol=ffffff linkcol=0687f5 tracklist=false track=1338369027]
All of the album cover artwork to date has been done by the talented, Suzanne Brady. Can you speak on the importance of working with her continuously? Every release has had that pleasant familiar visual feeling before even listening.  
Yes, well even long before Kaya Project existed I had always loved her paintings and the one that ended up being WALKING THROUGH has stuck in my mind for years. I even remember when I first saw it saying "that would make an excellent album cover". Suzanne is part of the Mindtours collective based in Wales, who along with her partner Steevio (Who actually released my first ever record 'Digitalis – Repeater" on ROOST records in 1995) gig together playing incredible live techno with stunning digital imagery created by Suzy. She has done every album cover of Kaya Project since. The Remix album covers are done by another amazing graphic designer, Nick Edell (Interchill) Who uses Suzanne's Source artwork files & completely re-imagines them in the way only He can! Between the two of them I feel they perfectly represent the two sides of Kaya project – The Organic Natural Originals & The Electronic Cutting Edge Remixes. So happy they are both part of the concept.
Walking Through was your debut release. Your first release on Interchill. What was it like at the time? How did it feel to join the Interchill family?
The Interchill connection was a great Synchronicity indeed. Natasha & I were on route to Zambia for the Solipse Eclipse festival and at the last minute we decided to travel by Coach from Johannesburg. If we hadn't then we may not have met Nick (Interchill) & Nathalie (Trance Culture) who happened to be sitting in the seats in front of us. We made a great connection at that festival and on a subsequent visit to the UK by Andrew (Interchill Head Honcho) we all hooked up and chatted about the label and the possibility of Interchill releasing my music. It's been a great working relationship and I can say that pretty much all of my favourite musical projects (Like my Documentary Music for BBC TV & Composing for Mountain Bike companies for example) have come about due to my connection with Interchill & the Canadian music scene.
Where would you say you were at in mindset when putting together Walking Through. Usually the debut of any artistic project can come with a lot of apprehension and anticipation.
No apprehension at all! Just excited to be creating something new & feeling like it could be the start of a long running ongoing project – which thankfully it still is.
Let's move on to Elixir. This seems to have been a really special recording process for you, traveling in India, and doing a lot of field recording. Can you reflect back on this time traveling and how much it helped in creating this sonically superb sophomore outing?
Yes, whereas Walking Through was primarily created using Sample CD's, Elixir was the first album to Incorporate mostly original recordings. Natasha and I spend about a year traveling the globe, taking in Israel, India, Thailand, Australia, Japan, America & Canada. We spent about 3 months in India and recorded some amazing musicians in extremely contrasting environments. From the Bollywood Violin recordings in Central Mumbai to out in the desert among the camels in Rajasthan! It was such an unforgettable time and I would love to return to do some more recording at some point in the future. It did however solidify the notion of the extreme class system over there. For the Bollywood sessions we were taken to the studios in Limousines and surrounded by many of the trappings from western society, whereas in the Desert the musicians we recorded literally didn't have a roof over there heads! With the money we gave them for their musical performance I'm happy to say they were able to buy a new roof, ha ha! In another Instance we heard an amazing Bansuri player selling bamboo flutes by the side of the road. When we invited him back to the Hotel to record the Hotel owners refused to let him in on the basis of his caste / class. It took some convincing but eventually he was allowed into our room and the resulting beautiful flute can be heard throughout the track "65 Percent".
[bandcamp width=350 height=470 album=4248080869 size=large bgcol=ffffff linkcol=0687f5 tracklist=false track=2627707314]
Now, onto easily my favourite album from yourself, …& So It Goes. There is so much diverse beauty going on throughout it's entirety. It takes so many listens to fully digest and understand it's magnety. How did this LP come about, and what was the recording process like at the time?
Well I'm glad you love that album, because that is the one that divided most people, especially within the trance scene. It was a conscious decision for me to start removing all electronic sounds from the project, & focus primarily on Acoustic & Live instrumentation. A few people commented on how they didn't like it because it was too acoustic, however those same people seemed extremely delighted with the recent Remix album of these same tracks "So It Was: & So It Goes Remixed" Which was released a couple of months ago. So they can stop complaining now, ha ha.
[bandcamp width=350 height=470 album=4070102196 size=large bgcol=ffffff linkcol=0687f5 tracklist=false]
Your guitar work is very heavily featured throughout. How long did it take, and what was it like putting all of that together?
Playing Guitar is how I got into music, and for a while I didn't touch it. When I was starting Shakta & Digitalis the guitar literally didn't get picked up for about 4 years I guess. In all honesty it doesn't get played much these days, but luckily I still love to play it and can easily become lost in music whenever I pick it up again. The lack of practice means I'm not technically as good as I was several years ago, but I know exactly how to get what I want from it in regard to the Kaya Project sound, and I'm not against some heavy editing to make it sound just right in a track. I will often play something pretty lazily just to get the correct vibe and feel, and then spend plenty of time editing and correcting it within the sequencer until I'm satisfied it works in the track perfectly. So in answer to your question, the actual playing of the guitar doesn't take long at all, but the subsequent editing often takes much longer due to my sloppy playing :)
Let's talk about Desert Phase; which so perfectly encapsulated the feeling of the desert that it was hard not imagine actually being there while listening. How were you able to encapsulate this environment, especially with so many different contributing musicians?
I had originally conceived that album as a series of 3 EP releases, one for each desert (Sonora, Thar, Northern Sahara) . As It transpired Interchill were much more enthused about a full album release, so the concept got solidified and we chose an equal amount of tracks from each desert for the album. We made recordings in Morocco, Arizona & Rajasthan for that one, and also enlisted some other top performers to contribute most notably Shahin Badar who contributed vocals to the track "Ummah Oum" in my studio back in London. As for being able to encapsulate that desert environment, it was in fact my first ever attempt at a "concept" album, and to be honest in many ways it made the process much easier. Instead of the dreaded "Borderless Blank Canvas" that can often lead to artists getting lost in the creative process, this time I had quite clear parameters to work within. Geographically each desert has its own very specific indigenous music so the particular sound palettes were already defined before I even started to compose. Much simpler than getting 'option paralysis' and not knowing which instruments to include or exclude.
[bandcamp width=350 height=470 album=2082169861 size=large bgcol=ffffff linkcol=0687f5 tracklist=false]
What are you thoughts now looking back on the entirety of what you've released as Kaya Project?
I'm pretty content that the Project now feels like it really has it's own identity. After feeling out some initial directions, the current Kaya Project sound is where I want it to be. I'm definitely happy with the body of work that's already out there, originals & remixes combined, and hope there will be plenty more in the future.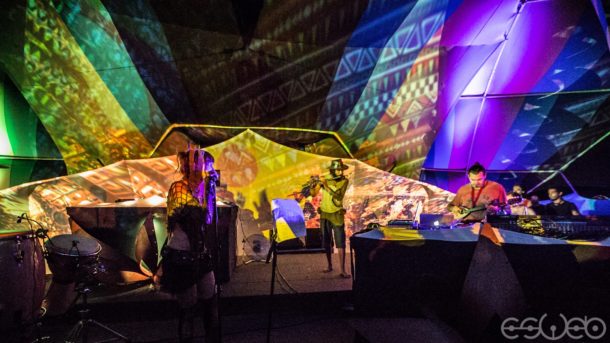 What is the most important lesson you've learned over the years in making all of this music?
Don't give up, and do it for the love of the music itself, not the supposed 'rewards' like world travel, money, recognition, adoring fans, or any of the other 'rock & roll' lifestyle side effects of musical success. If those are your end goals then you probably won't be making music for very long. But If you're in it for the music itself (& you follow your heart), then those so-called rewards will more than likely come to you – sometimes even if you don't want them:). I can safely say that all of my friends who I regularly see gigging in beautiful locations around the world didn't start writing music just to travel. They started it for the love of the music, and the recognition of their music is what brought them to these places. Also, don't expect it to be an easy life! For 90% of musicians out there it is certainly a struggle to make a living from their art, and usually some sacrifice involved away from what people consider to be a 'normal' life. But if you're willing to pay the price for your dreams, follow your heart (& you don't give up) then good things are bound to come to you.
How did Hibernation come about in all of this?
Hibernation started life as a compilation track written specifically for Shahar at Aleph Zero records. That developed into the first full album "Some Things Never Change" which was released in 2008. I met Shahar in Israel many years ago & we chatted for a long while about life & music. When He formed Aleph Zero Records I was honored that He approached me to compose a full album for him under a new Moniker. That project may not exist if It wasn't for Him.
[bandcamp width=350 height=470 album=751982297 size=large bgcol=ffffff linkcol=0687f5 tracklist=false]
There are both similarities and differences between all of your projects. What part of your musical personality does Hibernation represent?
Hibernation is very much in the Electronic, experimental, Jazzy & Glitchy spectrum of my brain, ha ha. I keep it quite compartmentalized away from Kaya Project which has a very different sonic palette. I do try to keep them separated like this. However, the similarity you mention is clearly down to my Musical taste & sensibilities which do not change between the majority of my Projects. Maybe you could say that Angels Tears has a slightly more Major Scale feeling on occasion, but all of my other projects are pretty much founded on the same Minor based scales & progressions that have the most emotional impact on me.
Will we see another full length Hibernation album in the near future?
Not in the near future, no – but I very much hope to release one in the not too distant future :) Just need to find the time.
What else do you have in store for Kaya Project after the release of So It Was?
On the immediate Horizon is a Vinyl Release on Sacred Technology Records! Pretty Exciting as I haven't released a 12″ record in about 5 years. My last one was a Dubstep E.P. under my C23 pseudonym on Urban Graffiti records around 2011 i think?  This upcoming Vinyl "Crossing The River" features some of my favorite Kaya Project performers Irina Mikhailova, Randolph Matthews & Omar Faruk Tekbilek with a deeper than deep dub techno remix by Gaudi. The label, Sacred Technology, is a brand new outlet set up by Osh from Symbolic. He's got some great Ideas for future releases up his sleeve with some top names lined up. Keep your eyes peeled for that label in the near future!
What equipment do you bring with on tour ?
It depends on what kind of set. Obviously the simplest is Just a CD-J set, nice & easy equipment :) then at the other end of the spectrum is Kaya Project Live, which requires quite a lot. Personally I bring my Laptop, Tzoura (like a small bouzouki), some analogue delay pedals, Midi Controllers, Reliable Audio Interfaces, lots of cables for every eventuality. Most other stuff is either brought by the other musicians (Flute, additional laptops, Guitar, Percussion) or we get the event promoter to provide it. I used to bring a mixing desk with me, but now I just get them to hire one (& Hope that they don't give me a digital desk! I hate working with Digital desks live – I like an old familiar like a Mackie:) Yes, I told you I was old school.
Where are you at with touring, and what plans do you have for future traveling?
Summer for 2016 is looking pretty busy. With quite a few Live shows and lots of DJ sets confirmed. The Europe list so far is like this, TRIPLICITY, MIDNIGHT SUN, SAMSARA, DHARMA, NOVA'S INCIDENT, SHANKRA, CO:IN, OZORA, BOOM, WHIRL-Y-FAYRE, PSY-FI, HADRA, CONNECTION. Then there's Australia, Mexico, Israel, America & Canada with SYMBIOSIS, HARVEST, CONNECTION, SATYA, EARTHCORE, er… & a few more popping up in between :). So, yeah, a pretty busy few months on the Horizon.
Are there any other messages you would like to get out to your fans?
If you've ever supported my music then I send you a sincere and heartfelt THANK YOU! As essentially that is the only way an artist can continue to support themselves from their creations, especially in these changing times of the music industry. So that's my only message to fans and supporters of my work. Thank you! :)