The hypnotic rhythms of psychedelic electronica collide with the surreal and twisted atmosphere of global dub in the musical creations of Mexico's Rafael Hernandez, aka. Tor.Ma in Dub.
Born from the sweaty dance floors of the psytrance movement, his sonic styling takes shape as a kaleidoscopic montage of old- and new-school sounds careening through the psychedelic expanse, each broken apart and reshuffled to create a funky, bass-driven interpretation of 21st-century dub music.
With several albums released on Dubmission Records, Beats and Pieces, and Iono, and with an array of collaborations and remixes with Kaya Project, Tripswitch, Pitch Black, Jossie Telch, Vlastur, Whitebear, IshDub, TRON, Jumpstreet, Animalien, Jumpstreet and Suns of Arqa, Tor.Ma in Dub has shown a striking ability to infuse sounds from across the electronic music realm with his unique, dub-centric flavoring.
Today we feel fortunate to have a conversation with him.
Interview by Shantiago on 16/02/23.
Hi Rafael, how are you? Thank you so much for spending some time with us.
Hola amigo thank you for having me here and to espouse a little bit of me and my music.
When we picture Playa del Carmen in our minds, a white-sand beach arises. How is life for a dub musician over there?
Well actually it's pretty new, opposite of you may think, it is more a place for techno and house music events, but since a couple of years ago there has been a crew working on reggae events and with their Sound System they have been bringing a lot of bass to town. Shout out to the Bass Attack Sound System crew.
About me, I travel a lot to other cities and countries to perform, but love to play here as a local :)
We can start talking about dub itself: why make dub music?
Well this answer has been changing with the years for plenty of different reasons each "era". You see, I have been evolving my sound to what it is now, but to answer the question I love the vibration, energy, meditation and freedom that subs in dub give to the people… and myself. To travel through the hypnotic rhythms and let the bass move your body, from the feet to your mind. But at the same time for me it's about a message and a resistance stand. No comparison with other styles.
However, your path while walking to psychedelic music looks long. Could we know a bit about your relationship with sound? Also, about your musical journey.
I started djing in 2000 and in 2002 started producing my own music. At the beginning I was focused on Goa Trance mixed with pre hispanic elements. Then I made a big change to a psychill- dubby- downtempo style. But I have kept alter projects all the time from progressive (Rael Bleep) to psytrance (Tor.Ma) to Dark Synthwave (Tor.Ma in Dark) to progressive PsyTech (TSP -along Ishdub-). I love to keep experimenting and doing some collabs with different artists, from drum and bass to high tech… it's just so much fun to create music.
About the Tor.Ma in Dub project itself, it has evolved and changed a lot. I used to do slower and relaxing dubs at the beginning. More like psychill with dubby influences. Each album has developed a different style but with the kind vibe that can be recognizable that it's me. I have been developing a harder and more into sound system style of dub. I like to call it psychedelic stepper dub. It's a mixture between roots dub music but with psychedelic sounds.
What's the concept behind Tor.Ma in Dub? Name, mission and vision. How did you give birth to the project?
As said before, I used several prehispanic instruments (mayans and aztecs) when I started producing. So as you can imagine I was very influenced by Mexican culture. My name was "Factor Mazorca" (Cob Factor). In the Popol Vuh (sacred mayan book) says that the gods made us humans from corn, so the factor between the machines and the music itself was the human factor… the Cob Factor. But then in 2006 I changed my direction completely since I was a lover of reggae/dub music and psy chill also. It was so new for me that I didn't even knew that there was a genre already (psydub). I thought it was a unique idea hehehe. About the name, i liked the root and meaning of it, but had to change it for this new project so i took the facTOR.MAzorca… Tor.Ma… and the in Dub, well, from the genre itself.
Your wide number of albums, singles, remixes, and collaborations are fed with versatility. Do you see a connection between all music styles?
Mostly between psytrance and dub stepper, they are both very hypnotic and meditative music. That's why I have the dark synthwave project that is kind of my playground.
Your upcoming album is named 'Solve et Coagula' and it's inspired by duality, presenting the elements in pairs, with downbeat dubs morphing into uptempo steppers. Could you talk a bit about this idea and how you did you focused the album?
I like to present my albums as concepts. To have the full (or the most) idea of what is going to be or the type of tunes before I even write the first track, if not, is more like a compilation of tracks instead of an album.
But this one I think was the clearest and most ambitious one, had in mind from the very beginning to work on those ideas and really did my best to emulate each element with the sounds and music itself. And to recreate each in pairs has to have connection, meaning and coherence. So once the 5 elements (9 track – two pairs and Ether by itself-) came along, just had to fill the blanks with the bridges among each other and the intro and outro closing the conceptualization of the whole album.
About the graphics I always wanted to make some graphics as if it was a black metal album (i'm a big metal head and also drummer since my youth to date) so it felt just about right time with the concept.
Which kind of gear do you prefer to make music with? How do you organize your work when creating and producing?
I work just with ableton and midi controllers. Recording my good ol melodica in a couple of tunes, my beloved dub siren and even myself making weird noises with my mouth… anything goes!
The way I work is not always the same, but mainly starts with the kick and skank… I play a couple of hours or days depending on my creativity with bass ideas, then I go with the hi hats and percussions. Once I have the foundation, time to tweak some synths to achieve interesting sound designs, to later create some melodies. Following to develop the song structure. Then comes play time, the dubbing, mostly live recording the main efx (reverbs and delays) and lastly polish elements, and adding sparks here and there.
Most of the tunes start at my phone audio notes, I record any melody, sound, percussion or whatever idea comes to my mind anywhere.
Which is your global vision of music?
Music is where we are completely free even if you are a maker or an enjoyer, it works both ways. I don't remember where I read: "visual arts decorate space, but music decorate time".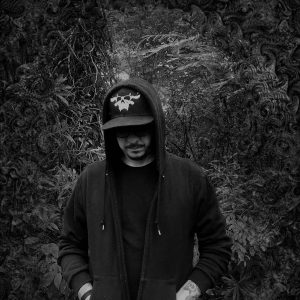 How is the psychedelic scene in Mexico? Is there space for creating, connecting and performing?
It's huge! You can find dozens of psy events every weekend in almost every city,. Maybe it's a cultural thing to dance to a drum all night long… our ancestors did and so do we.
Which plans do you have for the near future? In terms of producing, playing around, or spreading creativity.
Well, after finishing the album I'm taking a little break on producing 'solo' stuff, I'm going to work on remixes and collaborations, but definitely keep doing music, I do it because if I don't, I would go nuts not taking the ideas out of my head and about the spreading, well I'm planning some special gigs to promote the album. This one needs to be played LOUD.
Besides being a dub activist, who is Rafael in his daily life?
I'm a very family guy with my wife and baby daughter. I work at home in my profession, which is graphic design to some clients and companies. Also manage together with my wife, our online decor textile shop and do some textile art too. So I spend almost all my time at home, and that makes me happy. Of course with some sudden trips to the beach or local beer house or the movies… I have a really tranquil life when not at airports or festivals.
And to finish, would you like to send a message to the growing psybient.org community?
Big respect and Thank you! For listening to my music and supporting my career through the first 17 years of the project, I really would like to continue doing music till my last days and with the help of the community it will keep spreading all around. Big Up and Keep the Fyah Burnin'!
We are very grateful to have your insights, and following some of your words… this hallucinatory journey begins! Indeed it's very colourful, we can add. Peace to you, and hope to see you again soon for more dub adventures.
Listen and follow Tor.Ma in Dub:
https://tormaindub.bandcamp.com/
https://www.facebook.com/tormaindub
https://soundcloud.com/tormaindub
https://spacepiratemusic.bandcamp.com