We are very lucky to have Maiia with us today. Alla Vagner comes from Moscow in Russia, she is a very present DJ and producer within the worldwide psy scene, manager of Mystic Sound Records and party promoter, basically some of the fundamental ingredients of the scene.
As far as we know she is working on a new album and we are very curious to know much more about next plans. Combining the projects Maiia and Maiia303, she is able to cover more horizontal or vertical sounds and add a versatile approach to her music.
Diversity and delightful cosmic journeys are covering the wide range of Mystic Sound releases, including some beautiful compilations and new interesting artists. Driven by quality and exquisite sound.
Interview by Shantiago on the 23rd of August 2021.
Hi Alla, how are you doing? Thank you for finding some time to talk with us.
Hi Santiago and psybient.org fellows! Thanks for inviting me, I hope you'll find some interesting information about me and Mystic Sound Records below.
It looks like Entheomystica vol.9 from Mystic Sound Records is the 2020 favorite compilation of the psybient.org community. Congratulations for that, I guess it's another result of many years of work and dedication. Are you happy with the Entheomystica saga and planning to continue it?
Ethneomystica is the herocompilation of Mystic Sound Records – the label started with releasing the first chapter of this story in 2014. For many years we have been trying to highlight the most exciting tracks of psychedelic chillout and dub in these compilations. While listening to these series you can hear the development of the genres and find the amazing gems in every part of it. This year, we are working on the 10th-anniversary edition. We hope to present it to our listeners at the end of the year.
We will continue talking about Mystic Sound Records, but first of all a simple and essential question. Who is Maiia as an artist? And who is Alla as human?
I can't agree that it's a simple question, though) I would say that as a human, Alla is a simple person: she likes music, Nature, animals, cooking, etc. She also wants to make people happy and believes that music can help with that. While Maiia is an avatar who reflects this belief in her creativity.
You have released a good number of albums and within your music scope (Maiia and Maiia303) we can find different psychedelic styles with touches of chill, breaks, dub or Goa trance. Where do you get your inspiration from? Are you the type of musician who likes to integrate eclectic sounds from different sources? Which is your intent for making music?
Music is a universal language that helps to transmit emotions, so I am filling every track up with positive energy. When playing I also want to pass it through the sound systems to the listeners. The inspiration comes mostly from Nature. People who are harmonically integrated with Nature are most likely to be happy and free) So while making a new musical story I'm trying to bring the listener to some wonderful natural spot and make him/her feel safe and happy. I like to combine electronics with live instruments so as to make the music sound more natural.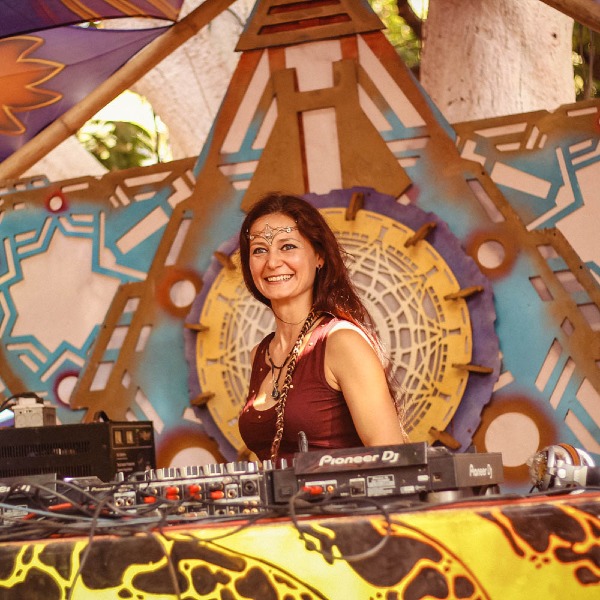 Could you please tell a bit about how you landed into the electronic music world? Are your origins psychedelic or do they come from other roots? Besides electronics, which artists or bands do you appreciate and usually listen to?
My roots come from heavy metal music. At the age of 12, I played bass guitar in one of the local bands, and my favorite projects were Morbid Angel, Therion, Carcass, Pantera, Napalm Death, Cannibal Corpse, Sepultura, and others. Then my musical tastes lightened a bit towards alternative and progressive rock, like Radiohead, Dream Theater, Marylyn Manson, Tool, and A Perfect Circle. I still listen to Jaymes Maynard Keenan, though, in addition to all demos we receive for Mystic Sound records)
I switched to electronic music once I visited Goa in 2005. This trip changed my life entirely, and after coming back I found a great interest in psychedelic music. So I started to play it as a DJ and composing my own sound later on.
It is remarkable how relevant is the chill side of psychedelic music in Russia and how many artists are continuously delivering high quality music. How do you see the future of the chill scene over there? Are people motivated to restart parties and projects as soon as possible and recover the energy?
Right now it is difficult to say about the future as the situation with restrictions is changing daily. However, the parties are going on – in one or another way. Promoters are adapting to the changes and organize parties at secret locations, day parties, and even festivals – depending on the situation with COVID. I think this won't change – people need parties, a place where they can freely listen to music, dance and collaborate. As I seeand experience, people have become more connected in Moscow, at least. Different communities are joining their forces to make parties or larger festivals.
As for the music, some producers switched their priorities to regular jobs. But mainly we see the boost of music-making since people started to spend more time at home, and here comes additional time for creativity)
And as a party promoter, which are your next future plans trusting that we are on the way to finish these odd times?
We keep on making Mystic Sound parties even at the present time. We've had a pause for several months in the middle of 2020, but from August 2020, we have finally continued to organize our multi-genre parties in Moscow. They took place in the area called Strogino. It's a wonderful summer location on the shore of the river: very green and spacious. The club season was intense – we made events every month.There were both day and night parties with several stages and different genres of psy music, including art galleries, performances, and hand-made markets. Now we are planning to have an open-air day party in September and to start a club season in October. We hope that nothing would affect our plans and we'll continue to deliver an exciting musical experience to our community.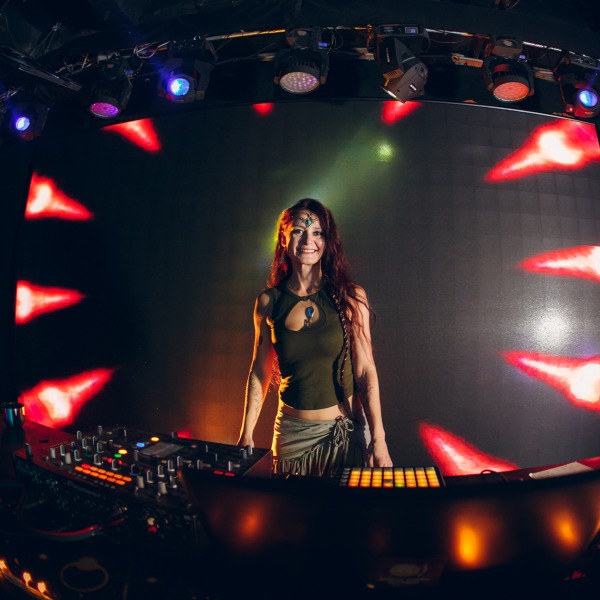 Let's come back to Mystic Sound Records. It seems that there is a solid team taking care of high quality music release. Could you tell us a bit more about the label? How did the idea of founding a label come? Which is the mindset behind that idea?
I've had a dream to run a label for a long time. One winter evening of 2014, together with my partner, Edward Cybered, we decided to bring this dream to reality. The idea of the label was to provide a platform for development to young talented producers as well as to make a broader promotion for the established music projects. We had massive support from the community starting from the very first days. Our first compilation, "Ethneomystica", was supported by such well-known projects as Globular, Chronos, Slackbaba, ManMadeMan, Vlastur, and many others. We were very enthusiastic about developing the psychill culture all over the world, and we have been working for this purpose since then.
We don't have a big team, but let me introduce the people behind Mystic Sound:
Edward Cybered, the co-founder of the label, makes high-quality mastering of our releases in his legendary Manifold Mastering Studio.
Elena Ukolova, the super talented designer and illustrator, creates wonderful cover arts.
Kristina Khamitova helps us with some cover designs as well as with the design of posters for Mystic Sound parties.
Artem Noviznov develops the Mystic Sound YouTube channel and also helps to organize the parties.
Tatyana Zaytseva writes wonderful texts for the release info.
Vitaly Bauer hosts Mystic Sound monthly radioshow on DI.FM.
I do the rest)
I guess you receive plenty of new music proposals in the Mystic Sound Records inbox. Which conditions make the team decide that the creativity and quality is acceptable? This would be a good indication for novel producers.
This is true, we receive many demos daily and we listen to each one. We don't reply to every request, but if the music fits the sound of the label, we surely answer back. In order to be released on Mystic Sound, music should be psychedelic downtempo (yes, sometimes we receive trance, house, and even pop music), properly mixed, and have a unique sound.
Another question we usually ask as we are always curious about the music making method. Do you have any software/hardware preference when creating and producing music? How do you focus as well on DJ sets when performing at a stage?
I think the best software for music-making is the one you are familiar with) For me, it's Cubase. I started to make music on Nuendo 3 many years ago and now I mainly use Cubase 10.5 for my projects. I also use some features of Ableton as it's a great tool for working with samples. I'm excited about Logic – I've tried this DAW when trapped in Panama after the Tribal Gathering festival, at the first wave of lockdown.
As for DJ sets, my favorite tools, especially when I'm performing in Goa, are USB sticks. It's amazing to come to a gig with headphones and a USB stick only, and still be able to play a wide choice of music.
The psybient.org movement is growing and everyone is aware of the importance to continue building the movement together. Would you like to share a message with our readers?
I wish great success to all Psybient.org team and happiness to all psychill communities all over the word. We believe that music can make the world better, so please support your local artists, come to the parties and enjoy your favourite music.
Thanks a lot for your words, they are really appreciated. We look forward to continuing enjoying your music, new releases of the label and of course new parties with a renewed fresh air.
https://www.facebook.com/maiiaproject/
https://mystic-sound.com/
https://mysticsound.bandcamp.com/
https://soundcloud.com/mystic-sound-records