Inspired by his recent release 'From Sunset to Sunrise – Episode One', we have the pleasure to talk with Mobitex.
Eyal Markovich is a musician from Israel who creates chillgressive vibes. He flows rhythms and melodies within all their range of possibilities, making his music suitable either for dancefloors as for chilling spaces.
He has been in the scene for a while. With his project Profondita and along Hudur Shrim, he released the albums 'Ciel' and 'Dracays' in 2016-2017. His first album as Mobitex named 'The Flow' floated during 2017. Since then, more EPs, participation in compilations on different labels, a bunch of gigs of course and plenty of creativity. We are excited to talk with him and know more aspects of the music he is producing and releasing these days.
Interview by Shantiago on 24/04/2021.
Hi Eyal, how is it going? Thank you for finding some time to chat with us.
Hi I am fine, and thank you guys for the invitation.
Who is Mobitex as an artist? Who is Eyal as a human being?
Mobitex is a progressive chillout project, music that combines all the elements from the chillout music – long intros, atmospheric soundscapes, organic sounds, and elements from the psytrance music – pumping kick and bass, slapy snares and sweeping melodies… What defines Mobitex from my point of view is that I am always aiming to write more melancholic and emotion vibes music, which is what I am always looking for in music. Eyal as a human being… well in my day to day life I work as a teacher in a youth at risk high school in a city near where I live and I am also a help desk assistant in an institution which guid teachers, I am a father to a three amazing kids and of course a husband to my great wife that support me in my way… all those elements in my life influence my music and vise versa.
How did you discover and step into the electronic music world? Was it through psychedelic music or are your roots coming from other sources?
I can't say that my roots are in psychedelic music, till the age of 21 I used to hear more heavy metal music and alternative rock, and some new age stuff when I was a boy. The psychedelic scene came into my life when I finished my service in the army. The Goa scene in Israel was in its prime time. I started to go to Goa parties with my twin brother, it was a revelation to me because it was very unique, the energy and the vibes were amazing and I got hooked and since then most of my favourite music is psychedelic electronic music.
What made you decide to produce chillgressive sounds? What do you feel and experience with this 'in between' style with powerful and relaxing features at the same time?
In my first steps at music production I was trying to produce fast psy trance music (fullon, progressive), but since my musical, technical and creativity experience was not that good at the beginning (as all producers who start to make music), I mainly tried to imitate but with not much success. In 2011 I was at the Ozora festival and in one rainy afternoon I enter to the Dome stage, they were playing some ambient and downtempo music and I had a revelation – this kind music is the one I would like to try producing -, of course my skills also got better than they were before and most of the music who got me inspired was now downtempo electronic music such as Aes dana, Astropilot, Carbon Based Lifeforms, etc… I started to experiment with downtempo beats. At the beginning it was more atmospheric and ambient, later I got exposed to Altar stuff which reminded me of the old psytrance I used to like but something was missing.
In 2015 I started to meet with Hudur and we created Profondita, the aim was to take Altar's vibe but to blend it with more fullon and progresive psytrance elements.
As for the question about my feelings in playing music that is "in between"… well this is quite challenging. I must say because it is not fast but it is not that chill either, but I am optimistic that more and more people will be open minded and will understand the power behind this music. Sometimes "In between" can hit exactly where it should be.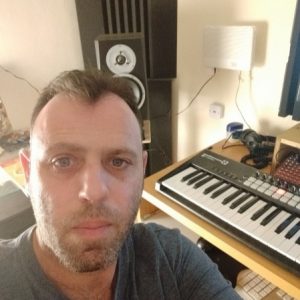 Where do you get your inspiration from? Which is your vision when creating music?
Since my daily life is very busy and not necessarily related to music production, when I enter the studio to work on a new track I actually try to disconnect myself from everyday life and concentrate on music whose inspiration actually comes from a place unrelated to my daily life. Things like infinite freedom, great gatherings with friends and of course how would I react to what I hear in the studio if I were on stage or on the dance floor as an audience.
Tell us a bit more about your new project, it seems that you are splitting up an album in several parts, and the first one is including remixes of artists you love. How are you planning to focus on the next parts? Are we expecting a journey with very different chapters?
At first I had an intention to make an entire album in the traditional way but over time I realized that making an entire album of 8-9 new tracks would take me a lot of time and then I had the idea to split the album into three parts, start at a slower tempo suitable for sunset time, second part will be more fast suitable for midtime and the third will be more fast suitable to the sunrise – all those times are related to the time during a journey a person is experience in a party. The first episode which has already been released is a remix to my favourite artists, the second episode will be pure Mobitex and the third episode will be a collaboration with other artists one of them is a surprise, new project with a great artist.
It takes our attention how active you are remixing and collaborating with other artists. Which is the intent of these collaborations?
I find a really great experience to take a track that I really love and try to make it new and fresh again this time with my vision… as for collabs, I am a very active artist in the chillgressive music scene and I know many artists of this gender so it is like a small family which make those connections very easy, and of course the internet which makes the technical side of those projects very easy too.
Regarding equipment for production and live performance, do you have any preference?
To be honest I am a pro audio gear freak, but my studio is very modest since I am not earning too much money from music production. As for music production I mainly work "in the box" on Ableton and vst plugins, I find it very easy and convenient that everything I need is in one place and no need to record external instruments and today there are great plugins for mixing and producing sounds. As for live performance I am using Traktor software for mixing tracks and Ableton live connected via link (a protocol which lets you connect two different softwares and sync them) for adding new sounds to the existing tracks .
Many artists have faced a 'refurbishing' process during the transitional times we are living in. How did you experience the last year in terms of creativity and projects?
It has been a really challenging year for everyone. For me it was very challenging too in matter of having less time in the studio than in a "normal" time.I know it sounds odd since many people think that lock down gave us spare time, but not for me since I have three kids at home (no school or kindergarten) and you become a full time parent. It has its good side of course… spending quality time with your family, time you don't usually have, but I look on the bright side, it made me more efficient in the studio and also made us as a human beings much more aware in terms of stop racing after goals all the time, some of them are right in front of us we just need to pick them up.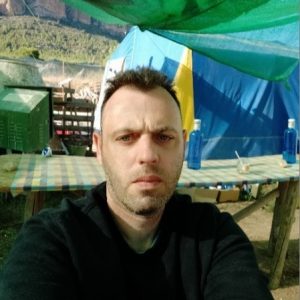 Which other psychedelic styles do you enjoy? Any other type of music you usually listen to?
Today I am still a big chillgressive grupy, I really love this combination of pumping kick and bass on a slow tempo it immediately turns me on. I also listen to ambient music – drones beatless music and some psy bass music which is getting more and more popular in Israel.
Is there any message you would like to send to people who are thinking about producing music or taking their first steps?
I am getting a lot of messages from young artists who are just starting their steps in music production. The first thing I tell them as advice is "take your time", do it slowly but surely, it is a long journey with ups and downs. It took me almost 15 years to get my first proper release on a decent label. I know it is too much time but that's what suits me, to become an artist is a long process, not a shortcut.
The second advice is to find your favourite genre and invest all the time to make it as best as you can, try to find a genre that is more underground so you could grow up with it.
Would you like to transmit a short message to our readers?
Well, we are all in "one boat"… artists, listeners and fans. Please try to support artists as much as you can so we could keep our small downtempo scene alive and kicking… supporting is not just buying our music but also to share it and spread it out to the world as much as we can.
Thanks a lot for your words, looking forward to the next 'From Sunset to Sunrise' episodes, we hope to see you again on the dancefloor very soon!
Thank you guys for inviting me in, and let's believe hard that we will go back to dance and unite together asap.
https://mobitex1.bandcamp.com/releases
https://mobitex.bandcamp.com/music
https://www.instagram.com/mobitex.eyal/
https://www.facebook.com/mobitex