Finland has a long history of psychedelic music, and today we would like to introduce you one of the most interesting events that unite a passioned team, great location and a strong lineup ! Below you can find information about 5th edition of Kosmos Festival.
For more information you can visit www.kosmosfestival.fi or facebook event.
We hope each of you have chance to experience it.
Tervetuloa* to Kosmos Festival 2018
* welcome in finnish
Kosmos Festival site is located in the Närhilä Village in Ristiina, in the middle of the lakes of beautiful, forest-rich Eastern Finland. Exact location Raitinpurontie, 52510 Ristiina, Finland
Kosmos Festival will arrange bus transportation services to the festival site from major cities such as Helsinki and Tampere. There will be a questionnaire closer to the event dates asking the demand for the arranged transportation from different cities, so please make your voice heard if you think transportation is needed from your location.
There will be a guarded parking site near the festival area with parking fee.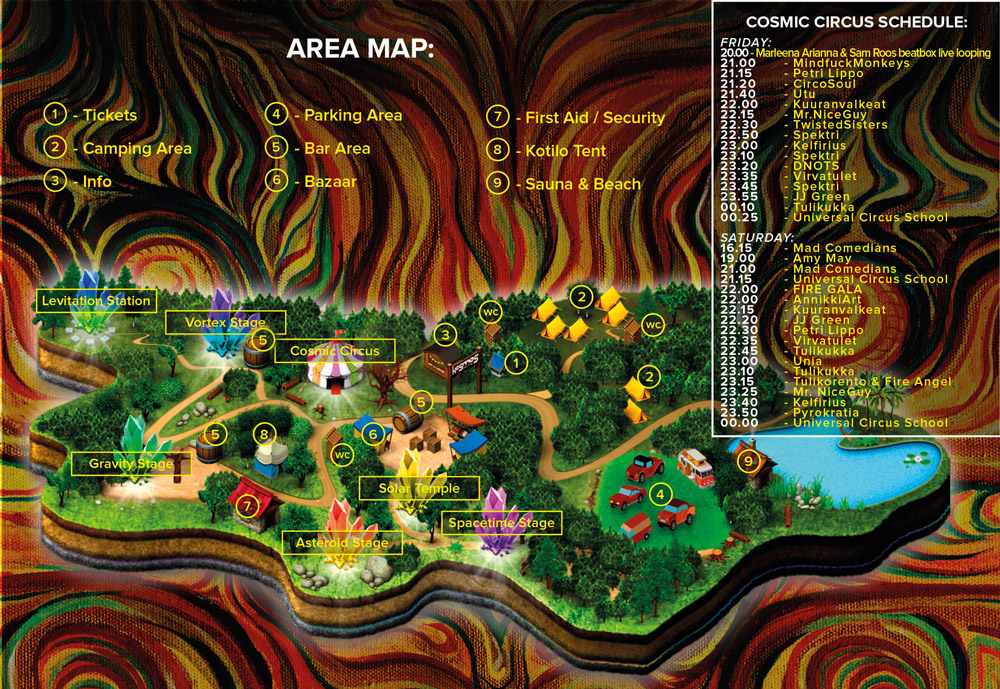 Kosmos Festival Lineup
SPACETIME will present the great interest for people with preference to a slower music
SPACETIME:
Sumiruna (AU)
www.soundcloud.com/sumiruna
Rafaele Castiglione (DE)
www.soundcloud.com/rafaele_castiglione
Sigil (PT)
www.soundcloud.com/sigilpsy
Baba Sikander (DE)
www.soundcloud.com/babasikander
Robin Triskele (UK)
www.soundcloud.com/robintriskele
Hadal Sherpa -live
www.hadalsherpa.bandcamp.com/
Virta -live
www.virta.bandcamp.com/
Mikko Heikinpoika -live
www.soundcloud.com/mikkoheikinpoika
Emesis -live
www.soundcloud.com/emesisdub
Kupla -live
www.soundcloud.com/kuplasound
Cosmic Touch
www.soundcloud.com/cosmic-touch
Kryptine
www.soundcloud.com/kryptine
Yonagual
www.soundcloud.com/yonagual
Breik
www.soundcloud.com/dj-breik
Papa Chilly & Jonesy
www.soundcloud.com/papachilly
Kissaolento
www.soundcloud.com/kissaolento
Salamari Sound
www.facebook.com/Salamarisound
Enteit
www.soundcloud.com/criba
Venae
www.soundcloud.com/venae
Terva
www.soundcloud.com/djterva
Jesper Aisti
www.soundcloud.com/esperisti
Dj Ushvalon
www.mixcloud.com/DjUshvalon/
E'sUp
www.soundcloud.com/djesup
Tuba Solo
www.soundcloud.com/tubasolo
VORTEX STAGE:
GRAVITY STAGE:
LEVITATION STATION:
ASTEROID STAGE
For more information you can visit www.kosmosfestival.fi or facebook event.