Today we have the opportunity to talk with Emesh, from the beautiful region of La Alcarria in Spain.
Since 2013 on Sendero Records, he has been delivering a quite diverse range of sound to the listener, sometimes danceable, sometimes calming, more metallic, more organic, and always inspiring.
Carrying a good number of EPs and singles in his collection, shows dedication, experience, and skills. Iatromantis is the name of his last EP, an electronic and downtempo delight for the listener's hearing sense.
Interview by Shantiago on 13/02/23.
Hi Antonio how is it going? Thank you for spending some time with us.
Hi dear friends of psybient, all ok around here, observing global events. Thank you very much for giving up your space and time.
Are you in La Alcarria these days? How are you spending the winter season?
Yes, I have been living here for about 5 years. Before I was in Madrid, I had the project of setting up a music studio and chose to come here, quieter and cheaper. This area is beautiful, lots of nature but winter is very cold and nature is sad, so you don't feel like going out, better making music. I'm working on a new release, I think it goes out in spring.
We can feel that you have a strong relationship with music in many ways. Could we know about your musical journey?
The musical journey has been like a score with melody, pauses, harmony. I think since I was a child I was attracted to music. I think it happens to more people who are dedicated to music, you feel something inside you that takes you without knowing why.
My uncle had a disco and I saw him with those vinyls when I was child. I soon became fond of buying the music I liked but at that age I did not plan to dedicate myself to music. It was like a hobby. In the 80s I was a restless young man and lived very closely to all the principles of the electronic music scene in Madrid. Some of my best friends were the dj's, we all knew each other and it was a magical time, before it did not exist. Then I started working at the Deadly club in the year 89, I was 19, there I spent 8 years being a resident dj every weekend. I did very long sessions, all night. At that time everything was different, all vinyl, there wasn´t any programming. From there I went to DJ in several of the best clubs in Madrid like Mondo, Maxime, Circulo de Bellas Artes between others and also started to produce some music. I am also very interested in the mystical aspect of existence. In 2006 I began go deeper into sound and study some ancient traditions and how they used sound for trips of consciousness and healing. Time later I started to make shamanic trips with groups of people. I use different instruments, shamanic drum, Tibetan bowls, harmonic singing, tuning forks, so people enter different sequences and it is a transformative experience.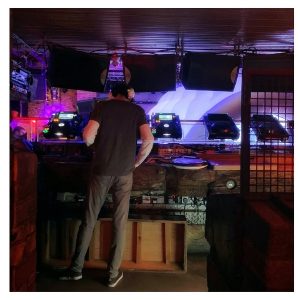 When did you decide to start creating sounds as Emesh? What is the story of the project? What's it meaning?
When I started to make shamanic trips I completely left electronic music and dedicated myself to the study of different instruments, among them the tabla: I was in one of the classes with the tabla teacher and I could not play what he told me, it was very fast for me, I thought, of course, he has been doing this since he was 3 years old, I think I have to do some electronic music, which is what I've been doing since I was little. This is a project that came out to make ambient, psy, electronic music and whatever I feel at the moment.
The name Emesh (אמש) takes it from the kabalah, a very old book, the sefer yetzira, explains the Hebrew letters, the letter aleph is air, the mem the water and the shin the fire Other letters have other qualities but these match the initials of my name, the abbreviation of the blog and it's a name with a lot of spiritual power.
How do you see the relationship between electronic music and sound healing?
They are different ways of working with sound. I think it's compatible but better not to mix. Electronic music allows a lot of creativity when composing and performing but is oriented to the physical senses, although some people may have internal experiences. In sound healing works the natural vibration of the instruments and the intention of the heart of the facilitator in another way, the human aura is very sensitive so you have to think as if you wanted to caress the wings of a butterfly. How would you do it? You can take people into the stillness of the inner silence of their being and from there to a multi-dimensional journey only with sound, it´s magic.
Where do you get your inspiration from? Do you follow any structure when producing tracks?
I am inspired by many things, nature, experiences, situations, when composing I can start with a sensation that produces a movement, I play something and from there I start to build as I feel it, nothing pre-established, sometimes it is a rhythm that I have inside, others a melody, sometimes it is very fluid, others I leave it and back another day, If I like it, I continue. The work is in several phases, first record the loops of all the tracks, then I do the development and arrangements and finally mix and mastering
Which kind of gear do you use? In terms of software, hardware, or any other tools. How do you name your tracks?
Well, now that I have set up this last studio there is more space and I have been able to make a set up with analog instruments, there are several synths, drum machine, sequencer, analog mixer and is integrated with the DAW, so the two worlds, analog and digital. I use Cakewalk for the midi and record the loops, I got used to this program a long time ago and now it is free, in the final mix I use the Harrison Mixbus daw.
All the words have a vibration, the names I use in the tracks take them out of the Kabbalah and are usually referred to spiritual matters, they have words that explain very deep concepts.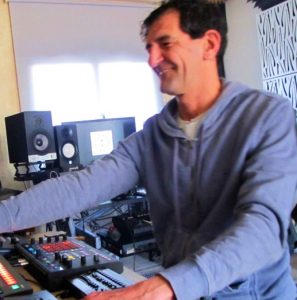 How do you see the psychedelic chill scene in your area in Spain?
The area where I live there are hardly any electronic music events, here I am disconnected. In other areas of Spain such as Catalonia or Andalusia the psy scene is consolidated, there is more movement and it is growing. I see that there are more people making music, some new labels, festivals, this is good.
Besides creating music, what do you like to do? Who is Emesh as a human?
I´m Antonio, I lead quiet life, yoga and meditation early in the mornings every day, I also give some meditation classes and sound therapies I like to enjoy nature and animals, I usually go for a walk or ride a bike in the mountains. I live with some cats that are incredible travel companions and I like to feel the heartbeat of united humanity.
Would you like to send a message to the psybient.org community?
Music is the sword of spiritual warrior, use it consciously
Thank you so much for sharing your words, we will keep listening to your magnetic and eclectic releases, and of course new ones! Hugs to you!
Thanks to you too!
Listen and follow Emesh:
https://soundcloud.com/music_ams
https://senderorecords.bandcamp.com/
https://open.spotify.com/artist/6FOX0GGKVXBVzT5YbJ6gxb?si=VOvkcfYlRwazhGYUsDHPgA