One week of music, art and inspiration. The sustainable adventure camp between Hamburg and Berlin promises this summer another family festival week with lots of music, art, inspiration and a unique open-air highlight in wonderful nature.
The New Healing Festival offer visitors a multifaceted program with concerts, lectures, workshops and other interactive offers, and a grand finale with many Dj's and live acts.
The music concept is "Electronic Music meets Natural Vibrations" and today we have a conversation with them about it.
Interview by the Gagarin Project on 13/02/23,
Hi Jens, thank you for finding time to talk to us. Your festival is one of the most regarded events in Germany and we would like to know more about it.
Hello ! Oh, thank You very much for the flowers, I wasn't aware that there is such an honorable resonance out there…
Tell us how and when was the beginning for you ? What has inspired you to make the festival?
In the very beginning it had a different name, its was called Spiritual Healing Festival, it has been founded by two amazing guys Konstantin and Petr, they incidentally found this cozy open air location where they could practice techie Qigong outside of the busy, hectic Berlin city, about 120 km toward Hamburg just alongside the so called Goa Highway, they listen to some music at the same time, this became a habit for some of their Berlin friends, they kept on returning to and that was the beginning. When I met Konstantin aka DJ Lightrocker, I was impressed by the naive effective power of his vision of all beings being happy and live together in love and peace; at that time I was busy touring with the Star Sounds Orchestra and as I always have been a greatest fan of superior set and settings we immediately teamed up and I involved myself taking care of some new age models within the Spiritual Healing Festival.
Later the years we split up, as the festival got really big but Konstantin somehow lost very much control over this success. There are always these stories… sadly… After the Festival collapsed completely, even the same year later a group of fans wanted to keep on, teamed up, I got back on board and under the name New Healing Festival we are jumping now into the 9th edition in 2023.
There are so many events this summer? What makes your festival different from others?
Well, don´t know all the others… ha ha… actually I had the impression that many of the details, that we have implemented into the New Healing Festival structure, did appear in many other festivals as well; even the use of the word Healing itself, became very popular; but to answer your question; first of all, we just don't do things for the sake of doing anything different; we do what we are doing because we believe in the value of an organic, authentic vision and as much as possible we try to leave space open for visions to happen.
This clashes with characters who have strict expectations, plannings, rules as they need a much more controlled space to be happy with. So, the challenge, as I see it, is to set up a wide spectrum of polarities, in comparison of having one strategic dogma of fulfillment.
As we present sensitive topics related to human transformational processes, it appears very important to be aware of the border edge line between culture and commerce. As I spent many years on spiritual, esoteric fares and festivals I witnessed the switch from inspired presentations towards commercial motivated once. There is nothing wrong about organising a professional life profession with once favourite subject; but, when this subject is about spirituality, there is a very thin line from being authentic to being manipulative because you want a customer.
So, in order to answer Your question, being involved in the global transformation industry for almost 40 years now, I feel I can rely on my experience if I make the decisions which personalities I want to see on the frontline of our festival. So, the difference is, it's a Jens doing the program (hope You didn't miss my blinking eye! ;-))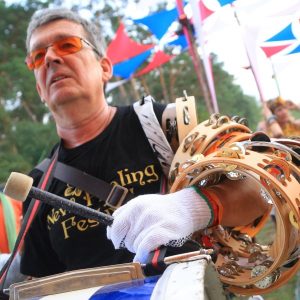 What's new will be at the 2023 edition of the festival: New stages, new activities ? What will be the biggest changes from previous editions?
The biggest change in 2023´s edition is for sure, that's we have opened up the process of defining the overall flow context development (by getting more creative minds involved) in order to synchronize the many Festivals activities so we can achieve even a higher synergy between the various modules.
Our intention is to give the so far grown and established modules (that's our internal description for the topics that we present) the opportunity to even grow, according to the so far feedback, to create a solid frame so each of the presentations can feel safe and dare to fully do what they intend to do; and: its of course a benefit for the guest as well because they can feel safe and jump into their momentum of transformation.
It's a complex process, and we keep on learning, and as well, there is still a little headroom open for a little growth number of visitors: but, we are not forcing it, we decided for mouth to mouth recommendation; we don't even use flyers at all, we do not really promote the Festival in any professional way.
Your festival is international, do you have analytics how many % foreigners did you have approximately?
Oh, got me; in order to answer precisely I would need to ask around, but my intuitive impression is, probably around 40% +. For sure we have artists from all over the world and of course we see this as an absolutely important part of any festival, I mean – come on, that's even part of the meaning of the word Festival, don´t you think so?
What do you think will make people travel from abroad to join your event?
Well, honestly, can it get any better than having a summer week on a cozy lake in the countryside together with many like minded people exploring and celebrating the fine arts of being lovely humans?
Our technical setup is very sophisticated; even though it's not perfect yet, there are many committed characters around doing anything to create a temporary heaven paradise on earth, we have many families and the Festival is for sure already legend for many kids, that's one of biggest vision; showing the children an example of a good life.
As well its very much about networking; after all these years I can see that being on the New Healing Festival connects You with the perfect resonating friends and fans; but; this for sure cost for any great Festival; as I said before, being around with SSO for so many years, on all great Festivals even a couple of times (first live-act ever in OZORA in 1999!) I have seen many possible visions in manifestation and somehow, I would like to see the New Healing Festival as a kind of best off compilation, but in a micro laboratory format; so, it's a perfect stop on anyone's European summer festival journey, and becoming part of a special good mood week filled with inspiration and energy.
How many stages do you have this year and what are the musical genres that will be presented in each of them?
First stage that opens is the OMstage in the Tipitown, which is more or less running all through the week and the heart of many collective creative activities such as the singing and drum circles, ecstatic dances, concerts of course, there is really little but multifunctional conference stage, kind of a songwriter stage; and: of course the legendary counterpart the "bigger" celebration stage, but this one doesn't open before Friday, and even there are live acts, it feels like a classical goa trance DJ stage.
We have the "Electronica" stage, a tent /still, though it's summer, as we are located in the northern European continent we can expect wet, cold nights, and even days ;.( so we are prepared to provide shelter and still: be ready to lift off: the Electronica is musically wise, our experimental stage crossing genres; we love to surprise our guests!
Last year we had for the first time the Expression stage in the integral village; an amazing creative stage landscape that completely surrendered the classical stage versus audience separation, as well we had a very special fire circle dance space integrating the elements as sensitive realities to explore nude mud ecstasy: we have a philosophers stage, a theater stage, we have the cosmic octave academy floor, the Neurolab, a Yoga floor, of course a Kids floor, so how many by now? But honestly, as I say it, it sounds more impressive that probably the reality is, because still, being only able to host max 5000 guests; I still would describe us as being a small, intimate festival.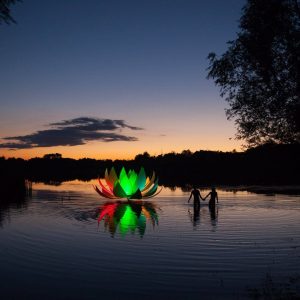 How important is the chillout stage for your festival?
Oha, honestly, above all; I personally don't like the terms chill out, even it became a popular genre brand name that is used all over the world. To me, the purpose of just anything is to become as aware as possible of just anything that relates to our life. As there are so many challenges all over, I like to see engaged, active people, not so much relaxing, chilled people. I feel we should all, we need to be awake as never before and the support the process of human evolution rather than being a sleepy victim of turbo capitalist dynamics.
So, let's switch to Chill in! get on the right frequency cluster of focussed excitement and let´s build as many examples as possible of likable visions of a HuWoman kind. To come back to your question, I would say the whole New Healing Festival is a chilly week and vibes of deep and high inspirations are possible anywhere, anytime.
What are the biggest difficulties for festival preparation?
Very clearly: lack of communication amongst the people organizing it: not having enough time to sit together, integrate happened experiences, allow other viewpoints to present themselves; not really understanding the concerns of involved team members; not understanding and integrating happened experiences. But above all; of course; not having enough funds to safe the basic costs of a Festival. And above above: being very clear on the legal side of the official structure. I deeply appreciate living in northern Germany, where for many reasons there is a more or less open minded attitude from the politics side.
The summer is very charged with many festivals, what do you think about the concurrence between different festivals?
Well, honestly, even I know that concepts of concurrence thinking exist and can be real under certain circumstances; but still: in Germany we have around 80 Million people, how many in Europe? Come on, there cannot be enough festies! On a certain level, if there is a really the same type of Festival, usually the organizers know each other and do arrange their time frame; and still, anytime unfair shit can happen and then you have to digg your karma, be smart and strong and grow!
But above all: if you feel the drama of a concurrence deep in yourself too often, you should connect with your personal holistic consultant and work on your manifestation. (Hey come. Jens joke, don´t take this advice too serious…)
Jens, Was super nice to chat with you, a last question to conclude. What message would you like to send to people who will join this year's edition?
Above all, once you have arrived safe and happily, with a family, with a partner of even alone, (reminds me I have forgotten to mention the tantra village stage in a above question) you are kindly invited to drop any expectation, find your personal space somewhere in the woods on the ground, and open up for your moment of transformation, or, not necessarily but having a perfect time sharing visions and love with people like yourself.
LINKS:
Next edition fb event => https://www.facebook.com/newhealingfestival
Next edition lineup => coming sooooon!
picture report (s) from previous editions => more or less private eyes only.
video report (s) from previous editions => https://youtu.be/vyo8f_VFFLw