We are fortunate to talk today with Lorenzo Mantovani, a musician originally from Italy which combines different approaches of calming electronic rhythms with music instruments. He has released a bunch of great productions during the last years in labels as Merkaba Music or Blue Hour Sounds, offering from pure meditative music to psybass sound vibes.
Lo.renzo sound welcomes the listener to travel through endless and magic soundscapes. His music carries a good mood, showing how the sound can be combined in many ways to create a tranquil space where we can experience and feel.
We look forward to know a bit more about him, his music view and his future projects.
Interview by Shantiago on 31/10/2021.
Hi Lorenzo, how is it going? Thank you for sharing some time with us.
Thanks to you, I've been following psybient.org for many years and it's a pleasure to contribute with an interview.
It seems that the music events around the planet are slowly getting active again. Are you performing around during the next months?
Finally! I'm playing concerts here in Italy as musician for various bands and with my project Poan but I'll have to wait some months to play as Lo.Renzo: first show will be at Shankra (both in Sri Lanka and Swiss editions) then Ufo Bufo, Own Spirit and Boom. Others have to be confirmed.
Great to know that… and first of all, who is Lo.renzo as an artist? Who is Lorenzo as a human?
Mmm…nice question!
I can't imagine a Lorenzo as a person distinct from Lorenzo as a musician: I've been studying and playing since i was a child, it's the path i've always pursued, what I like to do and what I decided to dedicate my life to. There can be no Lorenzo without music.
Over the years I've cultivated my musical identity in different forms, one of these is called Lo.Renzo and channels my passion for Asian and Middle Eastern music. Other facets are expressed by other projects such as Poan, Jakare, Italian songwriters with whom I collaborate, projects I work in and friends I play with.
Although we can find a lot of musical instruments within your productions, the sarangi plays a relevant role in your music. Could you tell us a bit more about your relation with this instrument? Are you also deeply connected to Indian classical music?
The birth of my musical project coincides with the beginning of the study of sarangi, they're two things that go hand in hand and are part of the identity of my project.
With regard to Indian classical music I have realized more and more over the years that it's a world unto itself, wanting to reproduce Indian sounds is far from wanting to play Indian classical music, a path that requires a dedication that up to now requires much more than what I have put in.
However I deepen the study of Ragas and listen to great artists of the Indian tradition.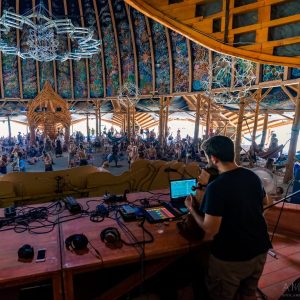 What made you land into an idea of mixing sarangi and other mainly meditative instruments with electronics? Have you been listening and creating tranquil music for a long time? Would you consider yourself a multi-instrumentalist?
I began my musical journey as a guitarist and my main works are around it.
Over the years my passion for music has led me to deepen other instruments and when I approached electronics it came by itself to integrate my instrumental knowledge with it.
One of the first moments I realized I wanted to combine electronics with my instruments was when I listened to Boozoo Bajou's  album Satta.
You will have a new single coming out as part of your previous work Rajasthan in Dub released via Outtallectuals, can you tell us more about it? How did you meet Aasha and Nicolo?
Many years ago, I met Aasha and Nico for the first time.  When I had the opportunity to meet them both in my city, Modena, I proposed them to record three Rajasthani folk songs to adapt them to my vision. I have been in love with the music of those places since my first trip to India.
Of these three tracks, two were released in my Ep Rajastahn in Dub while the third, Birda, will be released this November 11, 2021. The the track will be released again via Outtallectuals and it will be premiered on Shivelight youtube channel.
The first Ep had a wonderful response and I hopethis other chapter will not be outdone. In the future I look forward to keep on integrate this music and electronics much more.
If you are curious about it check this link:
Looking forward to listen to it. Which is your journey with psychedelic electronic music? What does psybass inspires you when creating some of your tracks? Do you listen to other psy styles?
Like many, I approached the psy world by attending parties and discovering the various subgenres over time.
Among the first passions I can remember Merkaba, Kalya Scintilla, Carbon Based Lifeforms and Shpongle. The psybass world for me represents the one in which I have identified myself most as well as the language that mostly represents me.
Besides I also listen to other genres related to psy: forest and dark prog to name last things i've heard.
How do you focus your live performances combining music instruments and software/hardware? Is it always depending on the venue and the event intention?
As I said before, as Sarangi is an essential element of my music, so live performances are essential as well. I've always wanted to play it and look for situations that allow me to use it. However, this led me to face uncomfortable situations… sometimes I dream sarangi to be an usb drive!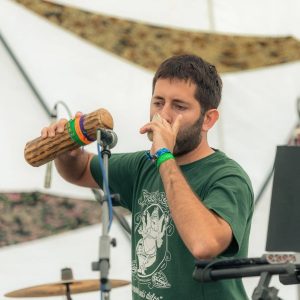 When producing, do you have a software preference and a standard way of working? This topic is always interesting as every artist has a different view.
When I produce I use Ableton accompanied by several plug ins and only recently a Beringher Neutron.
I start with an Ableton template where the tracks are preconfigured but most of the time I find myself making endless changes.
Regarding this, one of my standing point (I have written it in a piece of paper to keep in my studio) is what i've heard in an interview by Flooting Grooves at Radio Ozora in which he talked about how the working method becomes the style. Musical composition was compared to the birth of a painting, deciding to start from a brush or a pen changes the fate of the journey, you know what I mean?
For this reason I keep all my instruments (flutes, guitars, percussion, cumbus, banjo, charango and of course, sarangi) comfortable to be taken. Soon I will start producing a full album and I want the initial step of each track to be done with the acoustic instrument and then move on to the electronic side.
Could we know as well a bit more about your project Jakare along Halfred? How did this connection happen?
I met Halfred six years ago thanks to SoundCloud and I was lucky enough to meet him at a festival in France in which he played his first liveset. I enjoyed him and artists like Hypogeo, Merkaba and Cosmosis.
The festival was called Buena Onda, the one we heard between us (one of the last Jakare tracks made lockdown is also called Buena Onda).
Few years ago we met to create a new track together and as soon as we started we realized that there was a new sound coming out that deserved to be explored and valorized with a new musical name, so Jakare was born.
Since I was a child, my parents made me listen Intillimani music and many latin genres: this influenced me a lot in perceiving Jakare project. I love Halfred very much and i'm so grateful to work with him.
You produce samples and put them in the market for other artists, right? Do you also combine samples when creating music?
Yes, all the packages produced so far can be found on my Gumroad page (https://app.gumroad.com/lorenzochill). Normally I split the two processes: the creation of the music and the creation of the samples, which are obviously used in my music. However, having all the instruments available, I more often find myself recording sounds for each track I'm working on.
Keeping the electronic side apart, let's talk about your work with sound therapy. It seems that we are rediscovering the benefits of sound on health through ancestral and modern practices. Which is your understanding of the role of sound in the universe and humanity?
I believe sound and universe are inseparable and humanity, as part of the universe, is part of the same world of sound.
Healing through sound is not a new thing and it has already been proved on a scientific level. I hope in the future the research will give more and more results going beyond the skepticism of our Western world.
On a professional level, as a music therapist, the main use I make of sound healing is through the songwriting technique with adolescents suffering from psychiatric problem.
The psybient.org community is growing and growing. Would you like to send a message to us?
Keep up your beautiful work! I love platform and hope it will be enhanced more and more in the future.
Thanks a lot for your words, we will happily continue listening and enjoying your journey into sound. See you soon in any music space discovering new layers of tranquility.
LINKS
https://soundcloud.com/lo-renzo-project
https://www.youtube.com/user/LoRenzoLIVETUBE
https://open.spotify.com/artist/03wLIhpkRcciwDJ0WXBbjN
https://app.gumroad.com/lorenzochill
https://lorenzochill.bandcamp.com/
https://www.facebook.com/lorenzoproject
https://soundcloud.com/jakareofficial