Ukraine is known to have passion for Chillout events, dedicates teams are making festivals and indoor events. Today we present you interview with organizers of Virbonika, an event with several years of history and great values and quality ! We hope each of you have chance to experience it.
Vibronica Festival, which describes itself as "a collective of dreamers, doers and believers", welcomes artists from across Europe, the States and South America to perform on its two stages in addition to a number of workshops, lectures and shows. Each year, Vibronica selects a guest country and welcomes residents of that country free of charge, with 2018's guest country being Czech Republic. The event takes place from July 12th – 15th and the exact location is yet to be confirmed, but it will be somewhere in the forest by the sea.
Below is an interview with Kate, one of the co-organisers of Vibronica. This interview was composed by Milly, owner of Festival-traveller, which features posts about Burns and other transformational music festivals & events in Europe and across the globe.
Hi Kate! Could you please describe Vibronica for those who are unfamiliar with the festival?
Summer in the woods. The sunset lightens the warm shore filled with people smiling and dancing in the water. The wind picks up the sounds of music and carries them between the trees. Picks up smiles and carries them between the hearts. When the sun hides, warm lanterns are switched on. In the night, the space becomes saturated with dance and rhythms unite. It picks up each pair of feet, makes them dance and turns the different people into one tribe.
The first rays of the warm sun illuminate the morning forest. Daytime is the time for lectures and workshops at the festival. Some start it with a yoga class on the grass, others go to a singing class, and others opt for an active Capoeira dance. A bit further along, under the huge branches of the tree decorated with dreamcatchers, you'll find people weaving mandalas.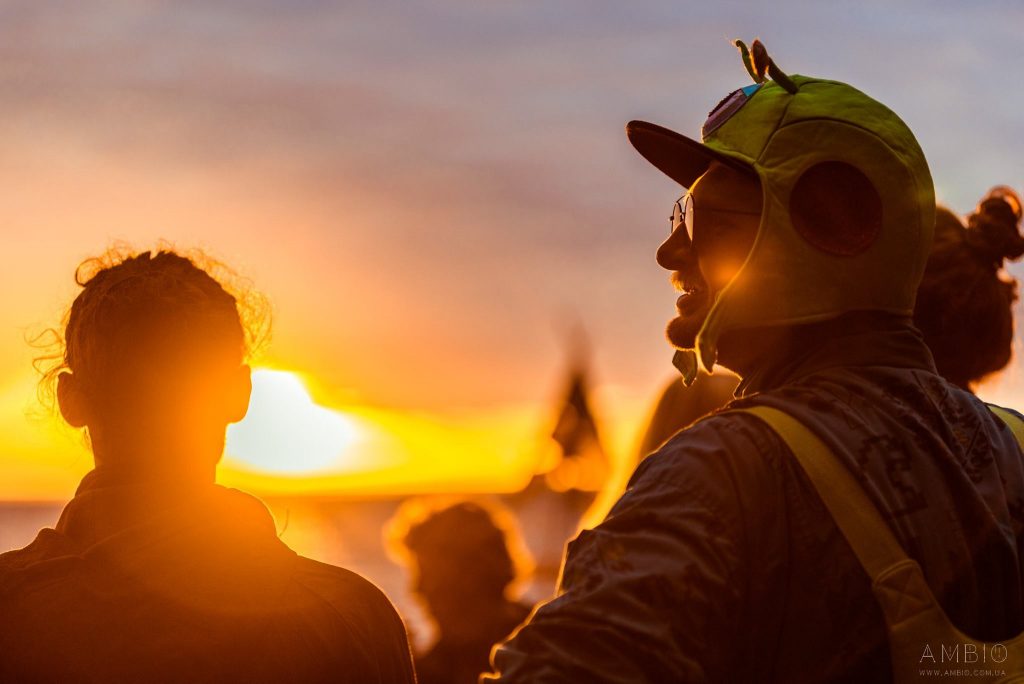 Dance, martial arts, singing drawing, music classes and lectures on healthy eating, ecology and psychology make the space diverse and miscellaneous, like the world we live in. We pay special attention to the preservation of nature and the ecological way of life – we do not use plastic at Vibronica and apart from organising the festival, we regularly put on events to clean forests from garbage and plant new trees (this year we've planted 2,500 pine trees!)
Each year, the festival is filled with unique decorations, which we create on our own promoting the DIY model. The team works on decorations for the whole year – thinking, modeling, drawing, crafting. Design unfolds and plays around the main concept of the festival, which is different each year. For many creators, including the organisers of the event, it has become a platform to bring creative ideas to life. As a result, different types of art are represented at Vibronica: theatrical and dance performances, fire shows, visual arts, installations and video-mapping. All these things you see around at the event creates a feeling of freedom, wonder and inspiration.
Great, and how did the festival first come about?
It all started in 2014 as a small one-night Psychedelic Chill & Dub music party. We love music a lot and we got tired of waiting for somebody to organise a party where our favorite artists would play; we waited for years until we finally understood that if we want to listen to these artists play live, we need to bring them to Ukraine ourselves. This year we are celebrating Vibronica's fifth anniversary :)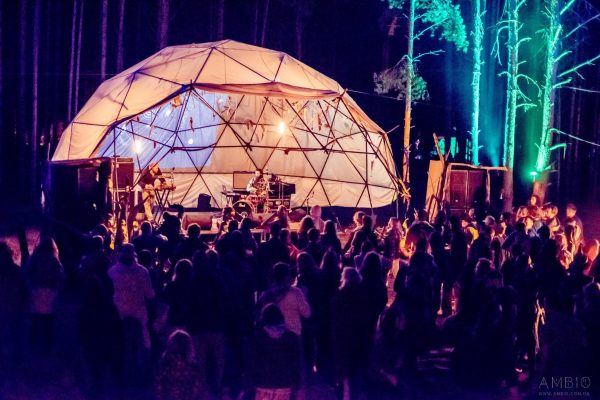 What kind of music can we expect to hear?
Unlike many festivals, we don't have the "main stage" and the "chill stage". Vibronica was originally created as a chill music festival where the chill stage was the main stage. Nowadays, we have two equal stages, neither of which is "main" – you'll hear different musical sounds on each one. Electronic Sea Stage is for modern electronic music – Multicultural Electronic, Voodoohop, Chillrave, World Music, Dub, Psychill & Psytrance.
The Live Music Stage is, as you can tell from the name, the place for live bands of Ethno, Folk, Jazz, Psychedelic Rock and World Music. We also have the Jam Music stage, where artists play unplugged and people have the chance to see how they improvise.
The main headliners of 2018 are Intiche, Dandara, Ulises, Zoungla, Yeahman, Kaob, Air Rapide, TeTouze, Mira Ceri, Black Venus, Lo.Renzo, Poan, Shuma, Wagashi Brothers, Kaiia, alongside many other talented artists.
Some good names in there. What would be your main reasons for attending Vibronica, besides the music?
The overall vibe, I think, is the main reason. This is an event created with love and care by many people. It is not a closed group that organises Vibronica; we encourage participation, and everybody has the chance to contribute their time, ideas and knowledge to the creation process. As a result, the festival is being created by many inspired people, who make a big effort to bring their ideas to life. When a group of people puts so much time and attention into creating something beautiful, this is where the miracle happens and the vibe starts. We believe that every person attending adds his own part to this little world created once a year, and we share this idea.
Another reason to attend would be the art and wonder. We like bringing art out of its regular framework, eg. bringing the theatre out of the theatre halls into the woods, which brings surprisingly good results. The festival is full of beautiful artistic details created by different people with different backgrounds, and it's interesting to study it for days. You never know if you have seen everything, or whether you might have missed a secret spot. Each year, the world of wonder is recreated and it's never the same, but is instead unpredictable, as art tends to be.
So, to sum it up, being in a beautiful environment surrounded by free-spirited people who help make the festival happen is a life-changing experience, and that's the main reason to visit Vibronica.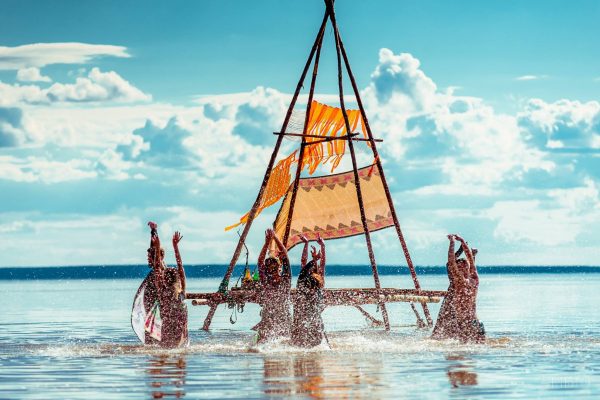 How do you go about selecting the guest country each year?
Haha, there is no system, it's just a lottery. The only rule is that the country has to be European, as we want to give a chance to Ukrainian neighbours to experience Vibronica for free.
What type of people does Vibronica attract? Do many come from outside of the Ukraine?
Those who love the experience and look for wonders, I guess. Learning new things, meeting new people, dancing to new music, discovering new art styles… watching a theatre performance take place in the woods or in the water, where beautiful costumes get dusty and wet, is certainly a sight for non-conservative eyes! It's hard to know exactly how many people come people come from outside of Ukraine; this number grows bigger with each year, and last year there were about a hundred.
That's good to hear! What's been your personal highlight?
It's hard to choose the highlight, as all the artists are selected due to personal preferences, and each one is a highlight in their own right.
Thanks for agreeing to do this interview with me- do you have anything else to add?
Treat yourself with the Vibronica experience! Come. See. Wonder.
Photos: Max Ambio