Today we have a very special guest with us, Laurence Harvey a.k.a. KUBA from Cambridge, UK. Kuba is not a new name in the psychill/ambient music scene since early 2000's. Known for his soulful melodies and cutting edge synth sounds, Kuba's music is always dripping with richness which touches the heart and soul of the listener.
Kuba has been experimenting with various genres of music, including dub, downtempo, deep house, ambient with influence of psychedelic flavour, infused with Indian classical vocals and instruments. Kuba has also been collaborating and remixing with various popular artists like, Entheogenic, Gaudi, Youth, Tripswitch, Suns of Arqa, etc. to bring a wide range of beautiful sounding music. He has also been known to be creatively involved with Martin Glover (a.k.a. Youth) to form Liquid Sound Design Records.
Interview with Paritosh on 29/09/22.
Hello Laurence, Super excited to be a part of this interview on behalf of psybient.org! Your music has so much depth and meaning. Also, the combination of soundscapes, gated arpeggios and Indian classical music is so interesting. How do you manage to come up with such creative ideas?
Hello! Thanks for having me on here for an interview :) I've been writing music since I was a kid so to explain the process is quite hard. I often feel like I'm decoding my life and experience on this planet when I'm writing music, so in a way my ideas are a by-product of me sitting trying to convert my confusions and hopes into something that might touch people.
Your new album "Relative to the Sun" released earlier this year is simply superb and delivers just what is expected from KUBA. Please share with us, the idea behind this Album. What gave you the inspiration to make it happen?
"Relative To The Sun" took me over four years to write, which is the longest I've taken to write an album. I started the album in 2018 then covid and lockdown happened, at which point the album became a place for me to hide/immerse myself as the world seemed to have lost the plot! That's my excuse why it took so long anyway :) Having Youth and Gaudi and Michele Adamson to collaborate with during lockdown was a blessing. The title was loosely referencing a pink floyd lyric "the sun is the same in a relative way but your older" because I was 39 when lockdown started and 41 when it finished! Which I wasn't overly happy about :).
Also, your mix is so on-point with the sub frequencies sounding just right along with the stereo imaging of all other sounds being just perfect. Do you mix and master your own music?
I normally have my music mastered by someone else, but for a few different reasons I ended up mastering the last album myself, I always mix the music myself as I'm writing and then go over the track at the end and give it a final mix down.
What was growing up in the UK like for you and your musical journey? At what age did you get influenced with psydub music enough to start producing?
I live in Cambridge which is only one hour from London, from the age of thirteen/fourteen I was already interested in, and doing psychedelics. So nearly every weekend me and friends would go to London to psychedelic trance parties, I wrote a lot of trance when I was younger, I was also the guitarist of a heavy metal band from the age of twelve to eighteen.W hen my band broke up when I was eighteen I wanted to be involved in the psychedelic scene, but still be using my live instruments (which I wasnt so much in the psytrance music) so I started experimenting with more dubby/chilled vibes.
Your selection of Indian vocals and classical instruments is very interesting and captivating in so many of your songs. Where do you find such samples and what is your idea behind using them?
In my music is a complete mixture of samples and me playing instruments. In terms of where I find samples it's a mixture of sample cd's, random compilations people have copied for me over the years and trawling the internet for what will fit the track I'm writing, I don't have a bank of samples I dip in to. When I'm writing a track and get an idea I'll go searching for what will fit at the time if its something I can't play or theres no one around to get to play it :).
We have seen some of your Jam sessions with the famous "Suns of Arqa" on social media. You have also released a remix EP with them in February, 2022. How was your experience working with such fine musicians? Please share some words about your journey with them.
Meeting and working with Suns Of Arqa was an absolute honour. As soon as I met Wadada (the main guy behind SOA) we hit it off and I felt like he was a friend I'd known for years. He was very similar to me in that he didn't like the pretentious and insincere stuff that happens in the music scene, people ego's etc. He was a down to earth lovely dude Wadada and I miss him a lot. When I was mixing down his EP in Spain, he came and took my laptop as he wanted to watch Manchester city play a football match :) I liked that the EP had to wait so he could watch the footy! His lifelong partner and SOA band member (Angel eye – Angela) is now a dear friend to me. I felt like Suns Of Arqa and me had a lot more to say together musically if he hadn't sadly passed away. It really felt like the start of something .Love you Wadada! x.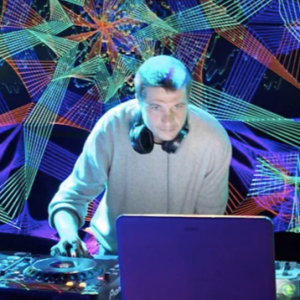 Take us on a tour of your studio. What kind of gears do you mostly use? Is your music more of programming with VST's or Do you record various sounds from analog synthesisers?
I use cubase pro 11 on PC, I've used cubase since i was 14 on the Atari so I stuck with that :) I have a korg ms20 and a behringer Model D that i use for a lot of my synth sounds. I also use the benidub echo unit, and vermona spring reverb unit for the dubbier side of my sound. I play guitar, Sitar, Bass and flute so i have lots of live instruments kicking around, I have a double bass here I've recorded with. I don't have an amazing amount of plugins, I use waves, soundtoys, fabfilter and have a list of other plugins that I sometimes use.
What's your take on the war between Warm Analog gear v/s Modern Digital equipment? Which one would you prefer more and why?
Given that our ears aren't our dominant sense I've over time formed the opinion that people (even really experienced engineers etc often can't tell where the noise came from), you can't always tell if the source is analogue/digital once the sound has been processed and put in context in a track. It all ends up digital anyway! So I just see all of it as a palette of sounds to dip in to. I have no problems using either, it all depends on the track your writing and what its asking for.
We hear a lot of accompanying Piano pieces and some Guitar harmonics in your music. What kind of instruments do you play? Which one is your favourite?
I played guitar since I was seven, so in a way thats my main instrument, but enjoy playing bass, flute and keys just as much, I love playing sitar too and percussion.
Could you please tell us about your journey with the Label "Liquid Sound Design Records" with Martin Glover? So many amazing releases on that label lately!
I met Youth when I was about 18 years old, I played bass, guitars and strings on a live band project round his house in London in 1998/99. I gave Youth a cd with some of my tracks on in around 2003 with the intention of putting one of the tracks on an LSD comp. Youth phoned me up and said he loved the whole cd, would I like to do a full album and that was the start of my journey with LSD records, after my debut album 'inside out'. I released quite a few albums on chillcode records, then for my last two albums I released them again with Youths label.
Please share some of your interesting memories or experiences playing at many Music Festivals all around the world.
Bit of a blur to be honest! Weeks spent being nervous about the gig, then it's all over so quick. Looking back at the gigs they are some of the most meaningful moments of my life. I spend so much time on my own writing music, it all suddenly makes sense when I'm on stage… if people are enjoying it!
You have collaborated and made remixes with so many fine musicians across the globe like, Entheogenic, Youth, Gaudi, Tripswitch, etc… How has your experience been with them? Would you like to share some interesting incidents with us?
For me collaborating with people is such a lovely experience, I've recently collaborated on a track with a producer form New zealand "Mike,Terranine" which is going to be released on my next album. I mixed down and played lots of instruments on a live jam we had with Shpongle in Spain, I'm not sure when/if this will be released but that was interesting as it was a mixture of flamenco with psychedelic/dubby elements which I then played lots of synths and percussion and numerous other things to add to the recorded live jam.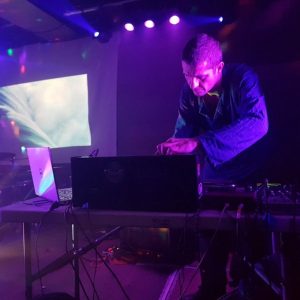 Any word of advice for our young psyambient listeners and producers out there? Do you provide workshops or internships for aspiring candidates who'd like to learn from you?
The only advice I can offer really is to do it from the heart, it's been a challenging journey for me and music acts as a sort of therapy, as I mentioned before musics a way of decoding my crazy life. So I would say to anyone starting out to embrace that journey, it happens so fast. Music can take you to some beautiful places and connect you with like minded people so keep your heart open on the journey.
We would love to hear about your future releases, gigs and other exciting stuff like masterclass, etc. Could you please tell us in brief so that we can stay updated and share the information with our fans?
I'm working on a new album now, I'm really happy with what its sounding like so I'll be sharing that with people soon :) I'm doing a few gigs in India in January, then I have some other bookings coming in for next year. In terms of masterclasses I love teaching and sharing what I know, but I'm quite in my own world with what I do. But if anyone would like any help or guidance I'm here if they want to reach out :)
And before finishing, what motivated you to contribute a track to the upcoming Live Love, Create compilation?
There's nothing worse than feeing powerless when you are seeing people struggle, or going through the depth of suffering that has been put on Ukraine recently. I was more than happy to contribute a track to the comp as it's what I spend all my time doing (writing) so thats the one way I can contribute some of my love.
Thank you so much for sharing your valuable time and words with us at psybient.org! We wish you a lot of luck and hope that you keep producing great music and entice our lives! Cheers!!
Thank you! xx
Listen and follow Kuba:
https://www.facebook.com/kubaproductions