Rita Raga is a singer and musician from Poland who gifts the listener with a wide spectrum of emotional and reflective rhythms and melodies.
Besides creating psychill and psytrance vibes, she plays the guitar, ukulele, lyre harp, shamanic drum, and rattles, performing solo or with guest musicians. We can feel a firm passion and sensibility in her releases.
Her positive vibrations have travelled to a good number of events and festivals, and today we are very happy to talk with her.
Interview by Shantiago on 18/10/23.
Hi Gosia, How is it going? Thanks a lot for having a conversation with us.
Hello Santiago, I'm very well, thanks, hope you're doing great :) Thank you for having me!
How did the summer season go? It looks like you have been quite busy with some events.
Yes, indeed! The summer was amazing. I had a chance to perform my music live at festivals like S.U.N. in Hungary, Tribal Gathering in CZ and local Polish events. I also played music from my different projects at Ecstatic Dance style events and mantras concerts, for example Uroczysko in Poland. Additionally, I was also touring with CuraSana band – healing music project where I'm a singer. I'm grateful for all the places I visited and re-visited to share music with beautiful people!
Let's start with two essential questions. Who is Rita Raga? What is her message to the world?
I'm a singer, songwriter and music producer. In the music I create, I'm looking for balance between electronic and organic elements, melancholy and mysticism, gentleness and fierceness – in a word: harmony of the elements. Regardless of chosen style, the music comes right from the heart space and is guiding the audience in the journey deep into themselves.
I am also a vocal coach and my main message through my music and coaching work is to encourage all the people to free their voices, minds and bodies by accepting and loving themselves as well as other living creatures!
You are a multi-instrumentalist, singer, and music producer—an inspirational combination. Could you tell us about your musical background and journey?
I was raised in a family that loved music – there are gifted singers in my family and we always enjoyed listening to music and playing music, so it was a part of my life from the earliest stages – I started singing before I learned to talk ;) I started creating my own songs when I was 8. As a teenager, I joined a school soft rock band as a singer / guitarist – it was an amazing experience thanks to which I fell in love with not only creating music, but also performing it on stage.
Because of that, I decided to study at a Vocal and Ballet College. My passion for singing and dancing was continued by performing in Taal – Indian dance group. At the same time, I started to write and record vocals for music producers of chillout, house and classic trance music. I also travelled to Japan as a singer with a dance group.
All that elements of my music passion combined when I got interested in music production myself – first I made collabs with friends and later I started my own downtempo project which you now know under the name "Rita Raga" and thanks to which I have an amazing opportunity to create and perform my music using my favourite tools – voice, instruments and movement :)
We can feel a strong versatility when listening to your releases. Let's jump into the 'Flowing Circle' one, a recent music story full of collaborations. Could we know a bit more about it?
My musical interests are very broad. I'm inspired by many styles of electronic music – from psychedelic through trance and techno to combination of electronic and folk, ethno or classical music. I was raised listening to classical rock, I also enjoy indie pop and rock or symphonic metal as well as classical music. I believe you can feel some of that inspirations in my different tracks .
As per Flowing Circle, it was very exciting to work with artists I admire and who inspire me a lot – Cabeiri, I.M.D., Mina, Fyre! It was a blessing to create those pieces together, to witness their creative processes, their taste and the way they feel the music. I learned a lot during the process and I'm looking forward to making new collabs in the future!
How are you organised when creating new sounds? Do you follow any structure?
My scheme of work differs – sometimes I start by singing and playing my guitar, then take it to DAW (music production software). But at times, I start with the electronic part – play with different synthesizers and samples, and I let myself be inspired by what comes intuitively during that process.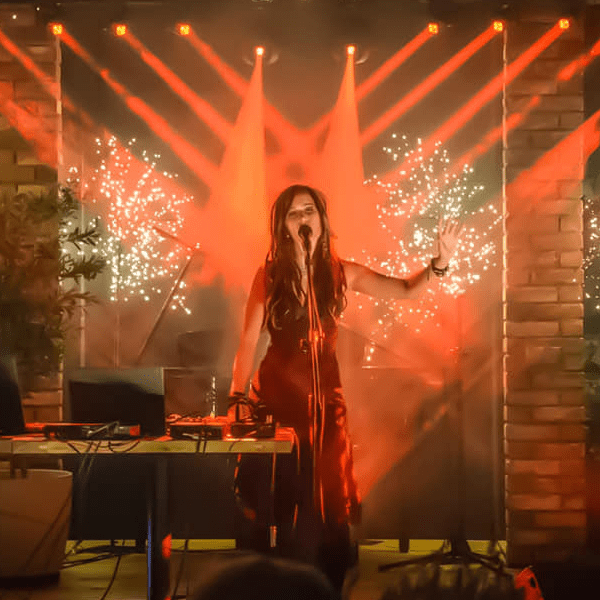 Which kind of setup do you enjoy most when performing live?
My root form of expression is singing – I build my music around vocals and it's also my way to express myself and build contact with the audience. Therefore mic is crucial to my performances. Furthermore, I use a laptop with DAW to mix music loops and tracks with vocals and instruments: keys, lyre harp, uku, shakers, shaman drum.
Could you explain to us about your different music projects, such as Gosia Grudniak (folk songs) and Ragini (psytrance DJ sets)?
I decided to use different nicknames for those projects as it could be a bit confusing for the audience when I was using my main project name for all different styles. So I decided that "Rita Raga" is a project focusing on my original downtempo electronic music topped with some vocals and instruments which I perform live. When I play psytrance ang goa DJ sets, I use "Ragini" alias. And last but not least, my newest project name – Gosia Grudniak. It is also my real name btw and I decided to use it for the songs that I usually perform with ukulele or guitar and soft electronic background – for me it's like going back to my roots, to where I started as a teenage singer/songwriter with the guitar, expressing with my voice, music and lyrics what was alive in me :).
How is either the psytrance and psychill scene in Poland? Is there a lot of movement over there?
There are numerous psytrance events and psytrance stages are present at many big festivals. This scene grew a lot over the years and also its character has changed.
As per psychill scene, it became smaller – due to the change in psytrance parties character, Chill Stages are no longer a standard. On the other hand, there are more downtempo events now where some psychill music can shine :)
What is your vision of music as a general human expression?
I believe music as a form of expression is deeply rooted in human nature. It's scientifically confirmed that music has therapeutic qualities, it can also enhance our self-esteem, self awareness, social skills and even mathematical skills. Apart from scientific research, I think we all simply agree that listening, dancing or actively making music can raise our mood, help us relax or get energised. It's great to use its qualities consciously, as a part of balanced well being.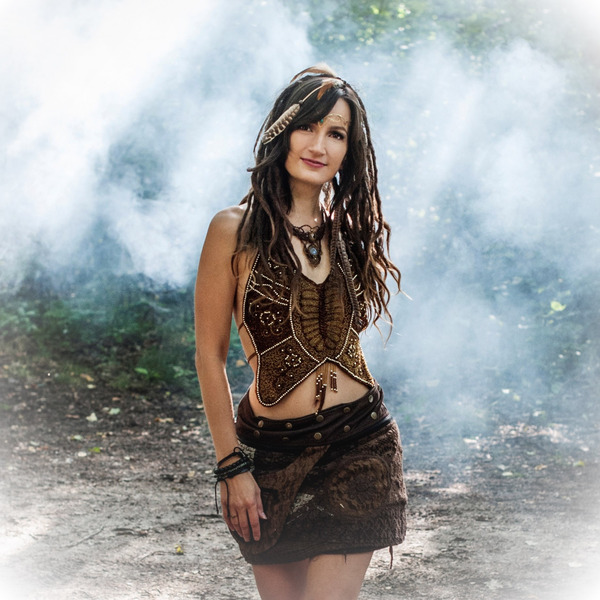 What's next for you? Do you have plans for the near future?
I'm releasing an EP with Melusine Records and some singles. Moreover, I continue and develop my other projects. During the winter season I'll be focusing on local activities – club events with crews I collaborate with: Psysisters, Girls' Rave, Zwyrolix Squad, Dream Deep. Apart from clubs, with a group of friends we created a small place for workshops and healing music. After the summer tour, now I'm going to share my music through ceremonies and singing circles a bit more often :).
Who is Gosia in her daily life? What do you like to do besides music?
I enjoy travelling, feeling new places and people – it's also a part of my love for touring with my music :).
Yoga and ayurveda are my passions as well. What drives me most is the holistic approach to health as physical, mental and spiritual well being. This approach is the base for the Krąg (Circle) association which I co-create with a group of friends as well as an organisation with which I collaborate a lot these days called Misteriada.
And before finishing, would you like to send a message to the psybient.org readers and believers?
First of all, thank you for your love and support for psybient and psychill music! It's amazing to have this community around – you allow this scene to grow :) And see you on the events and festivals – on both sides of the stage =).
Thank you very much for your words and insights. We look forward to staying immersed in this amalgamation of folk, spiritual, and electronic feelings that you create. See you soon, hugs!
Thanks a bunch, All The Best!
Listen and follow Rita Raga:
https://rita-raga.bandcamp.com/
https://soundcloud.com/ritaragamusic
https://web.facebook.com/RitaRagaMusic